Unsung Heroes:
Get to know some of the people who help make UTRGV run
EDITOR'S NOTE: President Abraham Lincoln said, "Don't worry when you are not recognized, but strive to be worthy of recognition." That certainly describes so many of the people who work at The University of Texas Rio Grande Valley. They work each day behind the scenes, away from spotlights and accolades, but still knowing they have a job to do that supports the university community and makes it run smoothly. In order for an institution as large as UTRGV to work efficiently, many people must contribute – but some of them go unnoticed. Our Unsung Heroes series highlights just a few of the people who often go overlooked, despite their importance and contributions.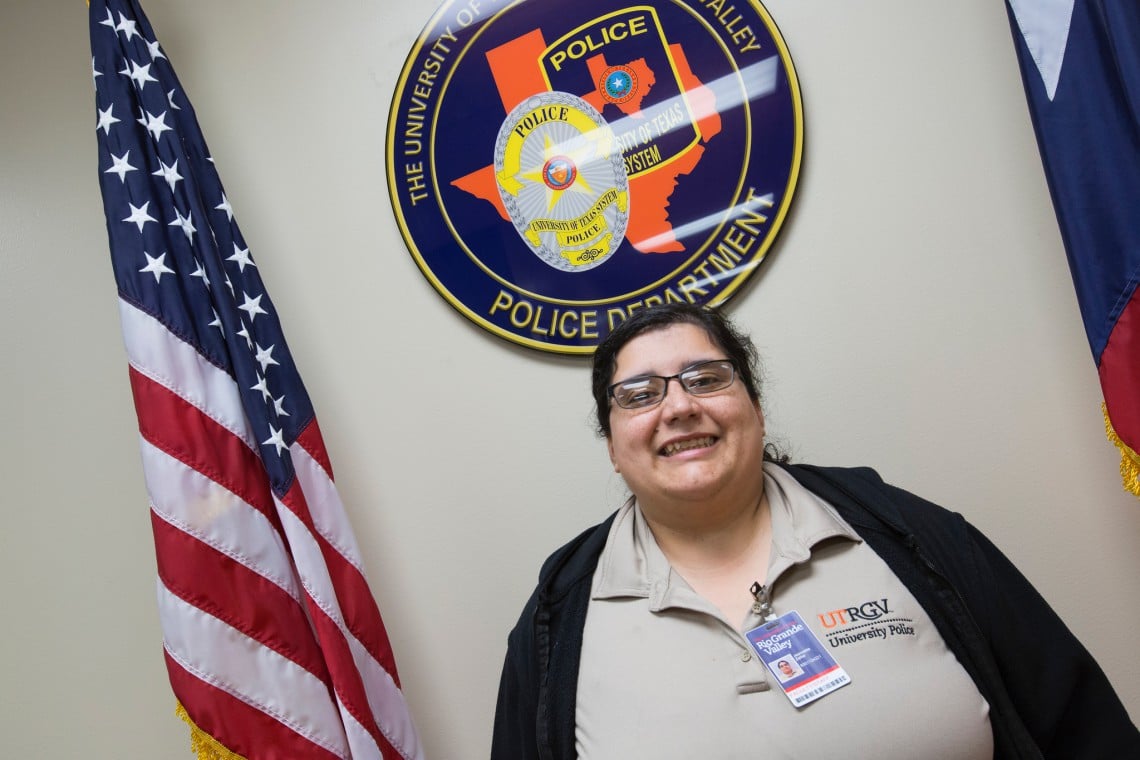 MEET JEANNETTE ZALLAR, A UTRGV UNSUNG HERO
Inside the UTRGV Campus Police Station on the Edinburg Campus is a small room designated for evidence. Its shelves are filled with hundreds of lost items – basketballs, phones, purses, headphones. And in dozens of locked drawers are kept the evidence of more serious cases.
Property and evidence technician Jeannette Zallar looks over a very busy schedule she has written on a whiteboard on the wall.
"I went from writing parking tickets to being the sole person responsible for 1,000 items, year after year. It's a huge responsibility."
Zallar takes the weight of that responsibility very seriously; it is a responsibility she has grown to love.
WHAT IS YOUR ROLE AT UTRGV?
Property and evidence technician.
HOW LONG HAVE YOU WORKED HERE?
Part time since 2012.  I originally worked for parking. In 2014, I applied to be a guard, but that's when this position opened up.
DESCRIBE YOUR AVERAGE DAY
I typically wake up about 6:15 a.m. I actually live right down the street. I get here by 8 a.m. My duties are split between working with evidence and working at the front desk. At the front desk, I take phone calls, respond to emails, help with the lost and found, or anything else they ask of me. I also handle evidence. It is a little tricky because all crimes have a statute of limitations and a guilty or non-guilty verdict. It could involve narcotics, found property, stolen property, or a weapon. All that requires different kinds of research for each case. I handle all property. It's never the same. I can schedule an entire day, but you never really know what's going to happen. Work usually ends about 5 p.m. I get home and I hang out with my cats and talk to some friends online. I also like to play videogames.
WHAT IS YOUR FAVORITE PART OF YOUR JOB?
I like returning things. I like to see the smile on people's faces when I'm able to get their belongings back, whether it's their phone, purse, book, or even a USB. I have had people cry when I get them their USB back. I understand it's not just an electronic. It could have their homework, pictures, memories … moments they don't have stored somewhere else. I like being able to return all that. It makes me feel like I'm doing something positive with my job. When I'm able to do a good job of helping people, that's when I love my job. I tell students, there is no shame in losing something. Everyone does. I want people to be able to come to me and say, 'I lost my stuff.' It never hurts to ask.
DO YOU HAVE A FAVORITE MEMORY, OR STORY, ABOUT YOUR TIME HERE?
Well, I have returned about 500 items in the past three years. Everything from USBs to headphones to iPads. One time, a student who had lost his instrument came in. While he was here, he also asked, 'By any chance, would you happen to have an iPad? I lost it about a year ago.' I remembered that we had an iPad that had been here for about a year. We plugged it in, it turned on, and it automatically synced with his phone. He was so happy. He said he had been looking for this iPad forever and didn't think it would be returned. It's interesting to see the look on people's faces when I tell them I have what they're looking for. There are honest people on our campus. That's why I'm able to do what I do, even if people see it as monotonous or tedious.
TELL US SOMETHING MOST PEOPLE DON'T KNOW ABOUT YOU
I have a master's degree in sociology. I like being able to dissect people and their actions. The theory of people and their interactions has always interested me. I like to debate and talk about current topics. I'm a news junky. The thing about sociology is, it's so diverse, you can do anything. One day, I saw that parking happened to be hiring. I said, 'Let's see where I can go and where I can be the most useful.' It turns out that was here. I may be in a different field than what I got my degree in, but there is a saying: 'I'm not where I thought I would be, but I'm where I need to be.' I enjoy this, and I think that is what everyone should do in life.
DO YOU FEEL A SPECIAL BOND WITH THE UTRGV COMMUNITY?
I do. I came here in August 2006 for my bachelor's … Then I got my master's … Then I started working here. This place is my alma mater. Even though the name changed, my feelings about it did not. This is still my school. These are still my people. It is my duty to help every student, every staff member, every visitor. I feel this bond strongly with the university. In the three years I have worked here, I have learned so much. I hope I can continue to serve the university.