Dr. Madhab Pokhrel
---
About Dr. Pokhrel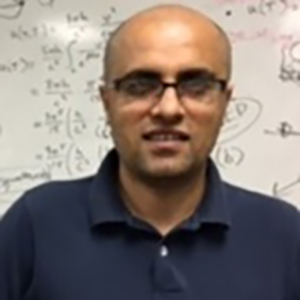 Dr. Pokhrel is a full-time lecturer in the Department of Physics and Astronomy. He has been teaching physics at different levels at UTRGV since 2016. In addition to teaching, he is also involved in research and development. His research interests are in lanthanide spectroscopy and spectroscopy-based instrumentation. Additionally, he is working on the nuclear waste immobilization project designing nuclear waste immobilization hosts that can withstand an extremely high energy radiation environment. Dr. Pokhrel has authored or co-authored over 30 publications in peer-reviewed journals. In addition, he has presented his research work at national and international conferences such as APS, SPIE, and MRS.
Project
Through the Affordable Textbook Adoption grant offered through the University Library, he was able to offer the Physical Science course PSCI 1421 using affordable course materials. These are large courses with over 100 students each semester. Since then he has voluntarily adopted an OpenStax textbook for his PSCI 1422 course and is continuously optimizing the course and content. Altogether, he is proud of his achievements and that he was able to save UTRGV students from costly materials offered by publishers.
Student Feedback
Dr. Pokhrel reports having over 90% positive evaluations for his courses taught using open materials. He first offered PSCI-1422 with the open textbook in summer 2021 and had higher than 95% positive evaluations from students. Altogether, he is proud of his achievement of saving students from costly materials offered by commercial publishers.
Reflections
He believes textbook affordability efforts are a great work to be part of. Not only are we helping students in terms of costs, Dr. Pokhrel reflects, but faculty can also produce their own versions of free materials specific to their course needs. He encourages every faculty member to offer at least one of their courses using open source materials to help save UTRGV students from costly course materials.
Dr. Pokhrel Contact Information