Application
USDA BE AWARE Application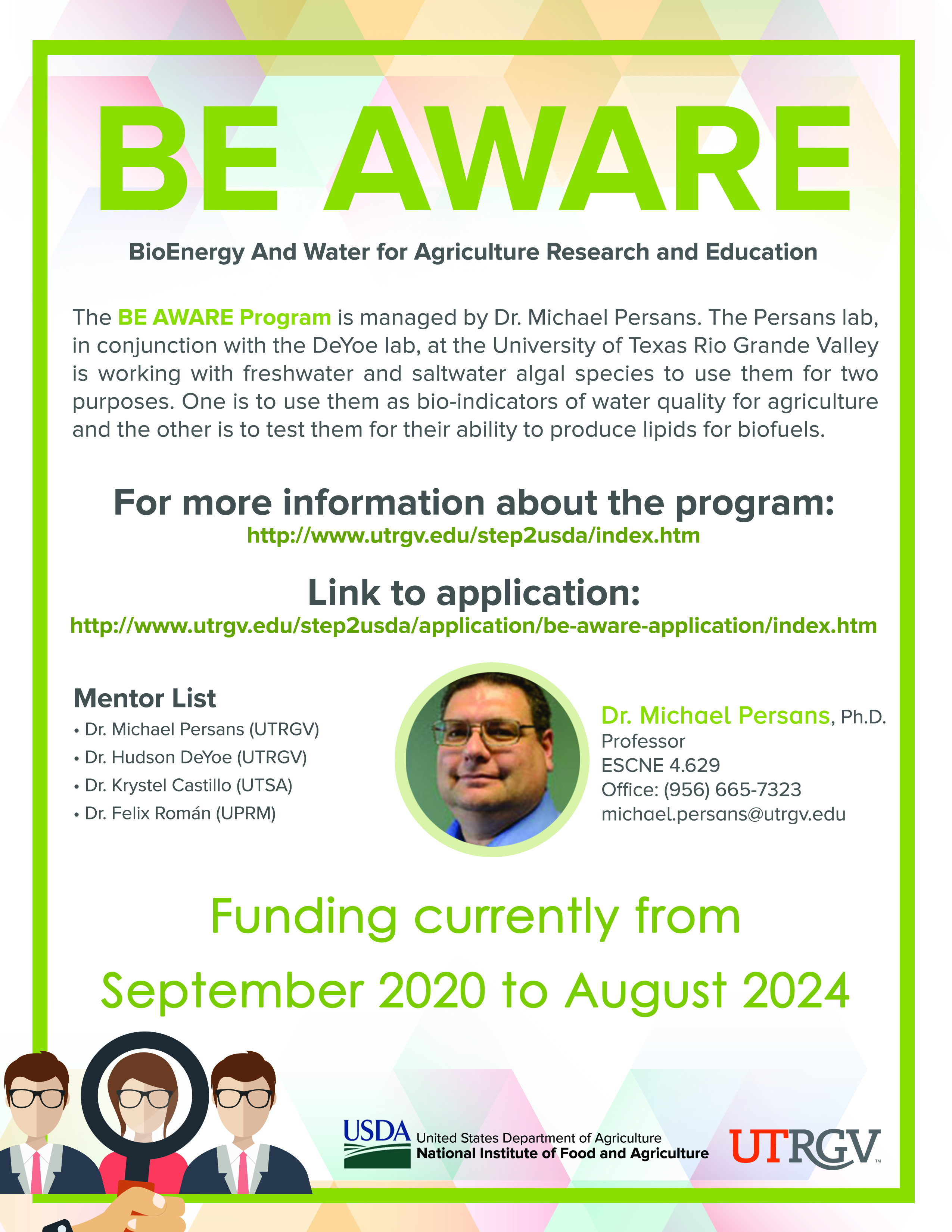 The Persans lab, in conjunction with the DeYoe lab, at the University of Texas Rio Grande Valley is working with freshwater and saltwater algal species to use them for two purposes. One is to use them as bio-indicators of water quality for agriculture and the other is to test them for their ability to produce lipids for biofuels.
The first project involves the use of the algae to test the quality of water for agriculture. Algae have been grown in the laboratory on a small scale to evaluate their ability to uptake heavy metal and metalloid contaminants from water. The algae have been shown to be able to uptake significant amounts of heavy metals from the environment. Using this process we can identify agricultural water for potential use in algal culture. The data will be given to Dr. Krystel Castillo (University of Texas San Antonio) and Dr. Mauricio Cabrera (University of Puerto Rico Mayaguez) for modeling analysis. Through this survey of the data, large scale processes could be developed in order to optimize water quality for large scale culture using algae as a bio-indicator.
The second project involves the small-scale optimization of lipid production by algae for biofuel purposes. There are two species of algae, a freshwater species and a brackish-saltwater species. The freshwater algae will be tested for its ability to grow in less-than-optimal quality freshwater. It will be tested to see if this is possible so that the freshwater used for the production of biofuel does not come from the same source as water for agriculture. A second option is to further develop the use of saltwater from brackish water sources or the ocean as a growth medium for algae for biofuel. The lab has been working on growth conditions of a saltwater alga which favors the production of lipids in the cells. The data from these algal growth studies will be transferred to Dr. Krystel Castillo (University of Texas San Antonio) and Dr. Mauricio Cabrera (University of Puerto Rico Mayaguez) for use in the modeling of larger scale processes for biofuel production.
We are looking to recruit full time Undergraduate and Graduate students enrolled at UTRGV. Undergraduate students should be Biology Majors with Chemistry Minors or Chemistry Majors with Biology Minors. Graduate students should be Biology or Chemistry Masters Degree students. Must be US Citizen and have a career goals oriented towards a career in USDA supported focus areas.
Contact Dr. Persans michael.persans@utrgv.edu for questions on this application
Accepting Applications for Fall 2017!