Program Overview
A Bachelor's degree in Spanish with Teacher Certification provides students with an enriched view of the world as well as Spanish language skills that will prove useful in many professions. With its emphasis on research, writing, and creative and analytical thought, a Spanish major prepares students for graduate studies in Spanish, as well as for professional school and for work in professions such as law, teaching, business, management, and publishing. Many Spanish majors combine their Spanish studies with other areas to prepare for career opportunities in international business, government, travel, or communications, where knowledge of a foreign language and of foreign cultures is essential. The degree provides a pathway to teacher certification for students who wish to become Spanish teachers.
UTRGV is approved by the State Board of Educator Certification to recommend students who complete all requirements for this degree for teacher certification.
Possible Career Options
In addition to Education (public and private K-12 schools, student exchange programs, corporate programs for foreign transfers), a student with a BA degree in Spanish Education may consider work in the following areas: government (armed forces, Department of Justice, US Citizenship and Immigration Service), non-profit organizations (civic organizations, international exchange programs, social work, and social services), commerce (customer service, translation, and interpretation, research, marketing firms), travel and tourism (airlines and airports, travel agencies, convention centers), arts media & entertainment (advertising, foreign news agencies, museums) or public service (civil service, international service organizations, social and rehab services).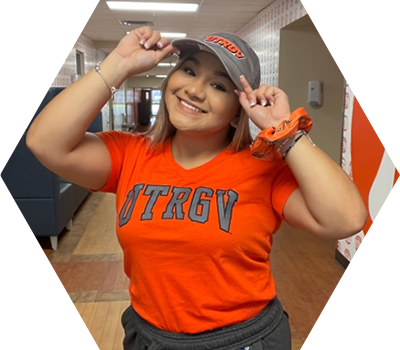 Being a Vaquero means having pride in my school, culture, family, and community. Being a Vaquero means helping others when you can and creating a safe environment where everyone feels welcome at UTRGV.
UTRGV has a high percentage of Hispanic students which I am proud to be a part of. Our culture revolves around diversity, culture, family, and special traditions. UTRGV has all these special qualities and made it my home away from home.