Editor's Note: During these unprecedented times, as we continue to deal with the COVID-19 pandemic, there are UTRGV faculty, staff, students and alumni who are making history. Without hesitation, they are stepping up to the front lines of the outbreak to help mitigate the spread of the virus throughout their communities. The Newsroom at UTRGV is recognizing the efforts and bravery of these individuals through an ongoing series of stories and videos.
UTRGV's Sgt. Adelaida Leal served the community at testing sites during the height of the pandemic

  Thursday, July 22, 2021
  Around Campus, Community
By Amanda Taylor
RIO GRANDE VALLEY, TEXAS – JULY 22, 2021 – At the most critical time of the pandemic, Sgt. Adelaida Leal and her fellow campus police officers spent countless hours under the blazing South Texas sun, directing traffic and guiding frightened patients to the UT Health RGV drive-thru COVID-19 testing sites.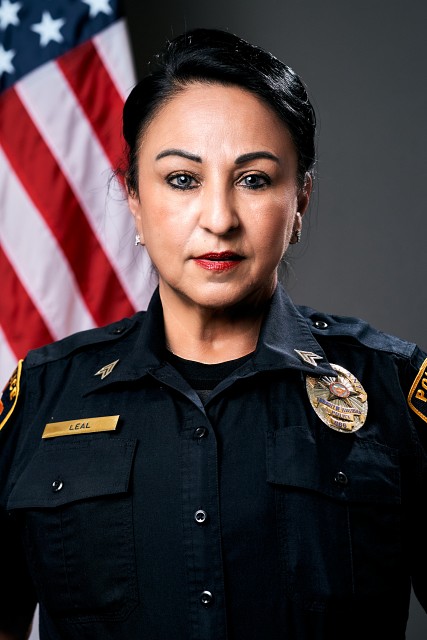 There, more than 100,000 noses were swabbed over the course of a year, including Leal. 
She ultimately tested positive for COVID-19 – not just once, but four times.  
Leal, who has worked with the UTRGV Police Department for 11 years, holds the oath to "protect and serve" seriously even in the most uncertain times. That includes maneuvering the COVID-19 pandemic, in which she and her colleagues found themselves immersed as they assisted UT Health RGV, the clinical arm of the UTRGV School of Medicine (SOM) during its testing efforts. 
"Every time we put on that uniform, we know what's in store," Leal said. "Since the School of Medicine staff was so busy each day, we were there to watch what was happening around them and make sure everyone was safe." 
Wearing PPE (Personal Protective Equipment), Leal and her officers would work alongside SOM employees to maintain a police presence and keep traffic flowing smoothly. Through it all, she knew that, despite taking all precautions, there was always a risk of getting infected with the virus due to their constant proximity to potential carriers of COVID-19. 
"My officers and I would be given nasal swabs with fast results, to make sure we were all still healthy to work at the sites," said Leal, who stressed that there was a constant rotation of officers working the sites to give them all a break from exposure to the virus, and to the often harsh South Texas weather.  
At the beginning of the pandemic, in March and April 2020, Leal said the major challenge was assisting so many people at one time.  
"We would see a massive number of people – SOM would receive about 6,000 calls a day from people who were trying to set appointments to get tested," she said. "Our challenge was to firmly but kindly remind people to remain patient despite being afraid and frustrated. These people needed help, which they would get, but there was also a process we had to follow to keep everyone safe."  
Leal assisted with helping get more than 100 people tested a day at the start of the pandemic. She said that, as a police officer, you must know how to adapt quickly to challenges – and the situation with COVID-19 changed rapidly day to day.  
THE VIRUS HITS HOME 
In early July 2020, Leal recalls, she was at work one day and didn't feel well. She had started her shift at 8 a.m. By 8:30 a.m., she had started to feel chills, as if she were coming down with a fever.  
"I was fine that morning, and when I started to feel strange, I immediately went home because I didn't know what was happening and I didn't want to risk exposing anyone else, just in case," she said. "I started coughing and became very nauseated and started to fear the worst." 
Her fears were validated when her COVID-19 test came back positive.  
For the first two weeks, she felt extremely disoriented, as if she didn't know what was happening around her. She had to concentrate hard on even the simplest tasks. And once the fatigue kicked up, she couldn't even leave her bedroom to walk the short distance to the living room without feeling as if she had just run a marathon.
"This virus has no mercy," she said. "The only relief I could find would be at night when I could sit outside on my porch and look out at everyone from my balcony."     
Over the course of two months, Leal tested positive four times.  
Her doctors called her a longtime carrier of the virus, and during that time, her body had atrophied from muscle loss. She lost a significant amount of weight and had no strength for normal, day-to-day tasks. 
"I was putting my affairs in order because I just didn't know what was happening to my body," Leal said. "I wanted to make sure that if anything did happen to me, it would be as simple and painless for my kids as possible." 
Her children, Alicia, 22, and Mario, 33, kept in communication with her, but Leal didn't want them to be near her and contract COVID-19 themselves.  
After two months of recovering at home, she finally was able to start working again. Doctors said the virus could remain in her system for up to six months because she was a longtime carrier, but the virus itself was dormant and she was no longer a health risk to those around her.  
In hindsight, Leal said, she had no idea where she could have contracted the virus, especially given the unpredictability of the virus itself. She wore PPE during work, followed all safety protocols, remained diligent wearing her mask, and socially distanced when out in public places like the grocery store.  
She said she is grateful that she didn't spread the virus to anyone else and believes that is because she responded immediately when she started to feel ill by isolating herself.  
"I can tell you now that I feel great," she said. "That first month back at work was a little rough, but I am so fortunate that I didn't have to be admitted to the hospital and that I was able to fight the virus at home. I was so fortunate."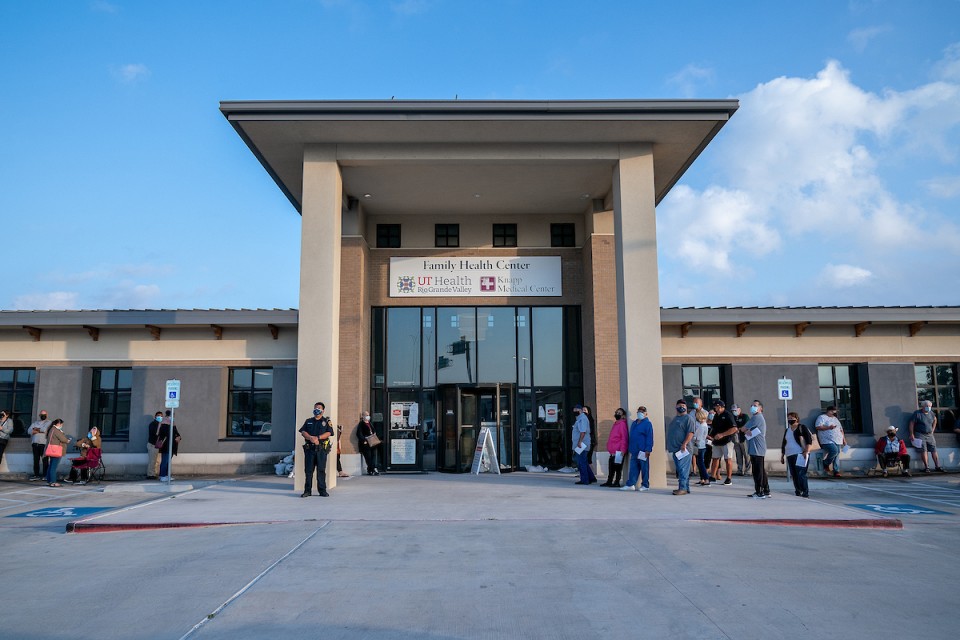 A NEW PERSPECTIVE 
With so many families devastated by the pandemic, Leal said, she is incredibly grateful she and her children were spared from the loss of life from COVID-19.  
She has continued her commitment to protect and serve by assisting her department in any way she can. And while there currently is no need for large COVID-19 testing sites like the tent cities that were established at the beginning of the pandemic, Leal said, she now helps the medical team distribute vaccines to the community.  
She said she is grateful toward her team of amazing officers and is amazed by the resiliency of the university community she serves. 
"UTRGV PD is a family. We have a really great group," Leal said. "This department is great, and I can't stress enough how great our chief and assistant chiefs are. They are supportive and know this has been so stressful on us. 
"One thing I think this pandemic has done is made people learn to appreciate the little things," she said. "I think people are learning to appreciate and love each other a little bit more, and that we can't take anything for granted."
ABOUT UTRGV
The University of Texas Rio Grande Valley (UTRGV) was created by the Texas Legislature in 2013 as the first major public university of the 21st century in Texas. This transformative initiative provided the opportunity to expand educational opportunities in the Rio Grande Valley, including a new School of Medicine, and made it possible for residents of the region to benefit from the Permanent University Fund – a public endowment contributing support to the University of Texas System and other institutions.
UTRGV has campuses and off-campus research and teaching sites throughout the Rio Grande Valley including in Boca Chica Beach, Brownsville (formerly The University of Texas at Brownsville campus), Edinburg (formerly The University of Texas-Pan American campus), Harlingen, McAllen, Port Isabel, Rio Grande City, and South Padre Island. UTRGV, a comprehensive academic institution, enrolled its first class in the fall of 2015, and the School of Medicine welcomed its first class in the summer of 2016.