Editor's Note: During these unprecedented times, as we continue to deal with the COVID-19 pandemic, there are UTRGV faculty, staff, students and alumni who are making history. Without hesitation, they are stepping up to the front lines of the outbreak to help mitigate the spread of the virus throughout their communities. The Newsroom at UTRGV is recognizing the efforts and bravery of these individuals through an ongoing series of stories and videos.

  Thursday, August 27, 2020
  Community
By Amanda Taylor
SAN ANTONIO, TEXAS – The threat of COVID-19 continues to grow in Texas, and while everyone should practice utmost safety, people who have underlying conditions have to be even more careful because they can face more dire complications if infected.  
Diabetes is one of the biggest healthcare issues in the Rio Grande Valley and San Antonio, and Dr. Lyssa Ochoa – a Valley native, alum of UTRGV legacy institution UT Pan American and board-certified vascular surgeon – is getting a close look at the devastating effects.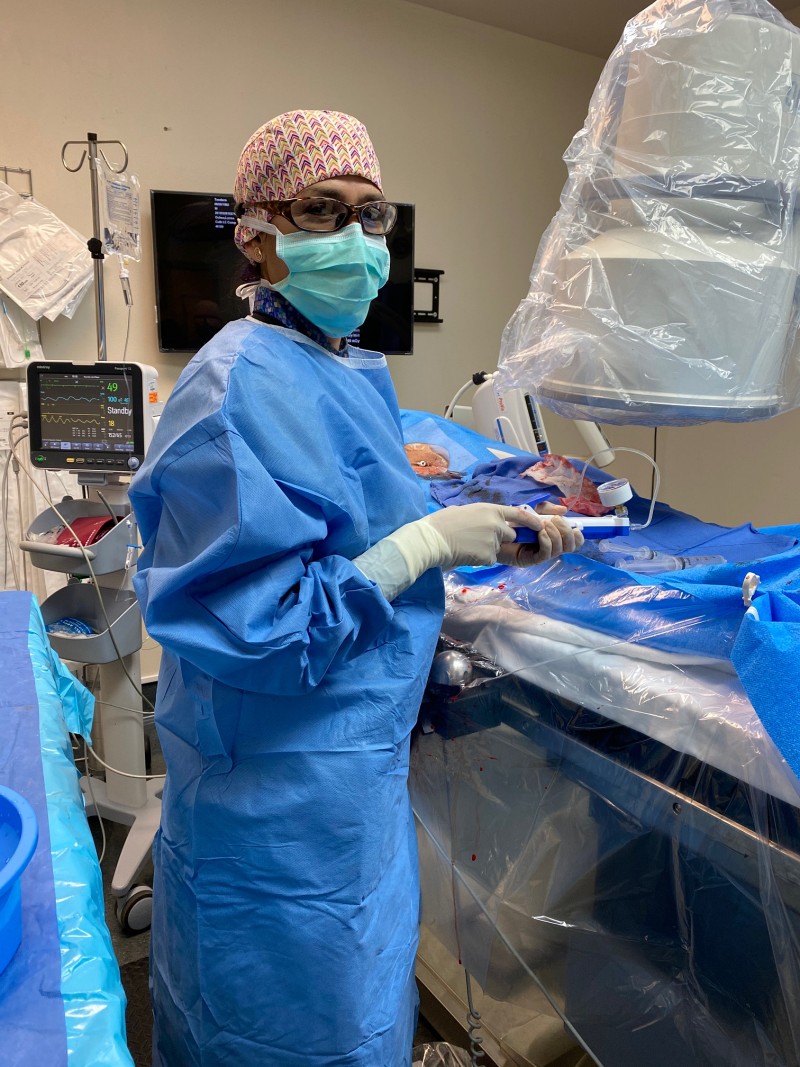 Ochoa specializes in critical care for diabetic patients. Originally from Palmview, her goal is to serve people with pre-existing conditions, like diabetes, who may be more susceptible to complications from COVID-19.  
"We had an increase in numbers early on, but it wasn't a big peak," she said. "But these patients had clots to their aorta and lower extremities, causing them to lose legs. Diabetics are already relatively immunosuppressed, so you can see how a virus takes advantage of all those different morbidities that can occur with diabetes."   
Ochoa graduated from Sharyland High School and graduated from UTPA in 1998 with a bachelor's degree in Chemistry.  
"I was in the very first cohort of the Pan Am and Baylor College of Medicine pre-medical honors scholarship," she said. "Prior to that premedical honors program, they had maybe a handful of students go into healthcare professions." 
Years later, Ochoa is CEO of her own vascular surgery practice, San Antonio Vascular and Endovascular Clinic, where the goal is to focus care to the residents within San Antonio that have the highest diabetic amputation rates.  
"All the elective cases I've started to do, I've tested for COVID. The reason for that is, there's a lot new literature coming out suggesting if you're asymptomatic or pre-symptomatic and you undergo general anesthesia, then you as a patient may have more complications," she said.  
Some of these complications include patients with a pattern of coagulopathy – being prone to blood clots. This kind of coagulopathy is commonly observed in COVID-19 patients and can cause an increase in inflammation, which can cause other serious issues. 
Ochoa said young, healthy patients have come into her clinic with no prior morbidities, then they form clots and have a stroke due to the complications of diabetes and COVID-19.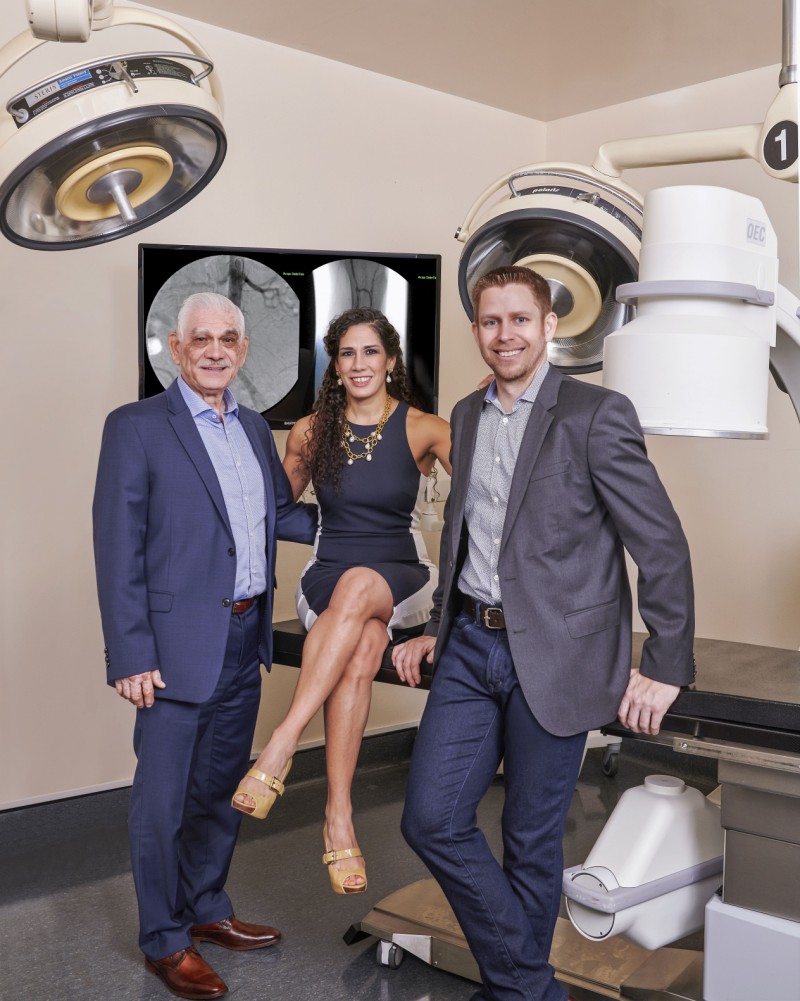 Often treating the underserved in her community, Ochoa said caring for a community as a whole is important and includes various facets, such as help from nonprofit agencies and care groups.  
"As a vascular surgeon, I see the worst cases of complications of uncontrolled diabetes," she said. "I feel that I'm the best sort of spokesperson to represent what happens when we don't take care of a community."  
Before a spike in cases in her area, Ochoa made sure her staff had plenty of essential PPE (Personal Protective Equipment), as they had to prepare for the increase in patients. While more and more of her colleagues began to test positive for the virus, the uncertainty of how long this would last began to loom. 
"We still don't know the big picture of what's going to happen, and I think that's what makes us so anxiety-ridden – there's so much uncertainty. We hope that this will last for three more months and then we'll be OK, but right now the answer is, we just don't know," she said. 
"It's disappointing that this healthcare pandemic that affects all of us seems to have become a partisan issue – which it's not. It's a healthcare issue which affects us all equally." 
Ochoa knows firsthand the similarities in diabetes statistics between San Antonio and the Rio Grande Valley. Now, with the UTRGV School of Medicine available to Valley students, Ochoa says it is important to learn about the history of the area – both medically and socioeconomically – to better understand general healthcare needs. 
"What I would encourage students in the Valley to do is to learn about the Valley, learn about the history of the area, how we came to be, how the populations came to be, and then begin to learn about all the different medical issues people in the Valley suffer from, because as you graduate, you are going to have more and more people looking up to you to be leaders," she said. 
"When you can understand the underlying medical conditions and then the policies and social influences that cause that, I think that puts you in a better place to understand what you want to do with your life and what you want to accomplish," she said.
"And I can promise you, it will be very rewarding."
ABOUT UTRGV
The University of Texas Rio Grande Valley (UTRGV) was created by the Texas Legislature in 2013 as the first major public university of the 21st century in Texas. This transformative initiative provided the opportunity to expand educational opportunities in the Rio Grande Valley, including a new School of Medicine, and made it possible for residents of the region to benefit from the Permanent University Fund – a public endowment contributing support to the University of Texas System and other institutions.
UTRGV has campuses and off-campus research and teaching sites throughout the Rio Grande Valley including in Boca Chica Beach, Brownsville (formerly The University of Texas at Brownsville campus), Edinburg (formerly The University of Texas-Pan American campus), Harlingen, McAllen, Port Isabel, Rio Grande City, and South Padre Island. UTRGV, a comprehensive academic institution, enrolled its first class in the fall of 2015, and the School of Medicine welcomed its first class in the summer of 2016.