UTRGV students take advantage of prestigious Court of Master Sommelier Introductory Course

  Wednesday, November 15, 2023
  Around Campus, Community
By Amanda Alaniz
RIO GRANDE VALLEY, TEXAS – UTRGV students did not have to travel far to expand their wine knowledge thanks to a free two-day course that helped them gain the prestigious Court of Master Sommelier certification.
The UTRGV Robert C. Vackar College of Business and Entrepreneurship's Hospitality and Tourism program offered students the chance to enroll in a two-day Court of Master Sommelier Introductory Course last month. 
A Master Sommelier is a pinnacle of wine expertise, tasting ability and exemplary service. It is the highest distinction that can be attained in the beverage service industry.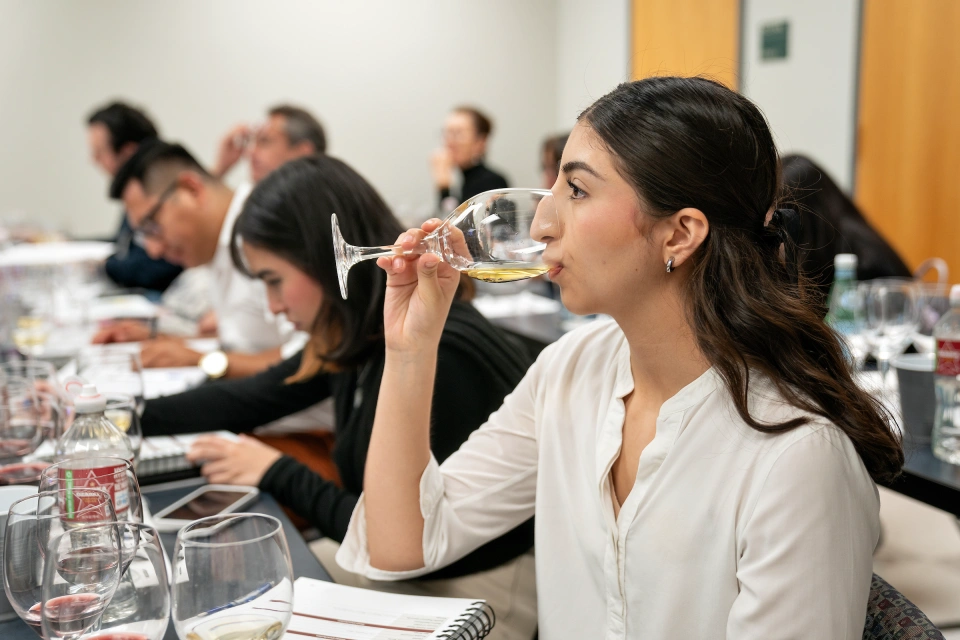 Eva Paschal, UTRGV RCVCOBE professor for wine and beverage appreciation with the Hospitality and Tourism Program, helped coordinate the course at UTRGV.
"The Court of Master Sommelier of Americas chapter provides the certification that is at the highest level of the hospitality industry," she said. "I'm extremely excited and happy to see we can provide this level of education here, at UTRGV, and it is of no charge to students. 
Students who attended were introduced to the principles of wine tasting as well as the art of winemaking. They also learned about grape varieties, major wine regions of the world, wine service, and how to match food with wine. The course was followed by a 70-question examination to gain certification.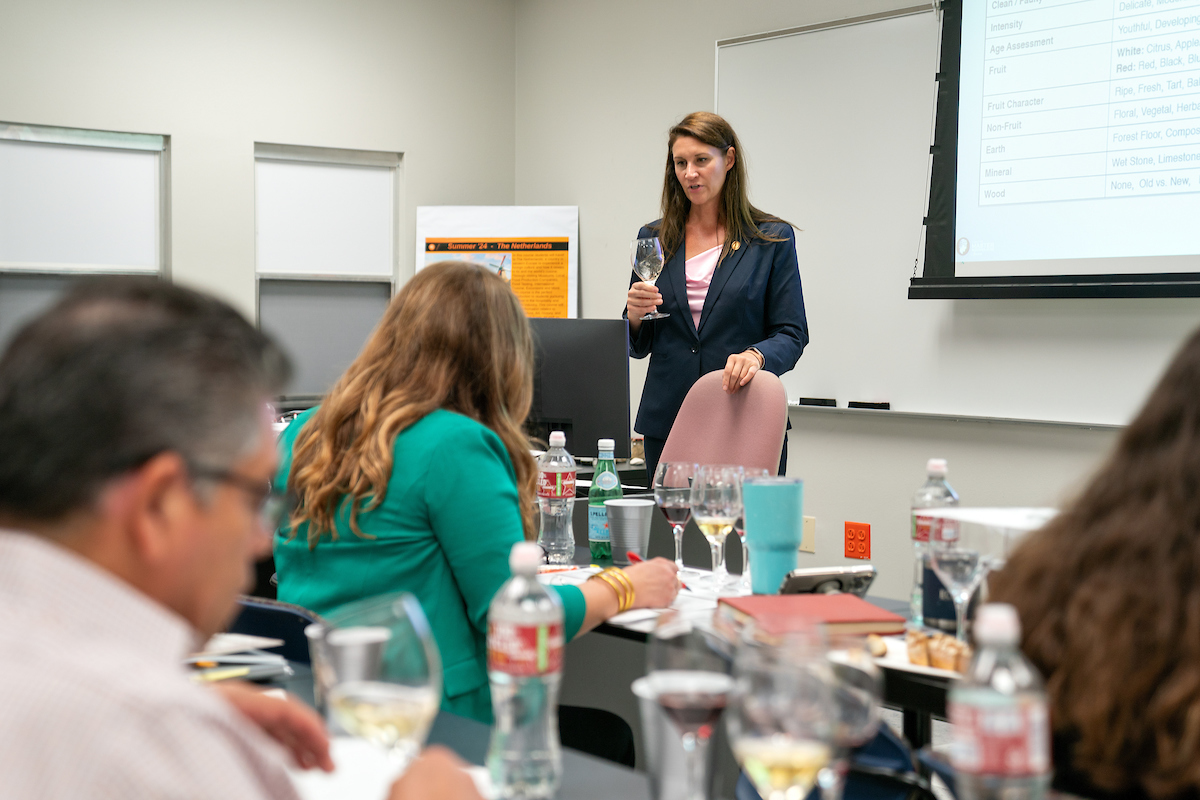 Three wine professionals were brought in to teach the course on UTRGV campus. They were Julie Dalton, Master Sommelier (MS), Pablo Braida, Master Sommelier (MS) and Serafin Alvarado, Master Sommelier (MS).
UTRGV students – Abril Silva and Cecilia Adame – signed up when they found out about the free opportunity for this prestigious recognition.
Silva, UTRGV senior and nutritional science major, said she has always had an interest in learning more about the sommelier and the wine industry.
"Normally you have to travel for this workshop, so it is a blessing that it is being offered at UTRGV," she said. "I encourage other students to take advantage of these opportunities."
Fellow student Adame, senior and hospitality and tourism major, echoed similar sentiments to her fellow classmate. She said the course being offered at UTRGV for free gave her a chance to further understand her career interests.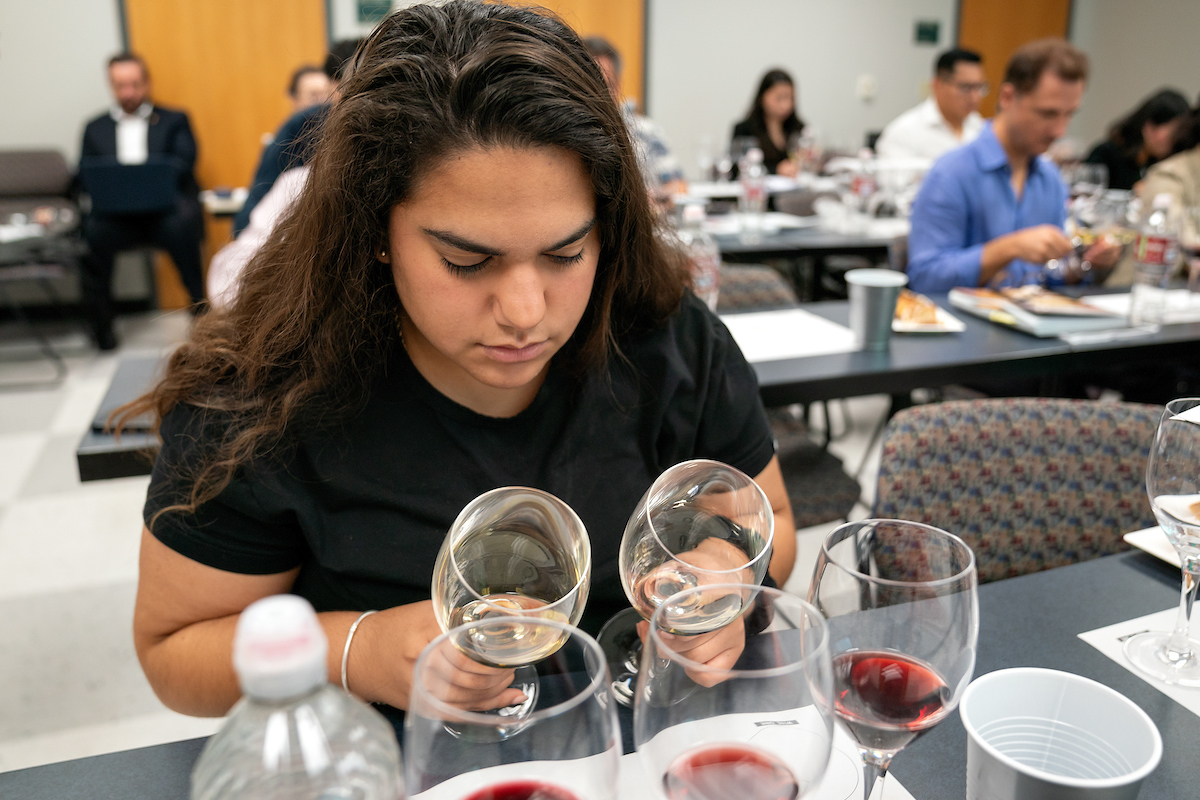 "I'm looking forward to the wine tasting and applying theory into tasting and seeing how it ties together," she said. "I see this course as something essential for my future career. I can add it to my résumé."
Paschal said she hopes students walk away with a newfound confidence and insight into the hospitality business.
"There are different aspects to hospitality. It's not just being inside the restaurant or hotels, there is also behind the scenes, inventory and cost control," she said. "It involves a lot more than sipping the wine."
Court of Mater Sommelier Americas has four level education and examination program, beginning with Introductory Sommelier Course and Examination. Level two is Certified Sommelier, Level three is Advanced Sommelier and level four is Master Sommelier.
To learn more about the Hospitality and Tourism Program and upcoming opportunities, visit utrgv.edu/host/.
ABOUT UTRGV
The University of Texas Rio Grande Valley (UTRGV) was created by the Texas Legislature in 2013 as the first major public university of the 21st century in Texas. This transformative initiative provided the opportunity to expand educational opportunities in the Rio Grande Valley, including a new School of Medicine, and made it possible for residents of the region to benefit from the Permanent University Fund – a public endowment contributing support to the University of Texas System and other institutions.
UTRGV has campuses and off-campus research and teaching sites throughout the Rio Grande Valley including in Boca Chica Beach, Brownsville (formerly The University of Texas at Brownsville campus), Edinburg (formerly The University of Texas-Pan American campus), Harlingen, McAllen, Port Isabel, Rio Grande City, and South Padre Island. UTRGV, a comprehensive academic institution, enrolled its first class in the fall of 2015, and the School of Medicine welcomed its first class in the summer of 2016.