Dr. Maria de Jesus Muñoz returns to RGV to share 20 years of experience with med students

  Wednesday, November 15, 2023
  Faculty Focus, Health
By Karen Villarreal
RIO GRANDE VALLEY, TEXAS – Born in Weslaco to a family of migrant farm workers, Dr. Maria de Jésus Muñoz remembers one muddy day in the strawberry fields of California when she told her father, "This is not for me."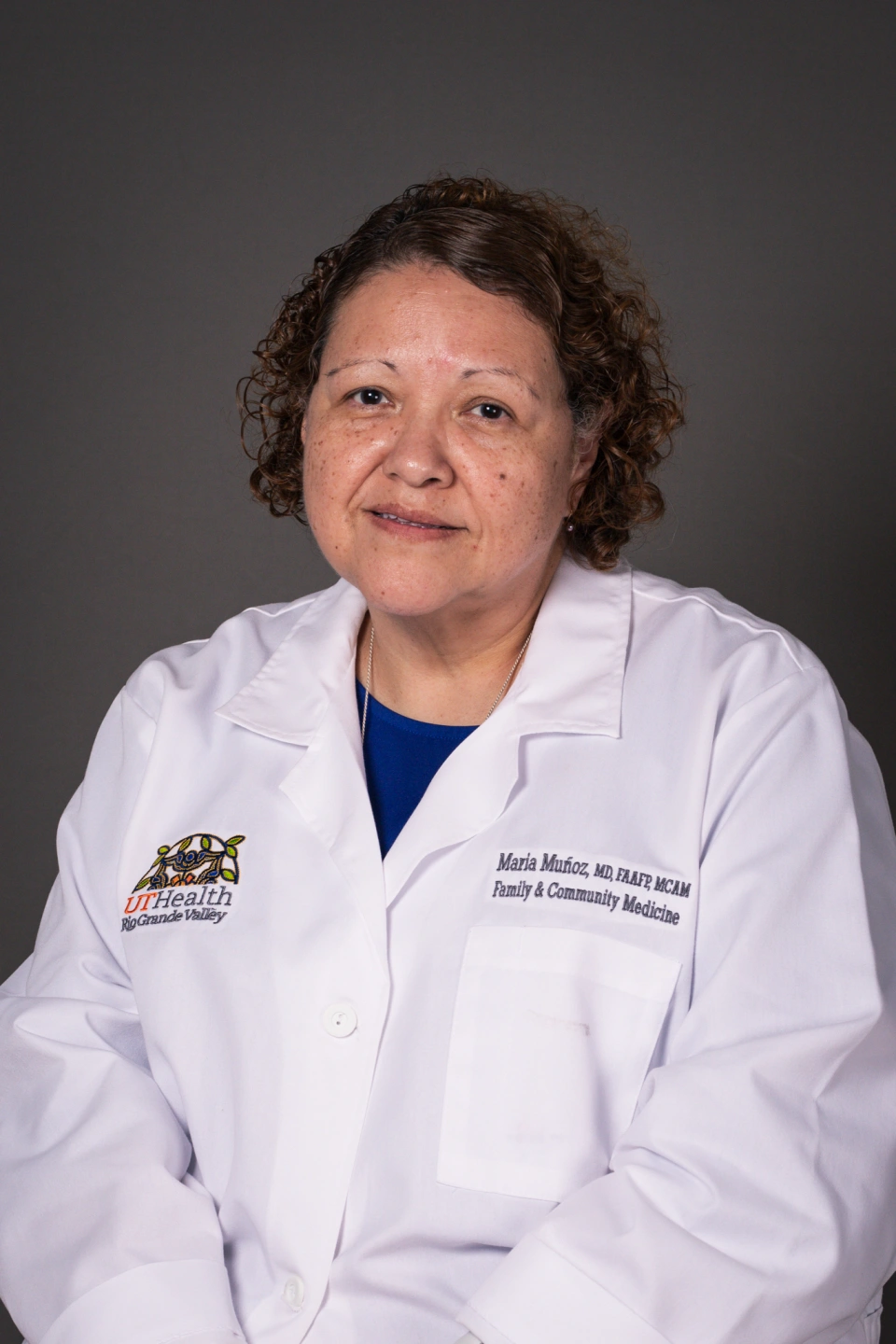 He encouraged her to educate herself so she could have a better life, so she sought out medical training not yet available more than 20 years ago in the Rio Grande Valley. Through it all, she held the underserved communities of South Texas in her heart. 
Two decades later, she returned to the Valley as a medical doctor, and in March 2023, Muñoz was appointed as assistant dean of Clerkships and director of Clinical Skills at the UTRGV School of Medicine.

She is leading the Valley's future doctors by setting their curriculum, recruiting community faculty, and directly instructing medical students in the classroom and clinic.
"I get to do what I love – helping the students," she said.  "I'm here for them."
 AN EXPANSIVE NEW ROLE
Muñoz says the beauty of her new role is that she can share her 20 years of medical experience with her students.
"One person can't do all the work that needs to be done, but I can train students so that they feel comfortable reaching out to underserved communities," she said. 
In addition to teaching clinical skills, she also oversees clerkships, or clinical rotations in the students' third and fourth years of medical school. Students spend four to eight weeks with each department: Family Medicine, Internal Medicine, Pediatrics, Surgery, OB-GYN, Psychiatry and Surgery.
While ensuring clerkship learning objectives are being met, Muñoz is developing new "sub internship" rotations in which students can get the first-year residency experience during their fourth year of medical school.
She also helps develop new curricula when needed, like a personal finance elective with the School of Business – a course proposed by a student to help manage a sustainable clinical practice.
And, along with her colleagues, she is working on a longitudinal medical Spanish curriculum that would introduce bilingual terminology in the first year, concluding in the fourth year with the students performing full medical histories in Spanish.
"That's so important for our region's patients," she said. "There are a lot of learning opportunities for students here. They will see many conditions not often seen in other areas, so they can really make a difference."
THE MAKING OF MUÑOZ
The UTRGV School of Medicine provides opportunities for the region's students without them having to leave the support of their family and friends, Muñoz says. 
 "It was so hard leaving my family and going away back then," she said. "But I was determined to pursue my career in medicine."
As a first-generation college student, she had to persevere through the medical school application process. She was rejected twice, and both times she asked the admissions committees how to be a better candidate. 
Perseverance paid off. She earned a master's degree and spent time volunteering, then was accepted on her third try to the University of Texas Medical Branch in Galveston. She graduated in 2002 with a UTMB Gold Headed Cane Award, and continued her residency at the UT Health Science Center at San Antonio. 
Though she still struggled with missing her family, she told herself, "I have to go there, so I can be well-trained, so that I can come back to the Valley."
It was a dream come true, she said, when the UTRGV School of Medicine opened and she was able to join in 2019 as an assistant professor in her discipline of Family Medicine.
"It is a tremendous privilege to continue serving my community, especially for an institution that has greatly impacted the health of the people in the Rio Grande Valley," Muñoz said.
ABOUT UTRGV
The University of Texas Rio Grande Valley (UTRGV) was created by the Texas Legislature in 2013 as the first major public university of the 21st century in Texas. This transformative initiative provided the opportunity to expand educational opportunities in the Rio Grande Valley, including a new School of Medicine, and made it possible for residents of the region to benefit from the Permanent University Fund – a public endowment contributing support to the University of Texas System and other institutions.
UTRGV has campuses and off-campus research and teaching sites throughout the Rio Grande Valley including in Boca Chica Beach, Brownsville (formerly The University of Texas at Brownsville campus), Edinburg (formerly The University of Texas-Pan American campus), Harlingen, McAllen, Port Isabel, Rio Grande City, and South Padre Island. UTRGV, a comprehensive academic institution, enrolled its first class in the fall of 2015, and the School of Medicine welcomed its first class in the summer of 2016.