Summer research experience pipelines agriculture scientists

  Friday, September 15, 2023
  Science & Technology, Research, Community
By Karen Villarreal
RIO GRANDE VALLEY, TEXAS – SEPT. 15, 2023 – Myranda De Leon Cantu, a UTRGV junior in biology from Villahermosa, Tabasco, Mexico, this summer realized her potential as a serious lab researcher. 
She learned advanced skills beyond her undergraduate lab classes – like polymerase chain reaction, electrophoresis and DNA analysis – to identify infectious bacteria that cause necrosis (dead tissue) in chicken bone samples.
"It was a shock to see that I was working at a graduate or even professional level," said De Leon Cantu, 22.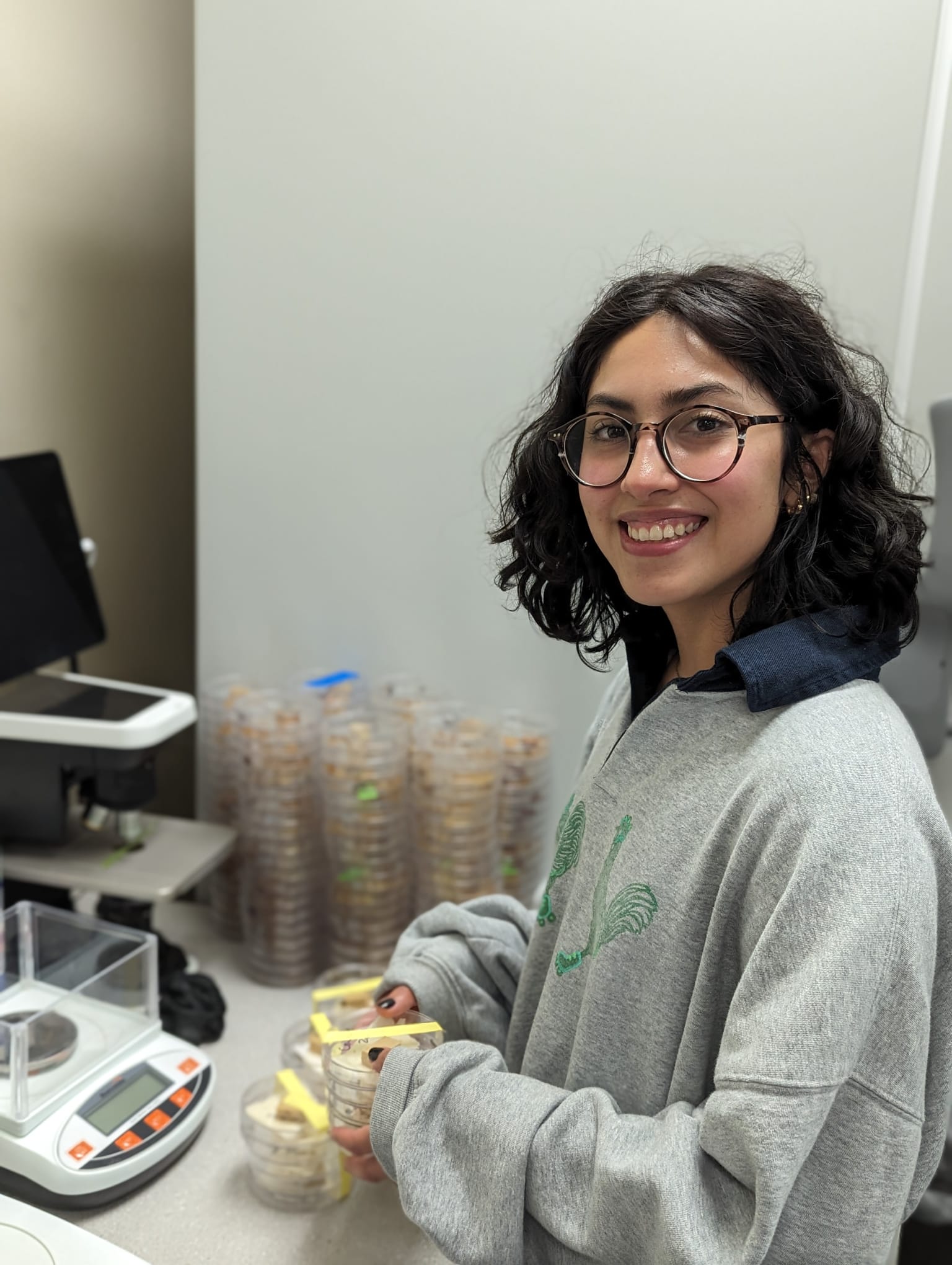 She is one of six UTRGV agriculture and environmental studies students who spent 10 weeks doing an agricultural research externship at the University of Arkansas. The students worked with faculty in cattle, plant and soil sciences at the Arkansas Agricultural Experiment Station– gathering research data in the field, analyzing it in the lab, and presenting their findings at a student symposium. 

EXPANDING HORIZONS 

Dr. Bradley Christoffersen, assistant professor in the UTRGV Department of Biology, led efforts to recruit students for the program's first year.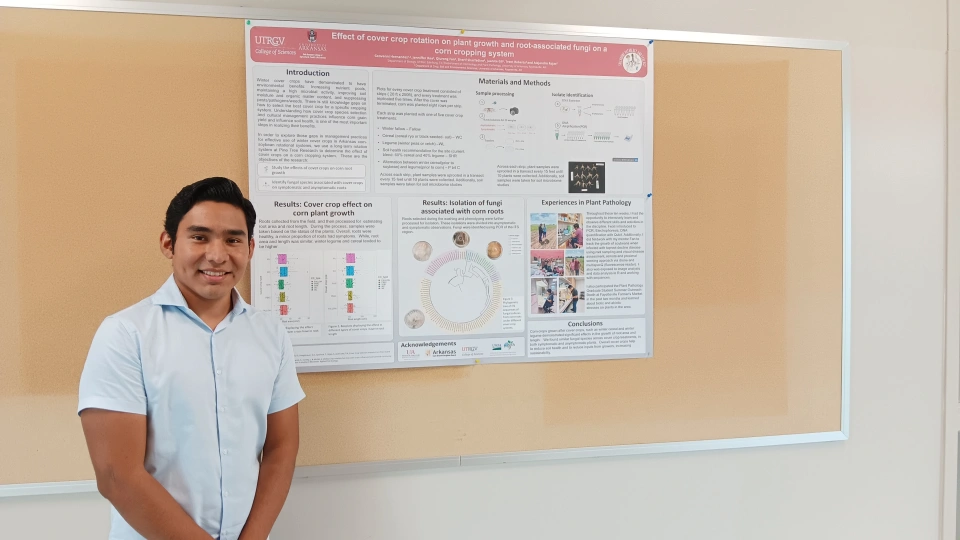 "We have excellent research opportunities at UTRGV, and this was an incredible opportunity for our students to expand and bring experiences from another institution back with them," he said. 
Biology major Geovanni Hernandez, 19, said he is thankful for the summer he spent identifying root-associated fungi and measuring cover crop growth. 
"Now, I have a better, clear vision of what I'm capable of doing," said Hernandez, from Pharr. 
He said will use his new skills as a student research assistant in Dr. Robin Choudhury's lab this semester. 
De Leon Cantu similarly is connecting with UTRGV faculty to utilize what she learned during the externship and gain additional lab experiences now that she is back at UTRGV. 
She previously was set on medical school, she said, but in speaking with lab mentors over the summer, she realized research in the agricultural field could have just as much impact. 
"I'm definitely interested in pursuing the path of working in a lab," she said. 
CURATING A PIPELINE 
Christoffersen said these illustrate the intended student outcomes of the USDA-funded collaboration with the research arm of the University of Arkansas System's Division of Agriculture. 
"It aims to increase representation of Hispanic students in agriculture and food sciences, as well as their development as skilled scientists in animal and plant systems," he said.  "We want to keep that pipeline going of well-trained undergrads ready for graduate studies in agricultural sciences."
Christoffersen designed the grant program with Dr. Rupesh Kariyat, associate professor of crop entomology with the Arkansas Agricultural Experiment Station and a former UTRGV biology professor. 
UTRGV received $30,000 of the grant to recruit six to eight UTRGV students every summer for the three years, to fund their travel, tuition, a small stipend and supplies.
"A summer research experience like this one is the perfect way to launch a career in science," Christoffersen said.  
The Arkansas Agriculture Experiment station in a story highlighted UTRGV's Evelyn Madrigal, a senior honors student, and her project on how fall armyworms reacted to soybean plant defenses.
"I grew a lot and I learned so many techniques that are definitely going to help me with the rest of the STEM classes that I have," she said.
ABOUT UTRGV
The University of Texas Rio Grande Valley (UTRGV) was created by the Texas Legislature in 2013 as the first major public university of the 21st century in Texas. This transformative initiative provided the opportunity to expand educational opportunities in the Rio Grande Valley, including a new School of Medicine, and made it possible for residents of the region to benefit from the Permanent University Fund – a public endowment contributing support to the University of Texas System and other institutions.
UTRGV has campuses and off-campus research and teaching sites throughout the Rio Grande Valley including in Boca Chica Beach, Brownsville (formerly The University of Texas at Brownsville campus), Edinburg (formerly The University of Texas-Pan American campus), Harlingen, McAllen, Port Isabel, Rio Grande City, and South Padre Island. UTRGV, a comprehensive academic institution, enrolled its first class in the fall of 2015, and the School of Medicine welcomed its first class in the summer of 2016.