Thursday, September 14, 2023
  Science & Technology, Research, Awards and Recognitions
By Maria Gonzalez
RIO GRANDE VALLEY, TEXAS – SEPT. 14. 2023 – The National Science Foundation (NSF) has awarded UTRGV a Major Research Instrumentation (MRI) award to acquire a special, cutting-edge microscope that will expand the possibilities for interdisciplinary molecular research at UTRGV and increase experiential learning for students in the STEM fields.
Dr. Nirakar Sahoo – the principal investigator on this $439,413 NSF-MRI grant and an assistant professor at the UTRGV School of Integrative Biological and Chemical Sciences – said the funds will allow the team to acquire a cutting-edge Transmission Electron Microscope (TEM), believed to be the first of its kind in the Rio Grande Valley. 
The Hitachi HT7800 120kV Transmission Electron Microscope is equipped with a high-definition camera, cutting-edge ionic liquid sample preparation technology and user-friendly features that will let UTRGV researchers and students capture ultra-high-resolution images and conduct cutting-edge molecular research. 
"This new TEM stands to significantly enhance UTRGV's research and education," Sahoo said. "Additionally, institutions like South Texas College and the ag centers in Weslaco and Kingsville will benefit from this TEM."  
Previously, researchers at UTRGV and neighboring institutions had to make a 350-mile drive to Texas A&M University at College Station to access a Transmission Electron Microscope. 
The incorporation of this advanced microscope is set to transform and revolutionize research in the Valley by expanding the range of its research fields to interdisciplinary research opportunities, to include biology, physics, chemistry and engineering.  
Dr. Robert K. Dearth, co-PI on the grant and director of the UTRGV School of Integrative Biological and Chemical Sciences, said acquisition of the TEM is a significant milestone for UTRGV in establishing the first microscopy core facility at the university.
"Securing this NSF award to support the TEM took several years," Dearth said. "It could not be possible without Dr. Sahoo's relentless drive, the great team and resources we have at UTRGV, and the invaluable support from the NSF." 
The microscope's applications also will help further the study of plant and animal cell physiology, nanotechnology, food safety, and drug delivery, among other key research areas. 
Dr. Can (John) Saygin, senior vice president for Research and dean of the UTRGV Graduate College, said the possibilities for research and development will skyrocket at UTRGV.
"The TEM's acquisition not only bolsters academic opportunities and experiential learning for our students, but also advances interdisciplinary research," Saygin said. "These are pivotal areas that align with UTRGV's goal of becoming an Emerging Research University (ERU)."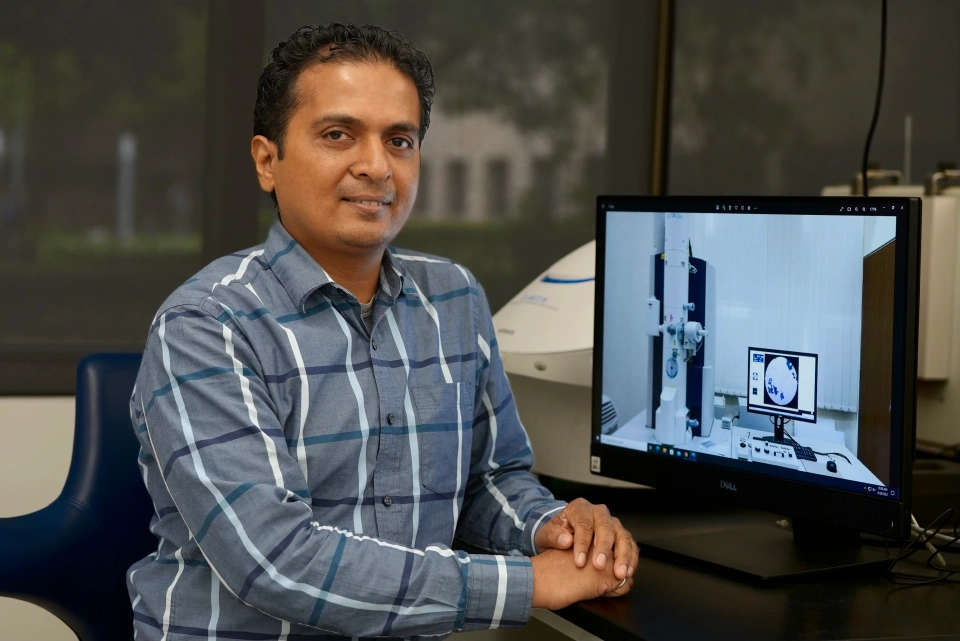 "This NSF grant award highlights that UTRGV is on the right path toward research excellence, with a solid societal impact that matters at regional and national levels," he said. 
As UTRGV's research enterprise continues to make strides toward ERU and subsequently R1 status, the TEM will enhance research capabilities, improve educational quality, and foster increased participation from underrepresented groups in the science, technology, engineering and mathematics (STEM) fields, Sahoo said. 
"Incorporating the TEM into undergraduate and graduate courses at UTRGV provides students with hands-on experience in sophisticated technology. This exposure aims to enhance specific skills and inspire the pursuit of STEM disciplines," he said. 
Sahoo acknowledged the support of Dearth and Dr. Vivian Incera, dean of the College of Sciences, for their willingness to cover TEM's operational and maintenance expenses beyond the NSF three-year contract.  
He said he is grateful to his research team, noting their continued leadership and teamwork, and acknowledged the contributions of the following UTRGV co-investigators and senior personnel: 
Robert Dearth, co-principal investigator.

Karen Lozano, co-principal investigator

.

Karen Martirosyan, co-principal investigator.

Bradley Christoffersen, co-principal investigator.

Jason Parson, senior personnel

.
The TEM is located at the College of Science core facility on the UTRGV Edinburg Campus and is managed by Sahoo and Dearth in its function as a vital strategic asset for research at the university.
ABOUT UTRGV
The University of Texas Rio Grande Valley (UTRGV) was created by the Texas Legislature in 2013 as the first major public university of the 21st century in Texas. This transformative initiative provided the opportunity to expand educational opportunities in the Rio Grande Valley, including a new School of Medicine, and made it possible for residents of the region to benefit from the Permanent University Fund – a public endowment contributing support to the University of Texas System and other institutions.
UTRGV has campuses and off-campus research and teaching sites throughout the Rio Grande Valley including in Boca Chica Beach, Brownsville (formerly The University of Texas at Brownsville campus), Edinburg (formerly The University of Texas-Pan American campus), Harlingen, McAllen, Port Isabel, Rio Grande City, and South Padre Island. UTRGV, a comprehensive academic institution, enrolled its first class in the fall of 2015, and the School of Medicine welcomed its first class in the summer of 2016.