MEET THE MUSIC MAKERS

  Tuesday, September 12, 2023
  Around Campus, Student Life
By Victoria Brito Morales
RIO GRANDE VALLEY, TEXAS – SEPT. 12, 2023 – UTRGV in August started workshops for the first season of the UTRGV Marching Band. 
Ronnie Rios, UTRGV marching band director, said the 150-member band is the first of its kind at UTRGV and a point of pride all on its own. 
"I am just amazed by how talented and energetic our students are and I know that if we stay on track, we can have something everybody can be proud of, within UTRGV and beyond," he said.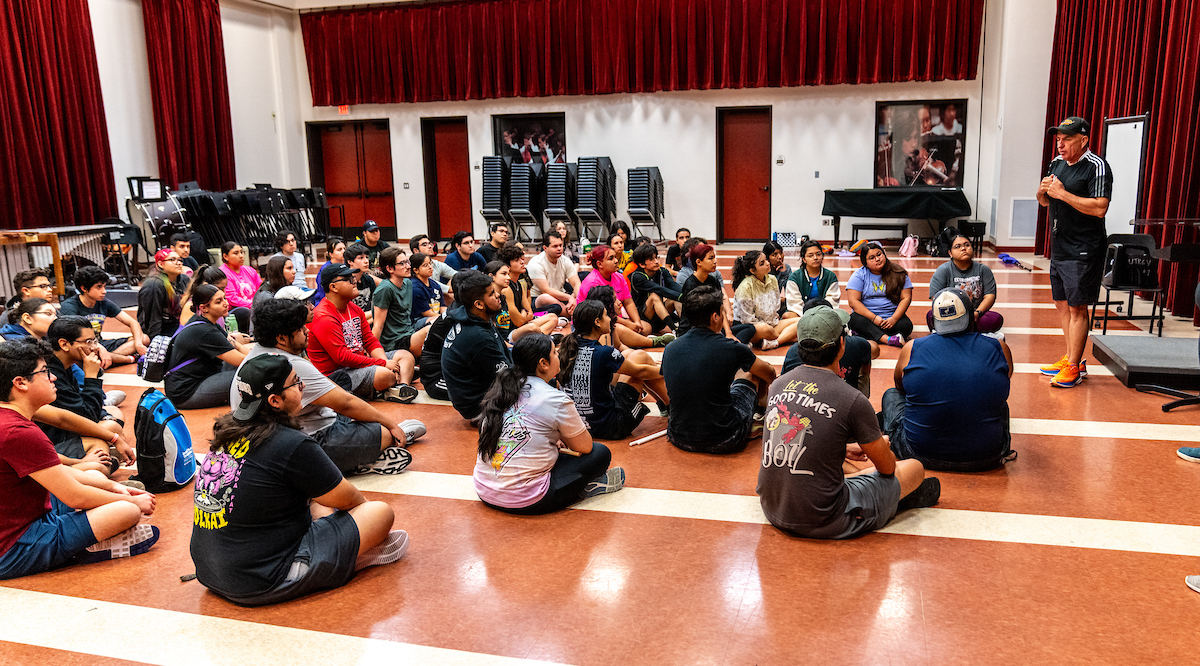 UTRGV'S MARCHING BAND PIONEERS 
Gisela Torres, a junior Mathematics Education major, plays alto saxophone for the band. One of the most rewarding aspects of being in the band is that Rios, a UTRGV assistant professor of Practice and the director of Athletic Bands, is from Alice, Texas, her hometown.
"There are not a lot of people in my town, only about 20,000, so it's just a great coincidence that Mr. Rios went to the same high school that I did, and that we have our first year here in band together," she said. 
Torres believes the new marching band could be a deciding factor for other high school marching band members to attend UTRGV.
"This will probably bring in a lot of people next year, it is just amazing. I am beyond grateful and blessed," she said.
Torres was in her high school marching band and was a soloist in both her junior and senior years. Junior year, she went to state marching competition, where her high school placed 25th in Texas. 
"I was really excited because that was the first time in a long time that my high school went to state. The other soloist happened to be my sister and she was there. It was the end of her senior year and the end of my junior year. It's nice to know things can come around full circle. This is the start of marching for me at UTRGV, the start of something new." 
Clarinet players Joel Cardenas, a sophomore Music Education major from Raymondville, and Paige Delgado, a senior Exercise Science major from Rio Grande City, said they are excited to be a part of the UTRGV Marching Band.  
"I didn't do marching band last year and it was sad leaving marching band in high school," Cardenas said. "Now that we're underway, I'm really excited. I love the hype, the crowd, the audience. And I like getting to show off what we can bring to the field."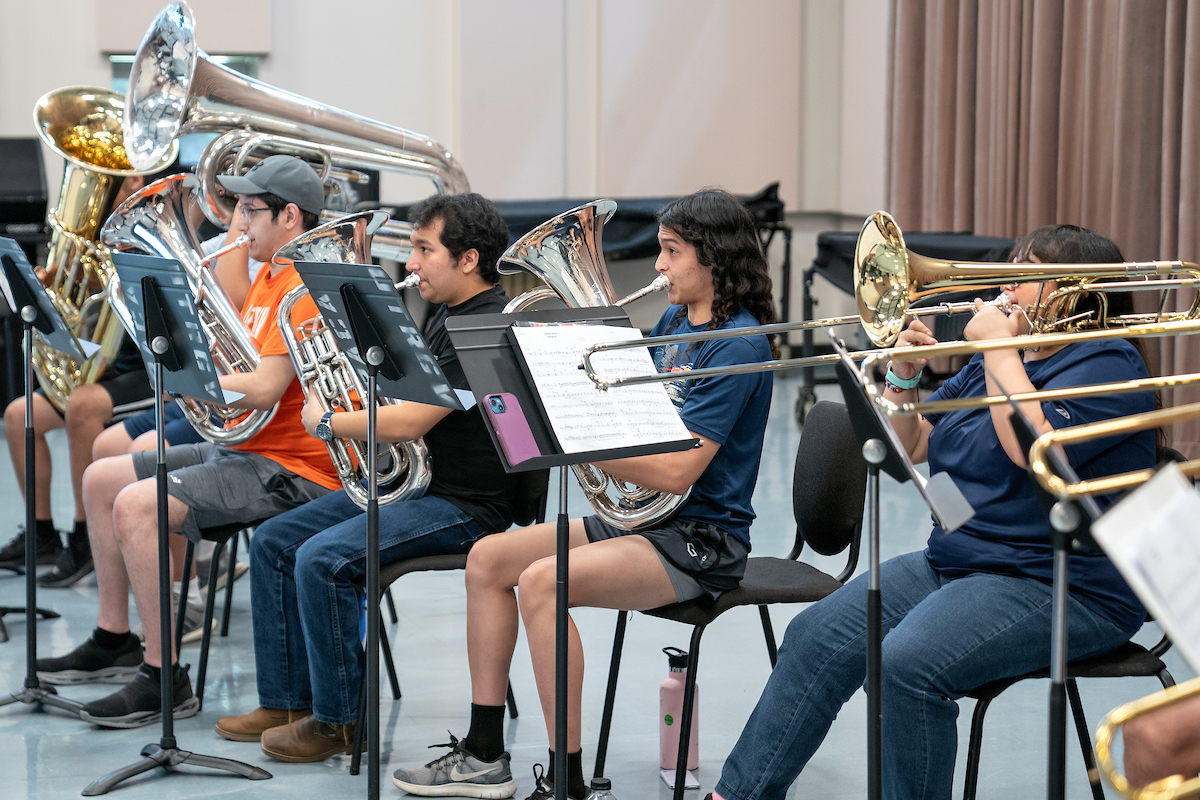 For Delgado, this marching band is a chance to relive a marching band experience cut short due to COVID-19. 
"I didn't get to march my senior year of high school. We were all online, and my senior year was a state year. I didn't get to do anything," she said. "This is a good way for me to get back into it. It's exciting, to hear the crowd when we hit those big notes, and then everyone's cheering." 
Carolyne Pereira, a freshman Integrated Health Science major from Edinburg, said she can hardly wait for this inaugural year of band.
"I'm really excited to show everybody what we can do this marching season," she said. "I play clarinet, have been playing since middle school. I want to show we can do new things, be part of a strong community and bring more joy. Music is a beautiful thing."
ABOUT UTRGV
The University of Texas Rio Grande Valley (UTRGV) was created by the Texas Legislature in 2013 as the first major public university of the 21st century in Texas. This transformative initiative provided the opportunity to expand educational opportunities in the Rio Grande Valley, including a new School of Medicine, and made it possible for residents of the region to benefit from the Permanent University Fund – a public endowment contributing support to the University of Texas System and other institutions.
UTRGV has campuses and off-campus research and teaching sites throughout the Rio Grande Valley including in Boca Chica Beach, Brownsville (formerly The University of Texas at Brownsville campus), Edinburg (formerly The University of Texas-Pan American campus), Harlingen, McAllen, Port Isabel, Rio Grande City, and South Padre Island. UTRGV, a comprehensive academic institution, enrolled its first class in the fall of 2015, and the School of Medicine welcomed its first class in the summer of 2016.