Monday, September 11, 2023
  Student Life, Around Campus
By Amanda A. Taylor-Uchoa
RIO GRANDE VALLEY, TEXAS – SEPT. 11, 2023 – Two UTRGV Harlingen Collegiate High (HCH) graduates joined more than 32,000 students during the first week of the Fall 2023 semester last month.
Ida "Annie" Ambriz, valedictorian of HCH, and Nathali Martinez, salutatorian of HCH, might have started the semester as new Vaqueros, but they came well prepared with two years of university experience under their belts.
Ambriz, pursuing a degree in Marketing, said that attending HCH fully prepared her for the transition into college life.
"It feels familiar as I really got to know the college experience while being at HCH, so I feel like now I'm in my place and it doesn't feel too different from what I was doing," the Harlingen native said.
"I got real life experience with real life professors, and it got me used to the typical class schedule of a college freshman, so I really think that being at HCH prepared me to be at UTRGV."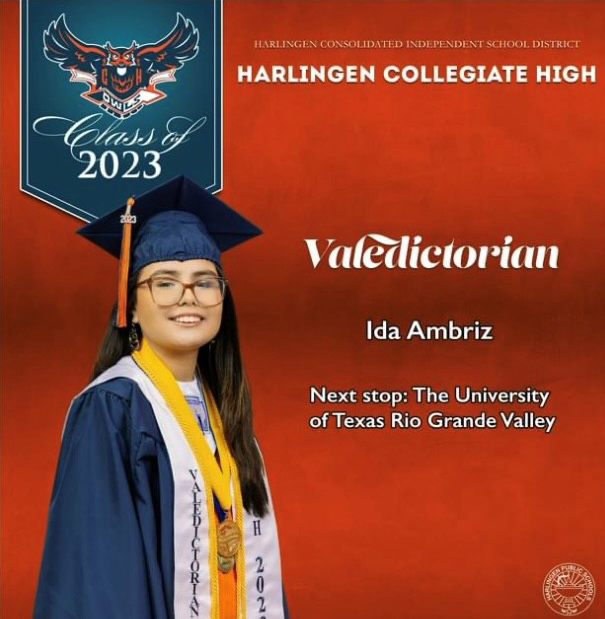 For Martinez, a Finance major, said that while being on the UTRGV campus is a bit intimidating, she feels more prepared for the change having attended HCH.
"It's a little bit scary because it's such a big campus and there's a lot of walking, but I think it's exciting to come and see everything and see college life," she said, also a Harlingen native. "Waking up early and organizing everything - I kind of like it and I'm kind of used to it already."
SPECIALIZED PATHWAYS
Both students participated in the HCH graduation ceremony held on May 19 at the high school. During their time at HCH, the two navigated specialized high school curriculum which would prepare them for college courses within their first two years.
By the time they were juniors and seniors, the two began college-level courses that would allow them to graduate with two years of college credit upon entering UTRGV.
Martinez said she will always remember her first semester of her junior year in high school, when college courses began, because of the higher expectations that college-level professors had.
"Sometimes they won't teach you the way (you're used to) learning; they won't adapt to you, so you have to know what to look for and reach out to people to ask for help within all the services UTRGV has," Martinez said. "I think HCH really prepared me for that. Now, I know that sometimes I can't do it, so I'll ask for help."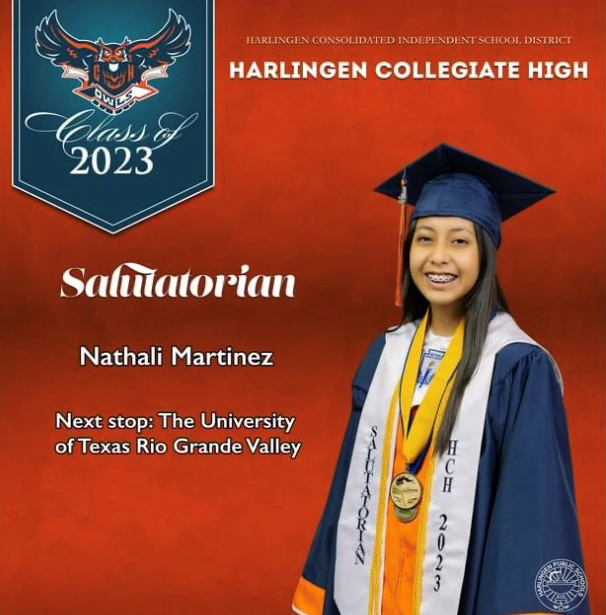 HCH, among other specialized high schools in the Valley, UTRGV Edinburg CISD Collegiate High School (UTRGV ECH), and UTRGV McAllen Collegiate Academy (UTRGV MCA), share the ongoing commitment to providing educational opportunities to all Valley students to better prepare them for college, and ultimately, their future careers.
CHOOSING THEIR ROOTS
Both Ambriz and Martinez expressed the importance of staying close to their families and cultures throughout their college years.
"I really wanted to stay in touch with my culture, my roots," said Ambriz, who aspires to be a sports or brand marketer. "I was born and raised here, so staying in the Valley really helped me stay connected to my culture and my family. I just wanted that to be a part of my life."
Echoing Ambriz's sentiment, Martinez also wanted to stay close to her family and the university she grew to love.
"My family is a big part; I really like the way UTRGV works, I really got used to it and I thought it was a good experience," she said. "I really liked it and I wanted to continue it."
As for advice to their fellow Vaqueros, Ambriz said the most important thing is to stay on top of tasks.
"Definitely stay on top of your work, that's probably the biggest piece of advice I can give," she said. "Don't procrastinate, try to get everything done as soon as you can."
Martinez said it's also important to start thinking seriously about the future and which career to pursue.
"Do your work, be organized, and start thinking about what you want to do because it's really hard to be changing careers so just explore and try to get as much experience as you can," she said.
For more information on collegiate high schools, visit this link.
ABOUT UTRGV
The University of Texas Rio Grande Valley (UTRGV) was created by the Texas Legislature in 2013 as the first major public university of the 21st century in Texas. This transformative initiative provided the opportunity to expand educational opportunities in the Rio Grande Valley, including a new School of Medicine, and made it possible for residents of the region to benefit from the Permanent University Fund – a public endowment contributing support to the University of Texas System and other institutions.
UTRGV has campuses and off-campus research and teaching sites throughout the Rio Grande Valley including in Boca Chica Beach, Brownsville (formerly The University of Texas at Brownsville campus), Edinburg (formerly The University of Texas-Pan American campus), Harlingen, McAllen, Port Isabel, Rio Grande City, and South Padre Island. UTRGV, a comprehensive academic institution, enrolled its first class in the fall of 2015, and the School of Medicine welcomed its first class in the summer of 2016.