Drumroll, please!

  Wednesday, August 30, 2023
  Announcements, Around Campus
By Amanda Alaniz
RIO GRANDE VALLEY, TEXAS – AUG. 30, 2023 – Historic additions to UTRGV and the university community are coming on strong, hot on the heels of a student vote that supported new programs like women's swimming and diving, football, expansion of the spirit program – and the first Vaquero Marching Band.
Leading the inaugural marching band will be Texas native Ronnie Rios, newly appointed director of UTRGV Athletic Bands.
Earlier this year, about 300 students responded when UTRGV sent out a call to students interested in joining the university's first marching band for athletics.
Rios, a native of Alice, Texas, joins UTRGV with extensive experience. He earned his bachelor's and master's degrees in music education from Texas A&M Kingsville, and began teaching music at a middle school in Kingsville, where his bands earned accolades from a variety of festivals.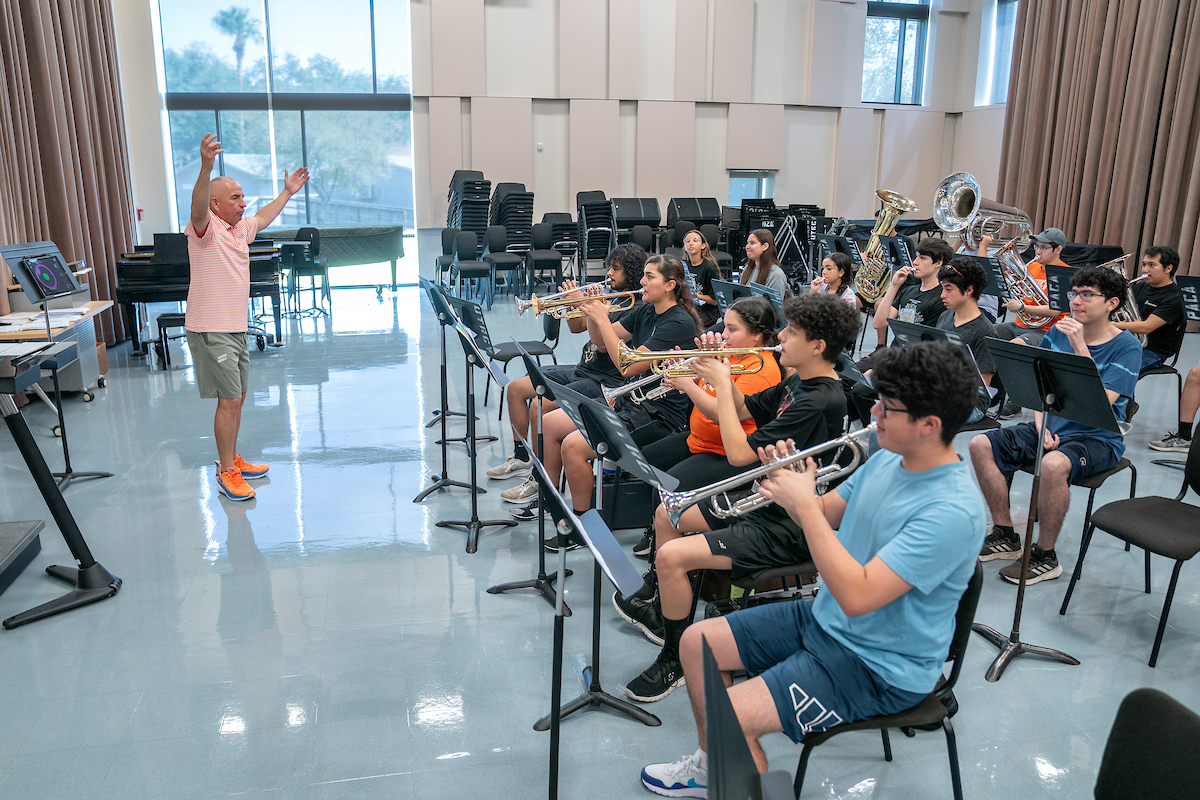 From Kingsville, he went on to direct the band at Harlingen High School for about 20 years, helping it consistently earn recognitions and awards from around Texas.
"I love music. I love working with students, putting shows together, watching students develop and grow as musicians, as leaders, performers, and as great people," he said. "I am so excited to be at UTRGV. I think it's going to be a historic year, a tremendous next couple of seasons as football comes to the Rio Grande Valley."
Rios was brought on board at the end of June at UTRGV to establish the marching band as the first of its kind for the university.
He said he envisions a band that will help uplift school spirit and play a special part in the university experience.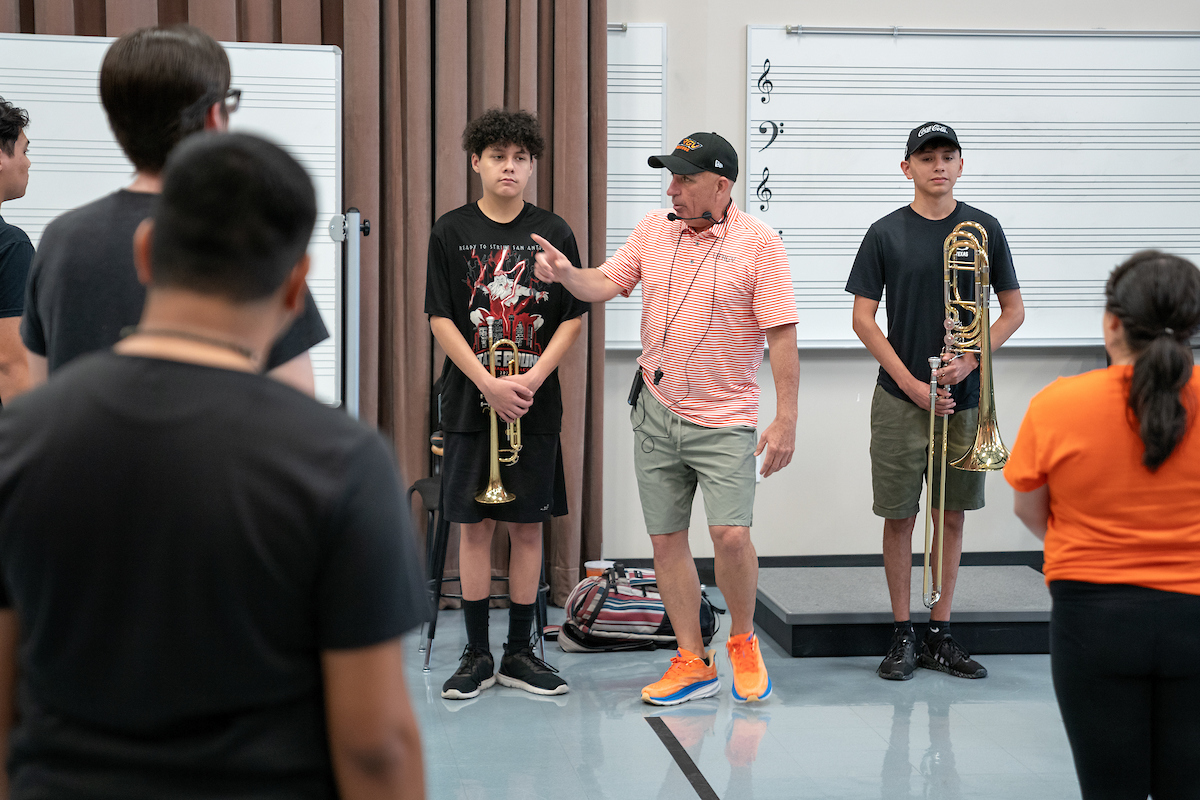 "I want to be sure the audience is really engaged, and cheering, when they see our UTRGV students performing at games," he said. "They will be out there, spreading the word." 
PLAY THE MUSIC. THEY'LL ENROLL
One of Rios's goals for the marching band is to bring in more students to enroll at UTRGV. After teaching in the Valley for more than 20 years, he said, he is familiar with the talent here at home.
"Our message to students is, you don't have to leave the Valley to be part of a marching band. It's right here," he said. "We're going to bring a top-tier group, top-tier instructors, and a top-tier level of performance to celebrate the 956," he said.
Things already were coming together in August with the marching band's Welcome Week of Workshops. Students from various classifications and majors showed up to showcase their talent and their commitment to the new ensemble.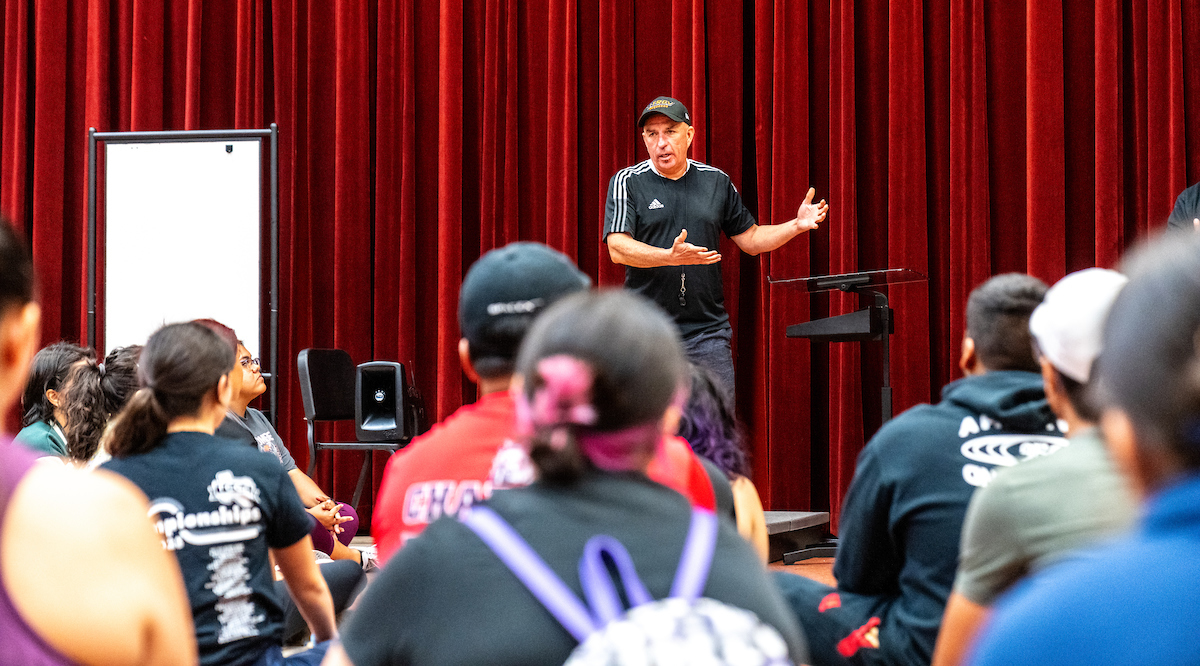 Rios said he is looking forward to seeing the level of performance possible. He has a history of working with high school students, he said, and now he will be working with university-level performers – it will be new, exciting territory for him.
As part of the interview process, he was asked to teach a group of college students.
"The level they were at when I walked into the room – then, when I was practicing with them – it was amazing," he said.
Rios, a multi-Grammy-nominated music educator, has hit the ground running, with plans that include future performances at "PigSkin" practices indoors and outdoors in stadiums. And he is banking on creating a unique UTRGV fight song.  
He encourages students to view the new marching band as something that belongs to them, and if they are interested in joining, they should give it a shot.
"If you have a little bit of skill in how to play an instrument, and if you are willing to put in the work, we will work with you to make any modifications or adjustments – in the music itself or in marching or maneuvering – to help get you involved in the production," he said.
To learn more about the UTRGV Marching Band, visit https://link.utrgv.edu/marchingband/.
ABOUT UTRGV
The University of Texas Rio Grande Valley (UTRGV) was created by the Texas Legislature in 2013 as the first major public university of the 21st century in Texas. This transformative initiative provided the opportunity to expand educational opportunities in the Rio Grande Valley, including a new School of Medicine, and made it possible for residents of the region to benefit from the Permanent University Fund – a public endowment contributing support to the University of Texas System and other institutions.
UTRGV has campuses and off-campus research and teaching sites throughout the Rio Grande Valley including in Boca Chica Beach, Brownsville (formerly The University of Texas at Brownsville campus), Edinburg (formerly The University of Texas-Pan American campus), Harlingen, McAllen, Port Isabel, Rio Grande City, and South Padre Island. UTRGV, a comprehensive academic institution, enrolled its first class in the fall of 2015, and the School of Medicine welcomed its first class in the summer of 2016.