'Amazing things are happening here'

  Friday, August 25, 2023
  Around Campus
By Saira Cabrera
RIO GRANDE VALLEY, TEXAS – AUG. 25, 2023 – The UTRGV School of Medicine's South Texas Center of Excellence in Cancer Research (ST-CECR) has been granted $200,000 by the prestigious Cancer Prevention and Research Institute of Texas (CPRIT).
The funding will help advance pancreatic cancer-related research and studies in South Texas.
This recent CPRIT award – the "Role of transcription factor UBTF in pancreatic cancer" – to the university's cancer research center is the second for the academic medical institution, but the first of its kind as an individual pilot program grant for UTRGV.
It will increase the School of Medicine's mission to impact biomedical and clinical research and improve health, not only in the region but nationwide, by investigating the causes and possible treatments for pancreatic cancer. At the same time, it will facilitate synergies in research that will further the school's focus on health and disease in underrepresented populations.
Dr. Bilal Bin Hafeez – assistant professor of the Department of Medicine and Oncology Integrated Service Unit at the UTRGV School of Medicine and principal investigator of the CPRIT award – said his research is centered on understanding and targeting the process of ribosome biogenesis – the process of creating a structure at the cellular level – for prevention and treatment of gastrointestinal cancers.
"Pancreatic cancer is difficult to treat because of its poor diagnosis and prognosis. Currently, there is no effective treatment for pancreatic cancer at an advanced level, which is often how this specific cancer is found," Hafeez said.
"So, by the time the patient is diagnosed, the disease already has spread into other organs. With this grant, we will develop new molecular targets which will help develop novel treatment strategies for this lethal malignancy," he said.
The CPRIT award will support the UTRGV cancer center's operations and accelerate cancer research at the UTRGV and across South Texas. It will enhance Hafeez's lab and enable his team to develop new research directions in the fight against pancreatic cancer, thereby paving the way for possible next-level funding by the National Institutes of Health and other funding organizations.
FOR THE RGV
Dr. Everado Cobos, leader of UTRGV School of Medicine's new Medicine and Oncology Integrated Service Unit, said it is exciting to have Rio Grande Valley investigators looking at that malignancy, which will help doctors be prepared when patients present with this cancer.
"Pancreatic cancer is the one cancer where there's a huge gap in introducing new therapies," he said. "We're very excited that we have someone looking at that malignancy here, and then in our community when patients present with pancreatic cancer.
"We hope what Dr. Hafeez can develop could translate to clinical trials that we can implement here in our community and in our upcoming UTRGV Cancer and Surgery Center," Cobos said.
ANOTHER SIGNIFICANT STEP FORWARD
The CPRIT Oversight Committee awarded this grant as part of its Texas Regional Excellence in Cancer (TREC) award to strengthen cancer research at institutions geographically distant from the major research hubs in larger metropolitan areas across the state, such as Dallas, Houston and San Antonio.
Dr. Michael B. Hocker, senior vice president for UT Health RGV and dean of the UTRGV School of Medicine, said this award is evidence of the amazing work being done at the School of Medicine, and its investment in research is paying off.
"Receiving this award is another significant step forward in our fight against cancer in the Valley, and the award reflects the great work our academic medical institution does daily," he said. "To again have been a CPRIT recipient solidifies our mission and commitment to providing better healthcare options across the region and life-changing research and discoveries.
"Amazing things are happening here as we continue to join the fight against cancer and transform the health of the Rio Grande Valley and beyond," Hocker said.
UTRGV department colleagues and research collaborators include Subhash Chauhan, Ph.D., director of ST-CECR; Sara Blangero, Ph.D., director of the UTRGV School of Medicine South Texas Diabetes and Obesity Institute; Dae Joon Kim, Ph.D., Sheema Khan, Ph.D., Manish Tripathi, Ph.D., Genaro Correa, M.D., Ph.D., co-investigator; Tamer Oraby, Ph.D., co-investigator; Marikki K. Lahio, M.D., Ph.D., John Hopkins University national collaborator; Mudassier Ahmad, Ph.D.; Sahir Alvi, Ph.D.; Haider Ahsan, Georgina Villanueva, Aun Bangash, Mohammad Bangash, Samuel Mireku, Shiza Khan.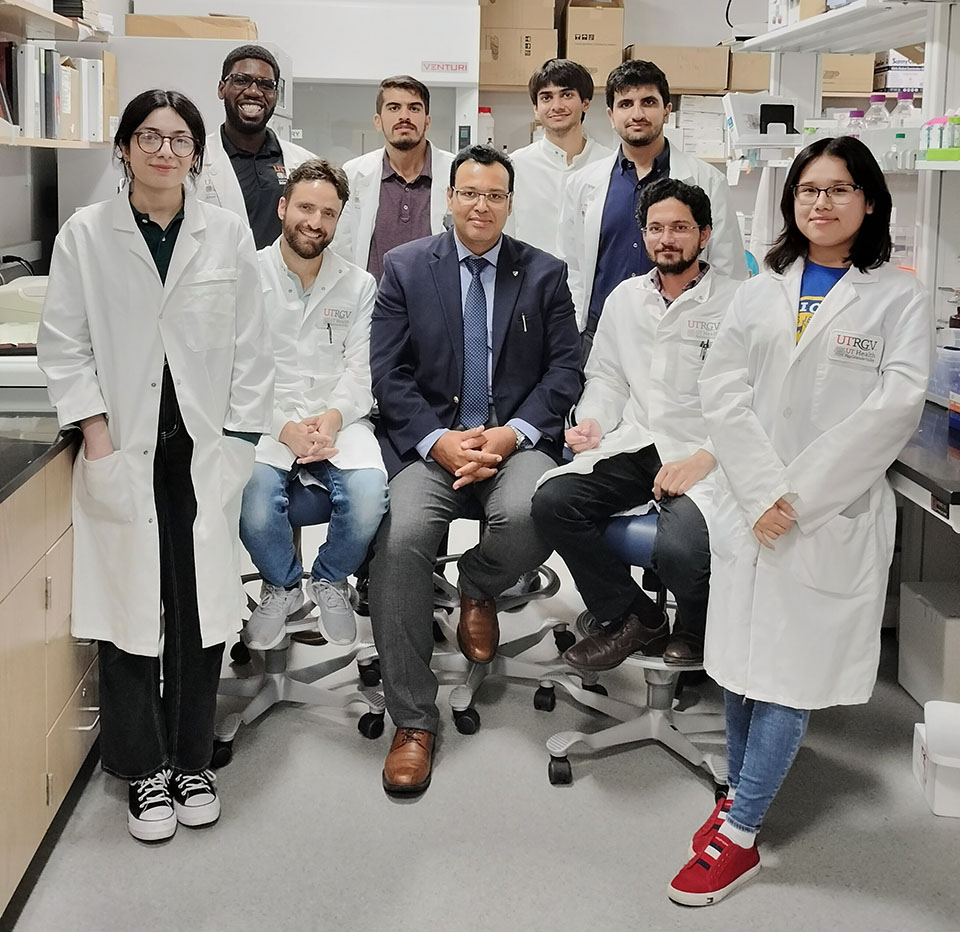 ABOUT UTRGV
The University of Texas Rio Grande Valley (UTRGV) was created by the Texas Legislature in 2013 as the first major public university of the 21st century in Texas. This transformative initiative provided the opportunity to expand educational opportunities in the Rio Grande Valley, including a new School of Medicine, and made it possible for residents of the region to benefit from the Permanent University Fund – a public endowment contributing support to the University of Texas System and other institutions.
UTRGV has campuses and off-campus research and teaching sites throughout the Rio Grande Valley including in Boca Chica Beach, Brownsville (formerly The University of Texas at Brownsville campus), Edinburg (formerly The University of Texas-Pan American campus), Harlingen, McAllen, Port Isabel, Rio Grande City, and South Padre Island. UTRGV, a comprehensive academic institution, enrolled its first class in the fall of 2015, and the School of Medicine welcomed its first class in the summer of 2016.