Saturday, July 29, 2023
  Around Campus
By Saira Cabrera
RIO GRANDE VALLEY, TEXAS – JULY 29, 2023 – Excited medical students walked the stage at the UTRGV Performing Arts Complex on the Edinburg Campus on Saturday to receive their white coats, in a special White Coat Ceremony that serves as a rite of passage and marks the start of their medical career.
Jake Lanoue, an incoming medical student, Rio Grande Valley native and a member of the UTRGV Vaqueros MD pipeline program, said the white coat has a special meaning for him this year.
"I am excited. I got to see the White Coat Ceremony a year prior," he said. "And now, wearing a white coat today and going through that process – it makes me so proud."
He and 53 other new UTRGV School of Medicine students received their white coats in this year's ceremony.
Lanoue and others in the Class of 2027 – the eighth cohort of UTRGV School of Medicine students – participated in the robing ceremony, which is when they walk across the stage to don the white coat. Students also recited the Hippocratic Oath – an oath of ethics for all physicians – officially marking their start to a career and a lifetime of dedication to medicine.
"Receiving this white coat today is not only a symbol of prestige but also new responsibilities that I'm going to take on," said Lanoue, an incoming first-year medical student of the Class of 2027.
WHITE COAT 2023
During this year's ceremony, keynote speaker Dr. Everardo Cobos, chair of Medicine and Cancer Service line director at the UTRGV School of Medicine, said the white coat for a physician is more than just a symbol.
"The white coat is your affirmation to accept the responsibility of this profession. It is a sacred oath that you are embracing to serve humanity with unwavering empathy, humility, and steadfast commitment to the well-being of all," Cobos said.
"Today, you are accepting a challenge to embrace the essence of the medical profession and the responsibility of a physician, which is a sacred duty to alleviate suffering and restore hope in the face of adversity," he said.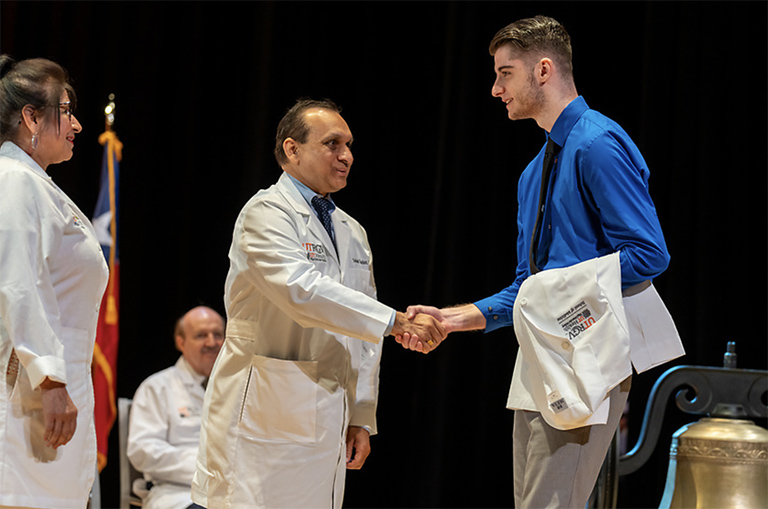 WELCOME TO MEDICINE
Dr. Leonel Vela, UTRGV senior associate dean for Educational Resources, department chair and professor, shared praise and inspiration, recalling the often demanding journey medical students undergo in medical school, with the White Coat Ceremony representing a welcome to the medical profession.
"Class of 2027, we are so proud of you and happy to have you here today. Every year, the School of Medicine yearns enthusiastically and with anticipation for this celebratory event," Vela said. "Congratulations on taking this noteworthy step to embark on your medical education journey toward a lifelong career of service as future physicians." 
Dr. Michael B. Hocker, dean of the UTRGV School of Medicine and senior vice president for UT Health RGV, said the ceremony is a significant milestone for aspiring medical professionals who are now positioned to help change the future of medicine.
"Class of 2027, today marks a significant milestone in your pathway to medicine. As you embark on this journey, know that you are making our dream a reality," he said.
"You bring so much pride to our School of Medicine. You are proof of our promise to train diverse and talented physician-scientists to serve the Rio Grande Valley and beyond. With your commitment, we will continue to address the shortage of medical care throughout the region," Hocker said. "Remember, what starts today in this academic medical institution will shape the future of medicine. Welcome to your lifelong service career." 
Shaunte Hadnot, a student in the UTRGV School of Medicine Class of 2027, shared the excitement that was rippling throughout the UTRGV Performing Arts Center as she showed off her new white coat.
"Today is a huge milestone for me and my classmates," Hadnot said, brushing her shoulder to smooth out the crisp, new coat. "To get my white coat today signifies that I've made it. I'm officially on this journey to become a physician. I can't wait for what comes next."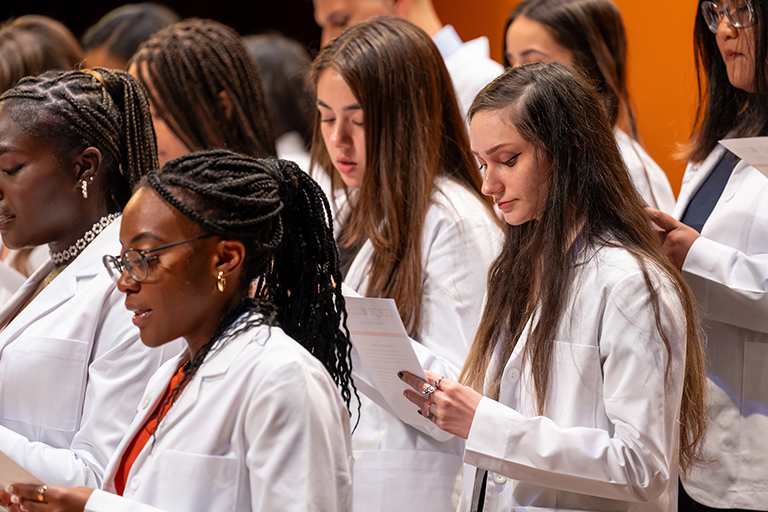 ABOUT UTRGV
The University of Texas Rio Grande Valley (UTRGV) was created by the Texas Legislature in 2013 as the first major public university of the 21st century in Texas. This transformative initiative provided the opportunity to expand educational opportunities in the Rio Grande Valley, including a new School of Medicine, and made it possible for residents of the region to benefit from the Permanent University Fund – a public endowment contributing support to the University of Texas System and other institutions.
UTRGV has campuses and off-campus research and teaching sites throughout the Rio Grande Valley including in Boca Chica Beach, Brownsville (formerly The University of Texas at Brownsville campus), Edinburg (formerly The University of Texas-Pan American campus), Harlingen, McAllen, Port Isabel, Rio Grande City, and South Padre Island. UTRGV, a comprehensive academic institution, enrolled its first class in the fall of 2015, and the School of Medicine welcomed its first class in the summer of 2016.