Professor creates more than 700 medical illustrations for his students

  Friday, July 7, 2023
  Faculty Focus, Around Campus
By Karen Villarreal
RIO GRANDE VALLEY, TEXAS – JUNE 7, 2023 – "The toe bone's connected to the …"
A physician professor in the UTRGV School of Podiatric Medicine has gone back to the drawing board in an effort to better educate students about the anatomical structures of the leg, ankle and foot.
Dr. Hooman Mir, DPM, MSci, FAPWCA, recently completed a catalog of more than 700 medical illustrations, after students shared their difficulties studying from existing diagrams.
"A medical illustration is like a road map that tells the story of that structure," said Mir, an assistant professor of medicine. "As a physician anatomist, you want to be able to think about the relationships between the structures."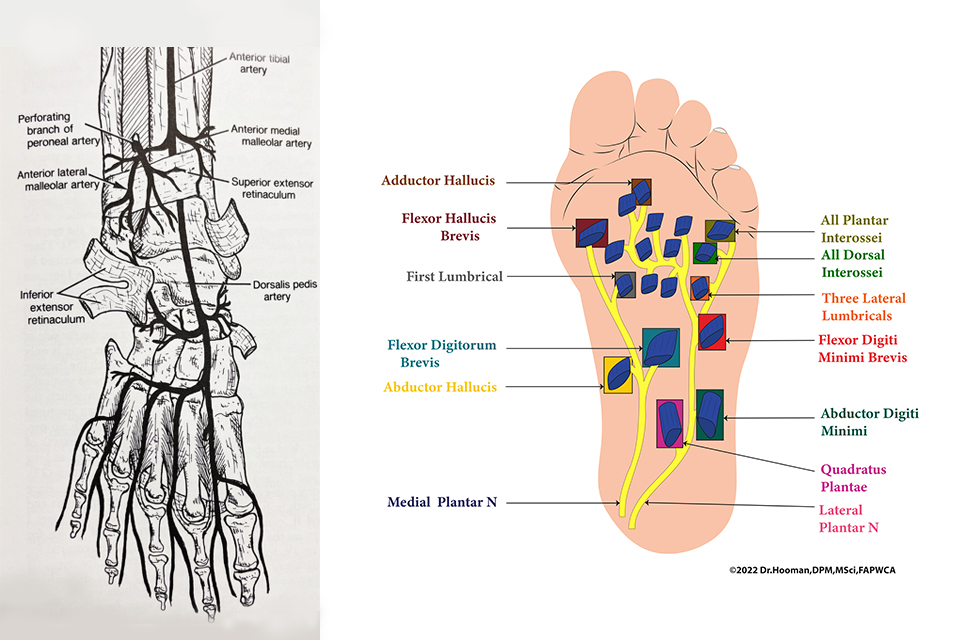 There is a need for updated podiatric illustrations, he said, as students have been working from mostly black-and-white anatomy materials, and those were created to be viewed on the lower resolution electronic monitors of the past.
"Almost all the older images are ultimately not useful as modern learning tools," Mir said. "I've seen students drawing their own copies, trying to color and label them."
Inspired by Columbia University's College of Physicians and Surgeons, which developed its own surgical dissection manuals, Mir began the more than 800-hour project of hand-creating full-color, 8K resolution images to help students at the UTRGV School of Podiatric Medicine prepare for their board exams and future careers.
ILLUSTRATE TO EDUCATE
Mir said he had to develop new creative skills to help fill the void in the older educational materials.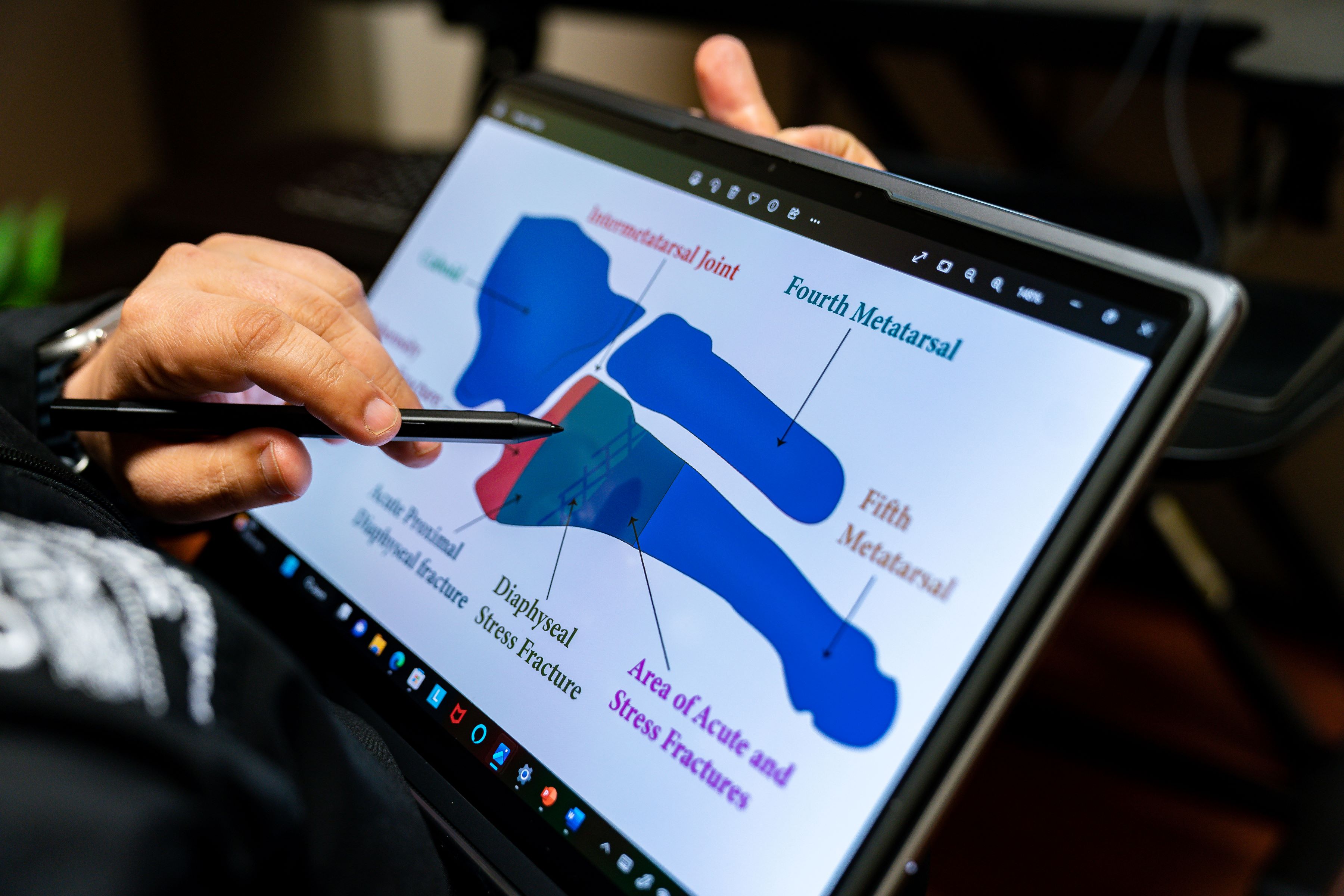 "You don't see many of these images out there. Medical illustrations are expensive and difficult to commission," he said. "It takes an artist who has medical-level knowledge of clinical and surgical anatomy."
By his own admission, Mir is not an artist – but with his years of surgical and teaching experience, he knew what would be useful in a medical education illustration.
Learning to use digital illustration software from online tutorials, Mir custom-made each diagram to fulfill specific learning objectives, giving meticulous consideration to accuracy.
Over the course of eight months, he designed and compared his 700 images to many reference books, reevaluating the annotations and labeling of the anatomical structures for clarity – and began sharing them with his students.
Isabella Strash, a member of the first cohort of the UTRGV School of Podiatric Medicine, said the illustrations have enhanced her understanding of the anatomy of the foot and ankle.
"The color coding and simplified illustrations allow me to easily recall their associated structures," Strash said. 
Mir said he hopes the illustrations help podiatry students and surgical residents enjoy the learning process as they gain an even deeper understanding of podiatric anatomy. He is exploring the copyright process with UTRGV in hopes that the illustrations can be shared with other entities in the future.
"They will need this knowledge when they begin their foot and ankle surgical practices after graduation," he said.  "If we step out of the box, we can create something lifechanging, in terms of the educational process."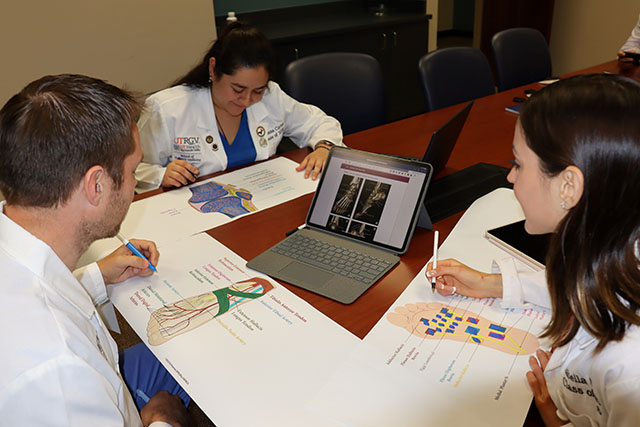 ABOUT UTRGV
The University of Texas Rio Grande Valley (UTRGV) was created by the Texas Legislature in 2013 as the first major public university of the 21st century in Texas. This transformative initiative provided the opportunity to expand educational opportunities in the Rio Grande Valley, including a new School of Medicine, and made it possible for residents of the region to benefit from the Permanent University Fund – a public endowment contributing support to the University of Texas System and other institutions.
UTRGV has campuses and off-campus research and teaching sites throughout the Rio Grande Valley including in Boca Chica Beach, Brownsville (formerly The University of Texas at Brownsville campus), Edinburg (formerly The University of Texas-Pan American campus), Harlingen, McAllen, Port Isabel, Rio Grande City, and South Padre Island. UTRGV, a comprehensive academic institution, enrolled its first class in the fall of 2015, and the School of Medicine welcomed its first class in the summer of 2016.