Thursday, June 15, 2023
  Awards and Recognitions
By News and Internal Communications
By Teresa Garcia
RIO GRANDE VALLEY, TEXAS – JUNE 15, 2023 – The loudest grito heard at the 34th annual Mariachi USA concert at the Hollywood Bowl in Los Angeles, California was belted by Jenika Montes, UTRGV junior and national winner of the Jarritos Mariachi USA Talent Search Competition. 
Montes, an Integrated Health Science major and member of award-winning UTRGV Mariachi Aztlán, had plenty to celebrate at the concert. As the winning soloist, she got to perform on stage June 3, in front of 17,000 fellow mariachi fans.  
She was in disbelief when she received the call from Rodri J. Rodriguez, producer for Mariachi USA, telling her she had won.  
"I was so shocked because, when I auditioned, I was actually very sick from my throat," Montes said. "I didn't want to have that regret in me, saying 'I should have auditioned.' So I went ahead and auditioned while being sick – and I still was chosen!" 
This is the second year the online competition was held as a place for young, aspiring mariachi musicians to display their talent.
The contest, held from April 18 to May 15, was open to singers ages 18 to 25 and gave aspiring singers from all over the country a chance to participate. 
To participate, contestants had to submit a two-minute, 30-second video of themselves singing a mariachi song, to be judged on voice, expression and showmanship. The winner got $5,000 and a solo performance at the Hollywood Bowl.
Of approximately 200 applicants, Montes' video captivated the judges, making her the winner. 
'PROUD TO BE HISPANIC'
Montes, a McAllen native, has only been part of the UTRGV Mariachi program for three years, but musical talent is in her blood. She has been singing for more than 10 years with her father, Florentino Montes, as her inspiration.  
Her father was a part of the Norteño group called Los Hermanos Montes. Norteño, a key musical genre, celebrates the polkas and waltzes popular in northern Mexico that traveled across the Rio Grande and fused into border communities like the Rio Grande Valley.
As the winning soloist, Montes was flown to Los Angeles to perform live on stage accompanied by Mariachi Lindas Mexicanas, an all-female international mariachi band from Los Angeles. She performed two songs: La Charreada, inspired by Linda Ronstadt, and El Toro Relajo, inspired by Selena Quintanilla's version.  
"I don't think anything or anyone could have prepared me for what I experienced," she said. "There were about 17,000 people, about the seating capacity of Madison Square Garden, so all those eyes were on me during those two songs. I still get chills thinking about it, and I don't think it has really sunk in yet." 
Montes said that, while she may have been apprehensive about performing in front of so many people, the hardest part was over – she had already won the competition. 
The most memorable moment was when she went out into the audience after her performance and was swarmed with people wanting photos and showering her with compliments.  
Her McAllen High School music director, Bernardo Aldava, reached out to Montes and told her she's on a different level now. People will expect more from her now, he said, because of how important this competition was.  
That's when it hit her: That performance will forever have an impact on her future in music. 
"Mariachi is something indescribable. It makes me feel very proud to be Hispanic," Montes said.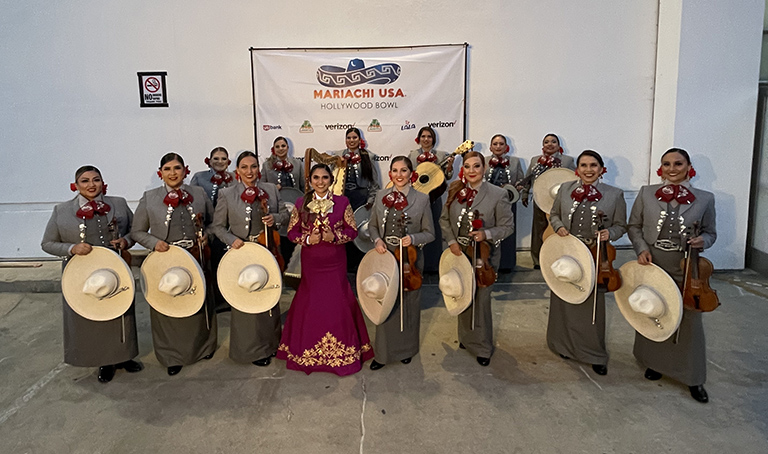 ABOUT UTRGV
The University of Texas Rio Grande Valley (UTRGV) was created by the Texas Legislature in 2013 as the first major public university of the 21st century in Texas. This transformative initiative provided the opportunity to expand educational opportunities in the Rio Grande Valley, including a new School of Medicine, and made it possible for residents of the region to benefit from the Permanent University Fund – a public endowment contributing support to the University of Texas System and other institutions.
UTRGV has campuses and off-campus research and teaching sites throughout the Rio Grande Valley including in Boca Chica Beach, Brownsville (formerly The University of Texas at Brownsville campus), Edinburg (formerly The University of Texas-Pan American campus), Harlingen, McAllen, Port Isabel, Rio Grande City, and South Padre Island. UTRGV, a comprehensive academic institution, enrolled its first class in the fall of 2015, and the School of Medicine welcomed its first class in the summer of 2016.