Monday, June 12, 2023
  Student Life, Around Campus
By Saira Cabrera
RIO GRANDE VALLEY, TEXAS – JUNE 15, 2023 – For Hector Trejo, a third-year UTRGV School of Medicine student and a father, the hours are long and the responsibilities great.
This Father's Day, Trejo reflects on his dual role as a man of medicine and as a dad to 3-year-old Gabriel "Andres" Trejo, and ponders thriving in both.
There are a few life tools that are essential and cannot be ignored, he says.  
Like having a strong support system. Being passionate about and committed to both roles. And remembering why you wanted those roles to begin with.
A SUPPORT SYSTEM
By all accounts, medical school calls for sacrifices. But Trejo doesn't see his role as a parent in medical school as burdensome.
"Medical school, community and fatherhood are difficult to juggle all at once," he admitted, "but none is a burden."
If anything, being a father has deepened his passion for medicine and solidified his commitment to serving his community as a healthcare provider. He said he has learned it takes personal and professional teamwork to make it all work and to fulfill responsibilities he could not do well without his family – his support system.
"It's a group effort," Trejo said. He smiled in gratitude and admiration as he looked at his wife, Leti, standing by his side. "She holds it down at home while I study."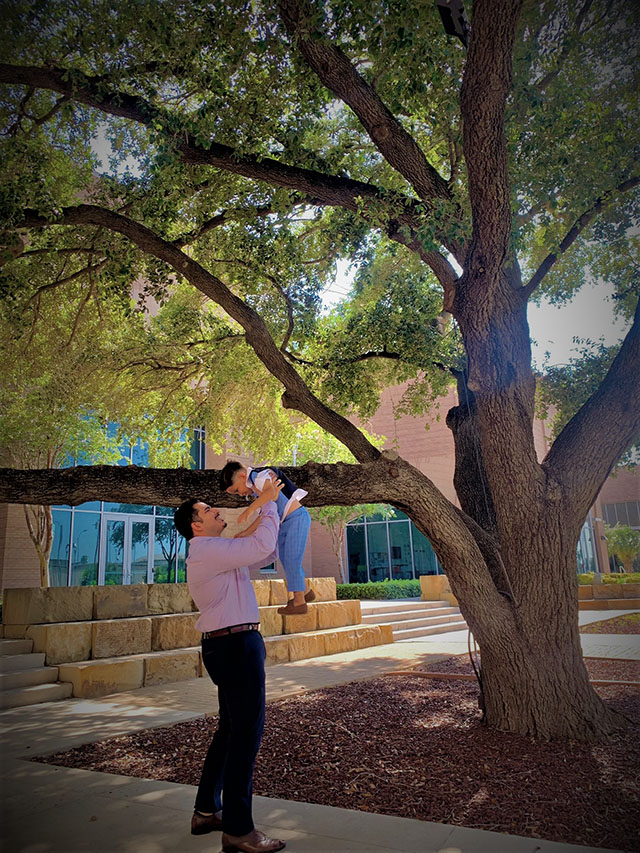 Leti smiled and nodded in agreeance; "it takes teamwork," she said.

PASSION AND COMMITMENT

Trejo said attending medical school while raising a family is his most challenging accomplishment – one he would do again anytime, even with all its ups and downs.

"Some may view this life as filled with stress, but I perceive it as a life of simplicity, opportunity and personal growth," he said. "It has given me perception into what I can handle."

Life's challenges have clarified for Trejo what truly matters, and to overcome, you must maintain passion and commitment to keep going.

"The challenges diminish the distractions," he said. "This dual role, it's a big commitment. Medical school is not just another program you just do, finish and get your diploma. It doesn't end there. It changes you along the way, and it reaches out to touch your family, too."

It is the passion and commitment he has for his family and his community – Trejo is a native of San Carlos – that propels him daily. 

"I'm passionate and set about what I want to do, and I want to make a difference in my community," he said. "It's a mixture of seeing the need and being excited about having the opportunity to make an impact."

THE OPPORTUNITY TO SERVE

As the son of an immigrant single mother, Trejo – an active Area Health Education Centers (AHEC) scholar serving in the UT Health RGV AHEC Primary Care at San Carlos – does not take lightly the opportunity he has been given to serve.

"I grew up in an area where most families face financial constraints and have limited educational opportunities," he said. "Consequently, the notion of becoming a doctor seemed distant and unattainable. There are numerous reasons I chose a career in medicine, but one significant factor was the desire to have an impact on my community."

It is important to Trejo to make a positive difference in the lives of those around him.

"When I look at my son, I see the future," he said. "It fills me with pride and honor knowing that he will look up to me and aspire to make a positive difference himself in the lives of those around him."

For Trejo, the UTRGV School of Medicine has embodied the impact academic medicine makes in communities, and it has paved the way for him to serve as a positive model for his son and younger generations.

FAMILY MAN, COMMUNITY LEADER

As Trejo continues to fulfill his roles as a father and a medical student, he advises others in a similar situation to maintain open, honest communication with their support system, and to involve the entire family in study time.

"Transform studying at home from being perceived as a chore into an exciting and enjoyable experience for the whole family," he said. "It may have a positive impact on them."

Now in his final year as a medical student, Trejo hopes to remain in the Valley to continue his medical studies. He is considering either internal medicine or surgery, he said. But no matter where he lands, he wants to be in the Valley, serving the community that shaped him.

"It's remarkable how I find myself in the position I am today, considering that I never thought it would be possible," he said. "Being a family man provides a unique opportunity to become a leader. It instills a true sense of altruism, where the actions taken today will benefit future generations."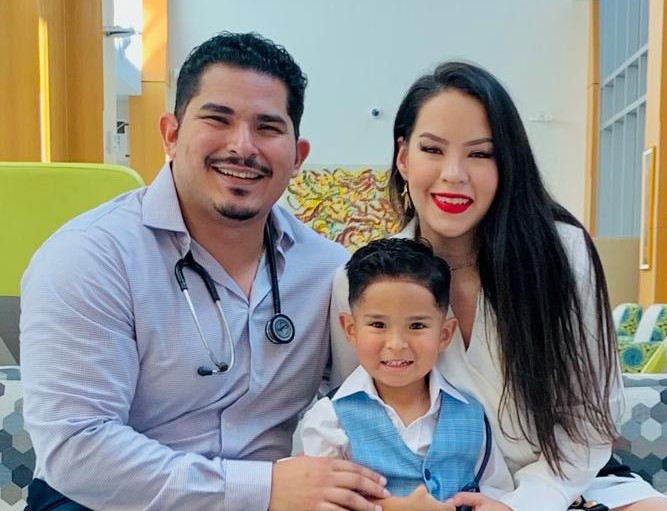 ABOUT UTRGV
The University of Texas Rio Grande Valley (UTRGV) was created by the Texas Legislature in 2013 as the first major public university of the 21st century in Texas. This transformative initiative provided the opportunity to expand educational opportunities in the Rio Grande Valley, including a new School of Medicine, and made it possible for residents of the region to benefit from the Permanent University Fund – a public endowment contributing support to the University of Texas System and other institutions.
UTRGV has campuses and off-campus research and teaching sites throughout the Rio Grande Valley including in Boca Chica Beach, Brownsville (formerly The University of Texas at Brownsville campus), Edinburg (formerly The University of Texas-Pan American campus), Harlingen, McAllen, Port Isabel, Rio Grande City, and South Padre Island. UTRGV, a comprehensive academic institution, enrolled its first class in the fall of 2015, and the School of Medicine welcomed its first class in the summer of 2016.