Monday, May 8, 2023
  Awards and Recognitions, Faculty Focus
By Amanda A. Taylor-Uchoa
RIO GRANDE VALLEY, TEXAS – MAY 8, 2023 – The University of Texas System recently announced that UTRGV's Dr. Teresa Patricia (Paty) Feria-Arroyo is one of four new inductees into the esteemed UT System Academy of Distinguished Teachers for 2023.
Feria, a professor of Biology in the UTRGV College of Sciences, was inducted for her "high quality and inclusive learning experiences for all students."
"I was thrilled to be selected," Feria said. "My heart was pumping very fast. This accomplishment helps me to reinforce the work that I am doing as an educator. Student success is a core value for me."
Established in 2012, the UT System's Academy of Distinguished Teachers is the only system-wide university teaching academy in the United States that annually inducts four new faculty members honored for their commitment to excellence as teachers, mentors and leaders.
Feria joins other outstanding faculty within the Academy from all eight UT academic institutions in serving as advisors to UT System leaders, working to improve the overall quality of teaching and promoting innovation across the state of Texas.
Feria is the sixth UTRGV faculty member to join the Academy. Other members include:
Diana Dominguez, Department of Literature and Cultural Studies, College of Liberal Arts (2013)
Art Brownlow, School of Music, College of Fine Arts (2017)
Colin Charlton, Department of Writing & Language Studies, College of Liberal Arts (2020)
Alyssa Cavazos, Department of Writing and Language Studies, College of Liberal Arts (2021)
Alexis Racelis, Department of Biology, College of Sciences (2022)
Her research and teaching go hand-in-hand, Feria said, and she teaches and mentors students by using active learning and culturally responsive pedagogies. She teaches courses in English and bilingually, providing inclusive pedagogy, community engagement and service-learning activities on research, conservation biology, global change ecology and sustainability in and outside the classroom.
Her love for teaching is the fuel that keeps her going.
"I love every single aspect of being an educator. When I go into my classroom, the walls disappear. My brilliant students constantly participate in their flipped classroom assignments, mock exercises, self-reflection, and more activities. Time flies when I am with my students," she said.
Aside from teaching biology, Feria also is associate dean for Faculty Success in the College of Sciences and a UTRGV Provost Fellow. In 2020, she was awarded the prestigious UT System Regent's Outstanding Teaching Award.
Feria created "Juntos al Exito" (Together to Success) – Empowering Excellence program that brings panels of faculty, administrators and students together to share insights, personal histories and advice that can help others succeed.
"We are incredibly proud of Dr. Feria and her contributions to UTRGV," said Dr. Janna Arney, UTRGV executive vice president and provost. "We congratulate her and are proud of her inclusive and unique teaching strategies, and of her overall dedication to the success of our students. She is truly an inspiration to our students and to all of us."
Feria said accomplishments like this one are good for the community because it demonstrates collective success.
"We have outstanding faculty at UTRGV. When one of us gets recognition for our teaching, research, and mentoring efforts, we know that other faculty will be recognized in the future," she said. "Students should be proud of their professors, which helps them feel motivated to continue on their chosen career path."
As for her own future work, Feria plans to continue to share her learning experiences as a path to success for UTRGV students.
"I would like to continue sharing my pedagogical experiences with my colleagues and learning from each other the best ways to contribute to a sense of belonging and to student successes," she said. "I have several projects in mind related to how we can continue fostering a culture of excellence at UTRGV by creating warm environments and supporting groups and networks for our students."
Feria was inducted into the Academy along with:
Salena Brody, professor of Instruction in Psychology and assistant director for the Center for Teaching and Learning at UT Dallas.

Jen Moon, professor in the Department of Molecular Biosciences at UT Austin.

Clark Moreland, founder, and director of the Heimmermann Center for Engaged Teaching at UT Permian Basin.
A formal induction ceremony is planned for the fall.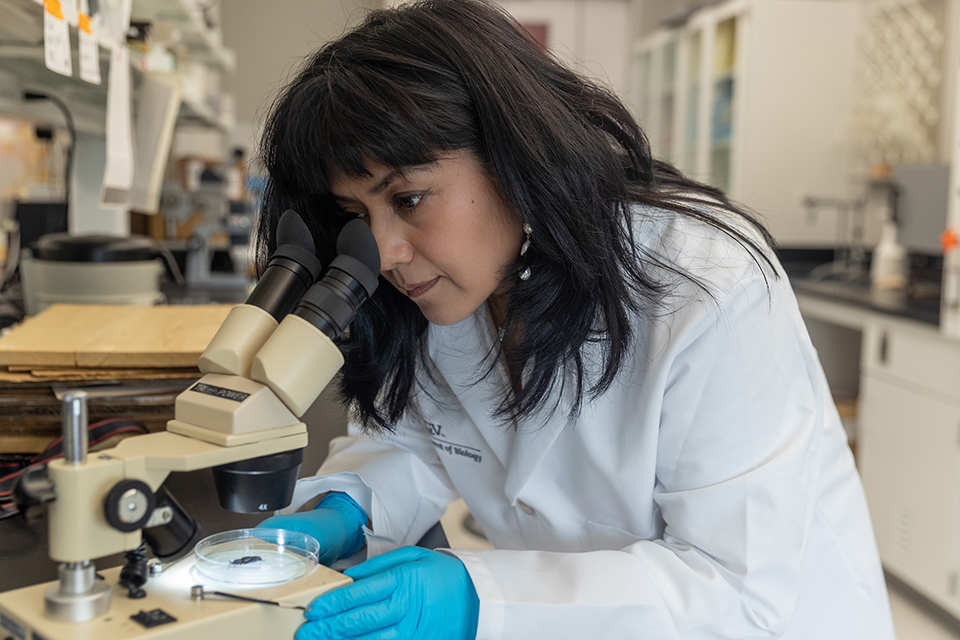 ABOUT THE ACADEMY OF DISTINGUISHED TEACHERS

The University of Texas System Academy of Distinguished Teachers is an organization of faculty scholars who have established exceptional records of accomplishment as classroom teachers and mentors. Representing all eight of the academic institutions of the UT System, Academy Fellows are deeply committed to the advancement of teaching and learning, and they serve in an advisory role for the UT System leadership. This is not merely an honorific organization. Members of the Academy, individually and collectively, work to improve the quality of teaching across the UT System, promote pedagogical innovation, and facilitate educational discourses and other initiatives across the state. Since 2012, the Academy of Distinguished Teachers has produced two Little Orange Books, featuring essays by Fellows, institutional leadership and students that offer expert teaching tips and thoughtful reflections on classroom learning. A third Little Orange Book focused on the value of higher education is under development.
ABOUT UTRGV
The University of Texas Rio Grande Valley (UTRGV) was created by the Texas Legislature in 2013 as the first major public university of the 21st century in Texas. This transformative initiative provided the opportunity to expand educational opportunities in the Rio Grande Valley, including a new School of Medicine, and made it possible for residents of the region to benefit from the Permanent University Fund – a public endowment contributing support to the University of Texas System and other institutions.
UTRGV has campuses and off-campus research and teaching sites throughout the Rio Grande Valley including in Boca Chica Beach, Brownsville (formerly The University of Texas at Brownsville campus), Edinburg (formerly The University of Texas-Pan American campus), Harlingen, McAllen, Port Isabel, Rio Grande City, and South Padre Island. UTRGV, a comprehensive academic institution, enrolled its first class in the fall of 2015, and the School of Medicine welcomed its first class in the summer of 2016.