Saturday, May 20, 2023
  Community, Around Campus, Student Life
By Victoria Brito Morales
RIO GRANDE VALLEY, TEXAS – MAY 20, 2023 – Nearly 900 graduates were able to walk the stage to celebrate their accomplishments today at UTRGV's belated commencement celebration on the Brownsville Campus.
University officials last Saturday were forced to postpone the outdoor Brownsville commencement after severe weather conditions, including flooding and tornadoes, spread across Cameron County mere hours before the ceremony.
Pomp and circumstance returned for this week's commencement, though, as thousands of friends and family members celebrated with their graduates on the lawn of the University Library in Brownsville. Many well-wishers carried balloons and flowers with them to share with their new graduates after the ceremony.
UTRGV President Dr. Guy Bailey congratulated the graduates and spoke on the importance of community and giving back.
"Class of 2023 – you did it. You started this journey four years ago, maybe more, but the good news is that you finished the journey," he said. "You've done it, you're here and we're proud of you. You had a lot of help along the way. I see sitting out behind you are mothers, fathers, spouses, grandparents, and even children.
"When you leave here today, let them know how much you appreciate them, how important they were to you and let them know that this is their degree as well as yours. I want to congratulate you again - you are part of our family now and you always will be."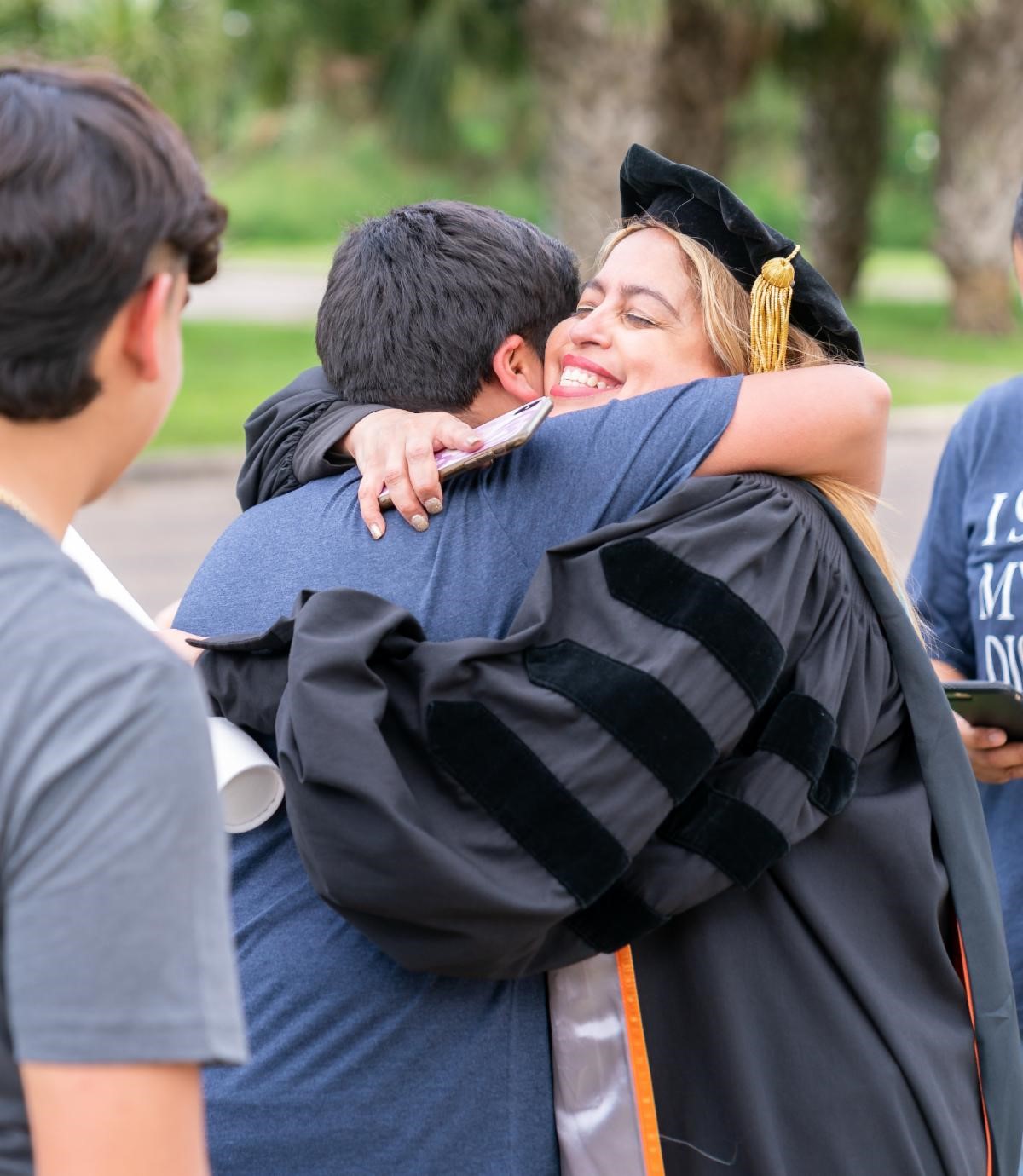 V's UP! FROM THE V SQUAD
Among the nearly 900 graduates walking the stage in Brownsville, V Squad members Johanna Hernandez and Cristen Cornejo, both 22 and Brownsville natives, received their bachelor's degrees – Hernandez in Integrated Health Science, and Cornejo in Economics.
As V Squad coworkers, they said, they have motivated each other to finish school and be successful.
When Hernandez joined the V Squad, the 2018 graduate of Rivera Early College High School was looking for a way to stay connected to the university and make friends. Cornejo, a 2017 graduate of Brownsville Veterans Memorial Early College High School, was looking for a job that would work with his class schedule. It worked out well for both of them.
"I really like the position because it worked around my college hours and sometimes college can be pretty demanding with class times and studying for tests," Cornejo said. "This job allowed me to have a lot of flexibility in my school life, so I was able to really balance my work and school life."
Hernandez said the friendships she formed working at V Squad helped supply her with the motivation to power through school and finish strong.
"There were a lot of times where I came into work and I was frustrated with class, frustrated with schedules and all that stuff, and my friends at work helped me forget about all of that by just being there. That helped me," she said.
Now, both V Squad coworkers are ready to enter the workforce.
"We're just like, we're ready to work and see what a full 40-hour work week is," Hernandez said.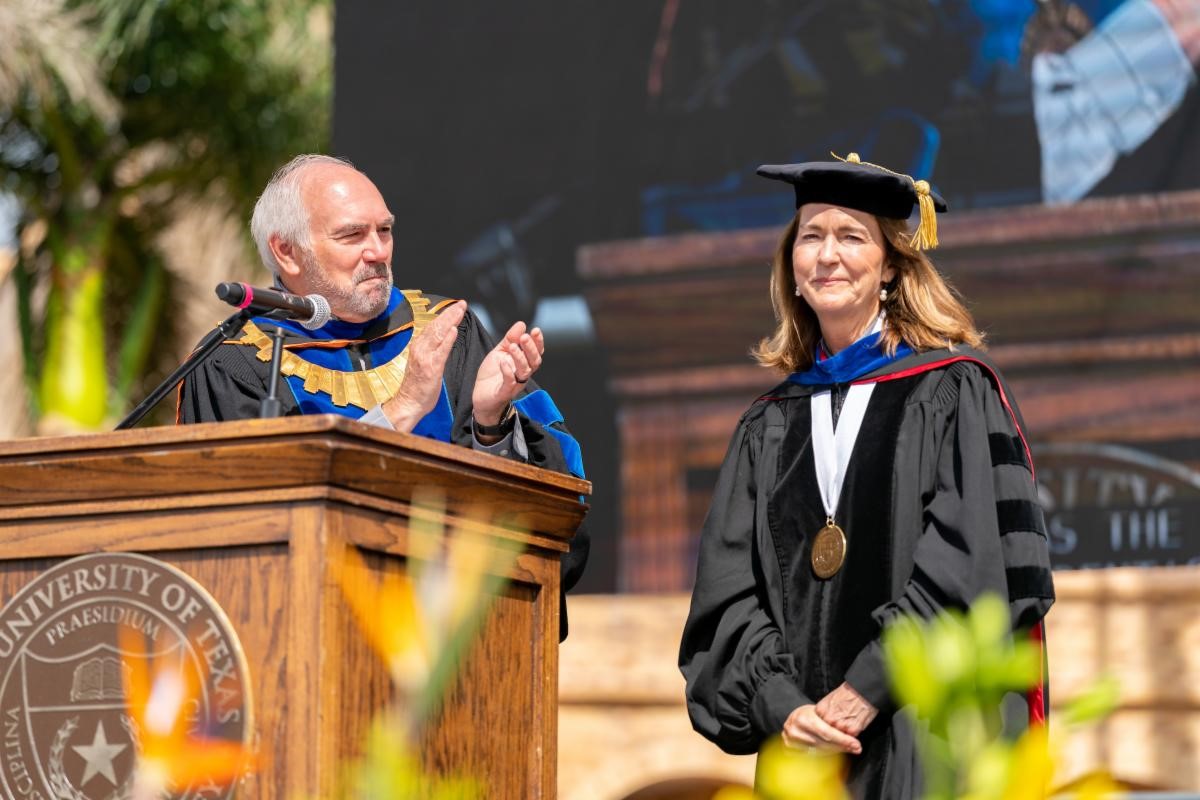 ENGAGED SCHOLARS AND LEARNING
Similarly, coworkers Neida Gutierrez and Viviana Ramos met while working for Engaged Scholars and Learning on the Brownsville Campus. Gutierrez, from Weslaco, and Ramos, from Laredo, each came to UTRGV to earn a bachelor's degree in Biomedical Sciences.
Both will be heading to graduate school later this year to get the additional education needed to achieve their goals.
Gutierrez initially wanted to prepare for the MCAT for medical school. After considering what she wanted her career to look like, though, she pivoted. She now will be part of the third cohort of the Doctor of Occupational Therapy program at UTRGV.
"I'm very grateful for the opportunity and I never thought this would happen to me, to already be in a doctorate program right after my bachelor's degree," Gutierrez said. "I know I need to keep pushing through. I already went to the orientation and they're very kind and motivating and supportive. So that was uplifting and showed me I should just keep going."
Gutierrez, who recently celebrated her 22nd birthday, is excited to be graduating and sharing the beauty of the Brownsville Campus with her family.
"I'm very grateful for everything that has happened so far," she said, "seeing all of my classmates and friends here, overcoming all the things that we have gone through these four years, especially when it came to COVID and adapting to a new style of learning."
Gutierrez's classmate and coworker Ramos came to UTRGV from Laredo after receiving the merit-based Distinguished Scholarship. She chose Biomedical Sciences, and graduate school has always been part of her life plan. She now wants to go to graduate school, where she will study Public Health. Where she will do that is still on the table.
"My passions are to improve the health of a larger community, rather than attending to one individual at a time," she said. "Public health teaches you that there are a lot of different factors involved in having a disease or illness, not only the physical, biological body."
After graduate school, Gutierrez said, the learning doesn't stop for her. She plans to pursue either a public health-related doctoral program or will go to medical school.
Ramos said she is thankful to have made the journey to the Lower Valley to get her degree.               
"UTRGV has a lot of opportunities, and if I hadn't been part of the Biomedical Sciences program, I don't think I would have found public health," Ramos said. "UTRGV has helped me shape this journey. I cannot believe these four years have passed by so fast."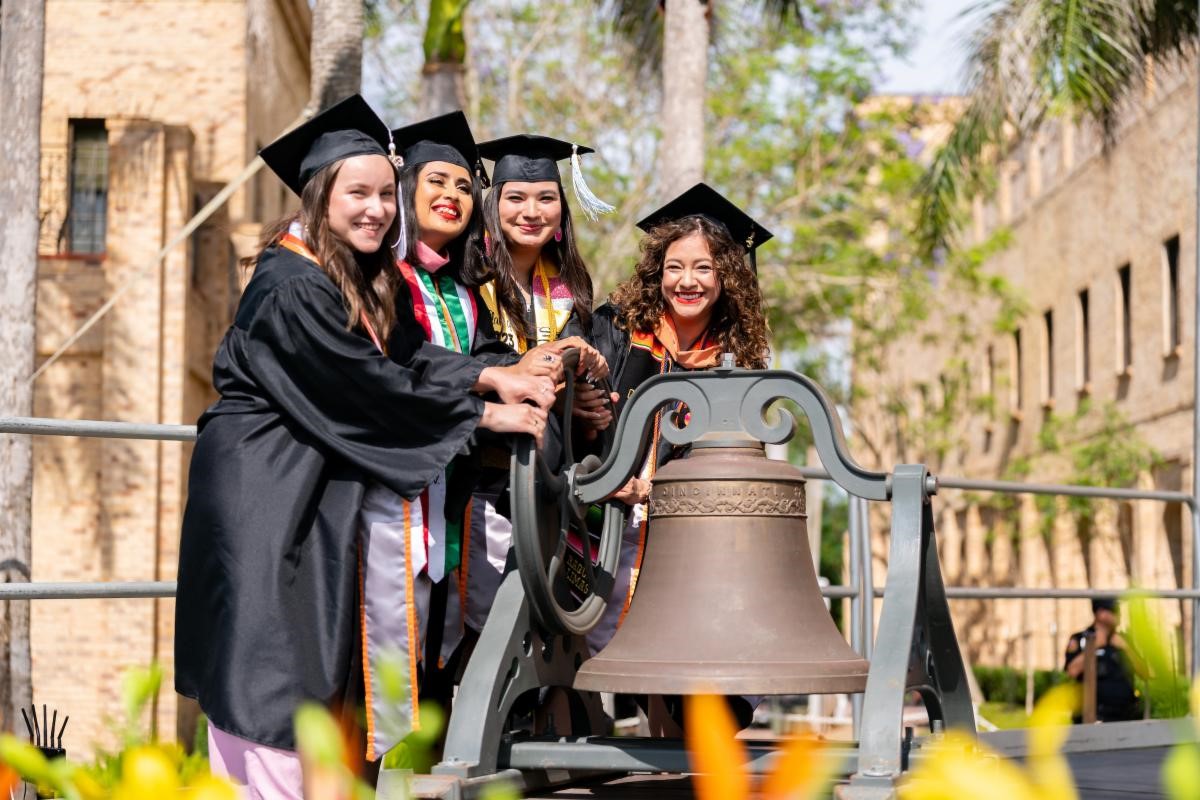 A MOTHER'S JOURNEY
Anita Limas, a working single mother from Weslaco, graduates with a Master of Business Administration with a specialization in Healthcare Administration. Currently director of operations at Con Cariño Primary Home Care Agency based in Weslaco, she oversees the daily operations of more than 300 employees who provide care to more than 300 clients in the Rio Grande Valley.
Limas returned to school 15 years after her undergraduate studies. During her time at UTRGV, she had an opportunity to be a UT System Graduate Archer Fellow in Washington, D.C., in the summer 2022, working in the Office of U.S. Rep. Vicente Gonzalez (TX-15).
"After my time in Washington, D.C., I have discovered my passion for increasing healthcare equity and educational opportunities for the Rio Grande Valley," Limas said. "As the region continues its development and growth, we must continue inspiring investments in educational opportunities and accessibility for our home, but more importantly for our population.
"Finding a way to incorporate health equity as a pathway to educational opportunity and the many aspects of this mission in my professional life would be a dream," she said.
Balancing motherhood, a full-time job and graduate school was no easy feat. Limas advises other women aspiring to balance life while pursuing a degree to find their "village" along the path to success.
"So often, women do not pursue promotions with more responsibilities at work or do not permit themselves to advance their academic degrees because of the responsibilities of raising children," she said. "These are self-imposed barriers and can be complex and challenging to push through. I had to allow myself to let others help me with my family.
"We have all heard, 'It takes a village,' and my support system was just that. My parents were instrumental in my ability to care for and feed my children on long nights. And, my co-workers, friends, partners, my children's father's family, even my children's coaches, faculty, and teachers – they all played a role in me getting through all the tasks required in the everyday life of a single mother," Limas said. "Even my kids made dinners of macaroni and sandwiches for us! They helped with laundry and dishes so that I could study and work. I owe so much of my success to my village."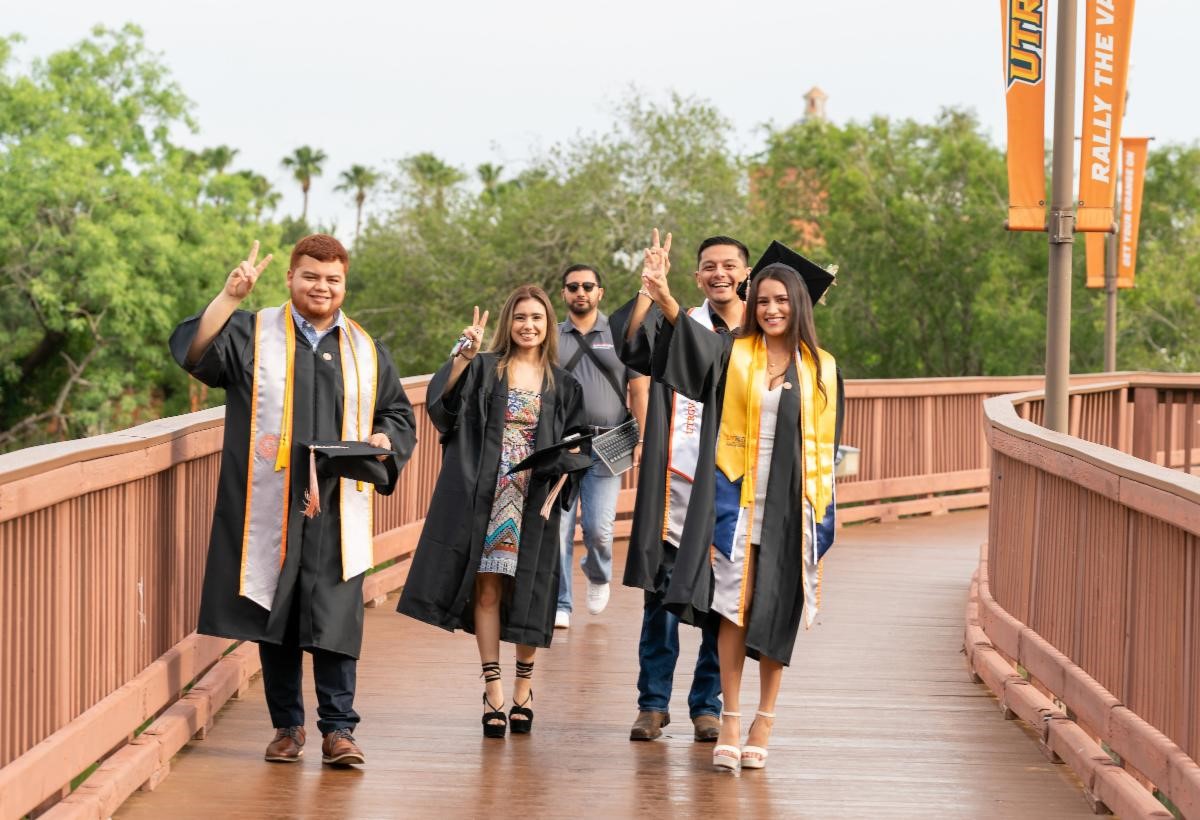 GRAND FINALE
This commencement ceremony was extra special for Brownsville native Dr. Janna Arney, UTRGV executive vice president and provost. Arney is retiring from the university after more than 20 years of service, and this was her final commencement event.
During last week's indoor commencement at the Bert Ogden Arena in Edinburg, Bailey presented Arney with the UTRGV Presidential Medal of Honor.
Deflecting from her own accomplishments, she told graduates, "Today is about celebrating your hard work, your dedication and your resiliency with those who have loved and supported you throughout your journey."
ABOUT UTRGV
The University of Texas Rio Grande Valley (UTRGV) was created by the Texas Legislature in 2013 as the first major public university of the 21st century in Texas. This transformative initiative provided the opportunity to expand educational opportunities in the Rio Grande Valley, including a new School of Medicine, and made it possible for residents of the region to benefit from the Permanent University Fund – a public endowment contributing support to the University of Texas System and other institutions.
UTRGV has campuses and off-campus research and teaching sites throughout the Rio Grande Valley including in Boca Chica Beach, Brownsville (formerly The University of Texas at Brownsville campus), Edinburg (formerly The University of Texas-Pan American campus), Harlingen, McAllen, Port Isabel, Rio Grande City, and South Padre Island. UTRGV, a comprehensive academic institution, enrolled its first class in the fall of 2015, and the School of Medicine welcomed its first class in the summer of 2016.