Saturday, May 13, 2023
  Around Campus
By Saira Cabrera
RIO GRANDE VALLEY, TEXAS – MAY 13, 2023 – The UTRGV School of Medicine's Class of 2023, on Saturday, May 13, celebrated its commencement at the UTRGV Performing Arts Complex in Edinburg.  
This is the fourth group of medical graduates from the School of Medicine, with 45 medical graduates in the Class of '23. Nearly 200 medical students have graduated to date and joined residencies in the Rio Grande Valley, and across Texas and the country.
FOUR CHALLENGING YEARS
Fourth-year medical graduate Sabrina Rene Orta reflected on her medical school journey after four challenging years, saying she and her classmates have overcome many obstacles to get to their commencement day. 
"It is amazing to see the growth we all have made in the last few years. We all improvised and adapted," Orta said. "We overcame many obstacles along the way, including a global pandemic, to ultimately succeed at achieving what many have not." 
She is bound for the East Coast, where she will join the pediatrics residency program at Vanderbilt University in Nashville, TN. 
"Each of my classmates brings something beautiful and unique to their respective training programs, and I am inspired by each of them," she said. "I wish everyone luck in their careers, although I know they won't need it." 
TAKE YOUR SHOT 
In his remarks to the Class of 2023, Dr. Michael B. Hocker, dean of the UTRGV School of Medicine and senior vice president for UT Health RGV, said he is proud of the UTRGV Class of 2023 for their perseverance, commitment and hard work.  
"Class of '23, graduating from medical school is no easy feat. Today, take pride in knowing you are now part of a vast generation of physicians who, like you, have answered the call to serve others with dedication and compassion," he said. "Know that you bring so much pride to our academic medical institution.
"You are a testament to UTRGV's promise to train diverse and talented physician-scientists for the benefit of the Rio Grande Valley and beyond, a testament that what starts in academic medicine changes the future of medicine," he said. 
"Congratulations not only to you – but to your friends, family, and all the champions who have helped you in your journey as a medical student."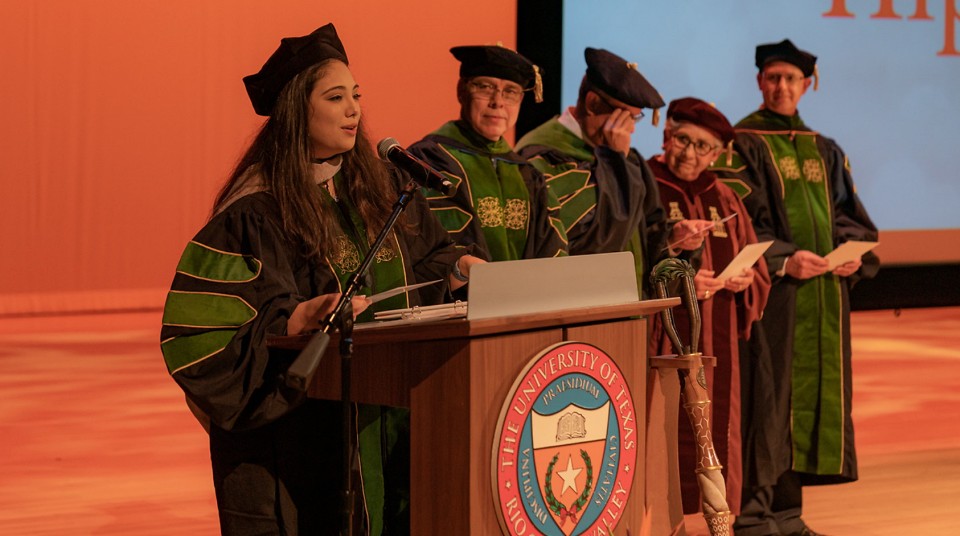 Dr. Julieta V. García, Ph.D., UTRGV professor and a recent recipient of the U.S. Presidential Medal of Freedom, was this year's keynote speaker. She echoed Hocker's sentiment in celebrating the significant milestone the Class of 2023 reached and encouraged them to forge ahead.  
"Someday, you will be at the point of having to decide whether this is your moment to take your shot," García said.
"You will be called to lead the way forward, to lend your voice to an important cause. Because of your profession, your voice will hold a special, respected, and powerful place in the community… 
"When that time comes for each of you, my advice to you today is to take your shot. Those that came before you were also a bit scared or hesitant," she said. "They led, not because it was without risk but because it was the right thing to do. They took their shot for each of you. So today, I join everyone here in offering you my most sincere felicidades and congratulations. We are so very proud of you."
Dr. Leonel Vela, the School of Medicine's senior associate dean for Educational Resources, also commended the Class of 2023. 
"As you transition into your residency programs, it brings great fulfillment. We are so proud of all you have accomplished," Vela said. "The entire School of Medicine community applauds you as you pursue your journey toward practicing the art and science of medicine as compassionate physicians." 
'WE DID IT' 
The graduates now head to their respective medical residency programs as they enter a new chapter in their medical careers. 
"I feel a great sense of relief and accomplishment. I'm grateful to God, my family and the UTRGV School of Medicine, its faculty, and staff for making this possible," graduating fourth-year medical student Richard Wagner said. 
Wagner now joins the UTRGV School of Medicine in its psychiatry residency program. "I'm looking forward with nervous anticipation for the next step in becoming a physician." 
Elizabeth "Beth" Cook, a graduating fourth-year medical student, also congratulated her classmates for overcoming four years of constant challenges. 
"Through these wild four years, it's been a joy and pleasure to experience alongside my classmates. They are incredible people and I cannot wait to see how they impact medicine in the future," Cook said. 
Cook now heads to Virginia Commonwealth University to join its pediatrics residency program.
"Congratulations, Class of 2023, we did it!" she said.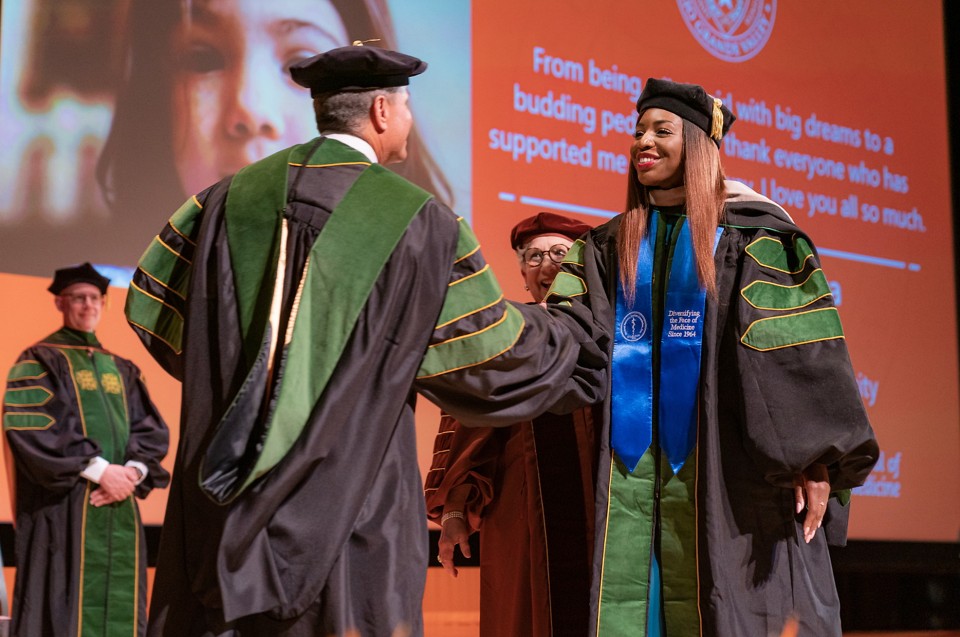 ABOUT UTRGV
The University of Texas Rio Grande Valley (UTRGV) was created by the Texas Legislature in 2013 as the first major public university of the 21st century in Texas. This transformative initiative provided the opportunity to expand educational opportunities in the Rio Grande Valley, including a new School of Medicine, and made it possible for residents of the region to benefit from the Permanent University Fund – a public endowment contributing support to the University of Texas System and other institutions.
UTRGV has campuses and off-campus research and teaching sites throughout the Rio Grande Valley including in Boca Chica Beach, Brownsville (formerly The University of Texas at Brownsville campus), Edinburg (formerly The University of Texas-Pan American campus), Harlingen, McAllen, Port Isabel, Rio Grande City, and South Padre Island. UTRGV, a comprehensive academic institution, enrolled its first class in the fall of 2015, and the School of Medicine welcomed its first class in the summer of 2016.