Friday, May 12, 2023
  Around Campus, Student Life, Community
By Amanda A. Taylor-Uchoa
RIO GRANDE VALLEY, TEXAS – MAY 12, 2023 – More than 3,000 UTRGV students crossed the stage on Friday to accept their diplomas, on the first day of UTRGV's Spring 2023 Commencement.
The university will have a total of four ceremonies across the weekend, including ceremonies at 9 a.m., 1 p.m. and 5 p.m. today at the Bert Ogden Arena in Edinburg, and one in Brownsville starting at 10 a.m. Saturday, May 13.
UTRGV President Guy Bailey, congratulated the graduates on their success and had encouraging words as they pursue their futures.
"To the students who are graduating today - the Class of 2023 – congratulations! You did it. Remember, this is only the beginning. You'll be defined not by what happened today or in the past four years, but by what happens in the future," Bailey said.
"To all the mothers out here, happy Mother's Day. Could you get a better Mother's Day gift than one of your own graduating from college?"
Instead of just telling graduates how to go forward with their futures, Bailey said, he was going to show them. Then he called Dr. Janna Arney, UTRGV executive vice president and provost, to the podium.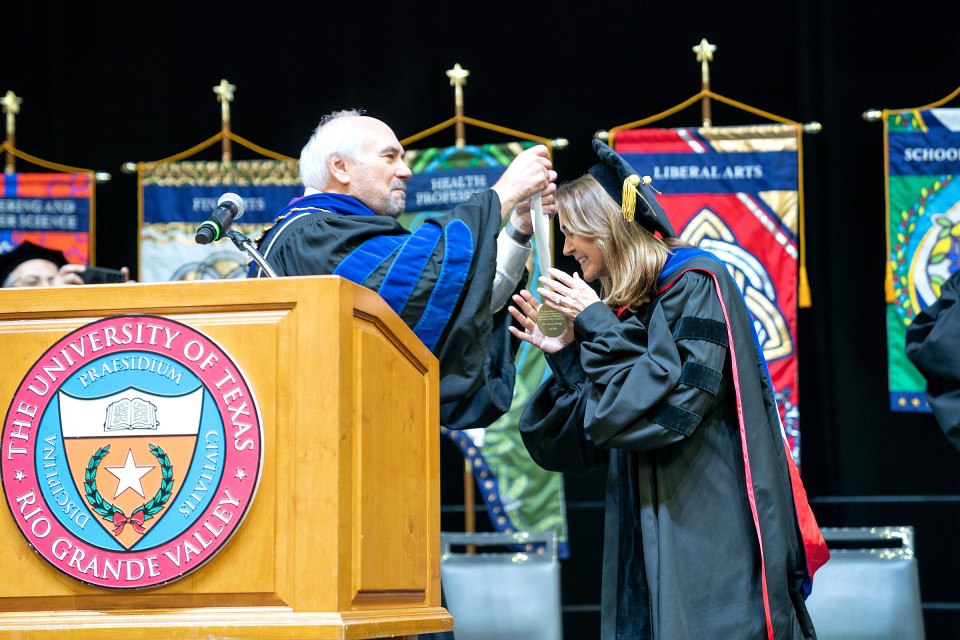 Bailey told the gathered students and their families that Arney lived her life in Brownville, received her education elsewhere, then came back to become a faculty member and spent her career at UTRGV.
"She helped guide the university through some difficult times. We would not be here today if it weren't for her and what she has done," Bailey said.
Arney, who is set to retire this year, was then awarded the UTRGV Presidential Medal of Honor, a prestigious distinction only four others before her have received.
"Dr. Arney is what you should be," Bailey said. "You've been well educated, and you're prepared. And if you need more education, get it. But return to the Valley. Help build this community, help make it a better place to live.
"I congratulate you again for everything you've achieved, but it's not the end," he said. "You're going to do so much more with your life."
Arney, holding back tears, took the podium to continue ceremonies to begin the graduation procession.
"Thank you for those kind words, but today is all about you and all that you have done to make it here today," she told the about-to-be graduates. "And it's also all about the folks who helped you along the way. Graduates, you are a product of your amazing support systems and communities. Congratulations to all of you."
Mortarboards flew and families cheered to celebrate the Class of 2023 graduates, which also included a specially recorded Mother's Day performance from UTRGV's award-winning mariachi group, Mariachi Aztlán, to serenade the moms and abuelitas in the audience.
'A GREAT COLLEGE EXPERIENCE'
For Daryna Guzman, originally from Ukraine, her pursuit of a degree in Mathematics helped her land a job as a teacher within the San Antonio Independent School District.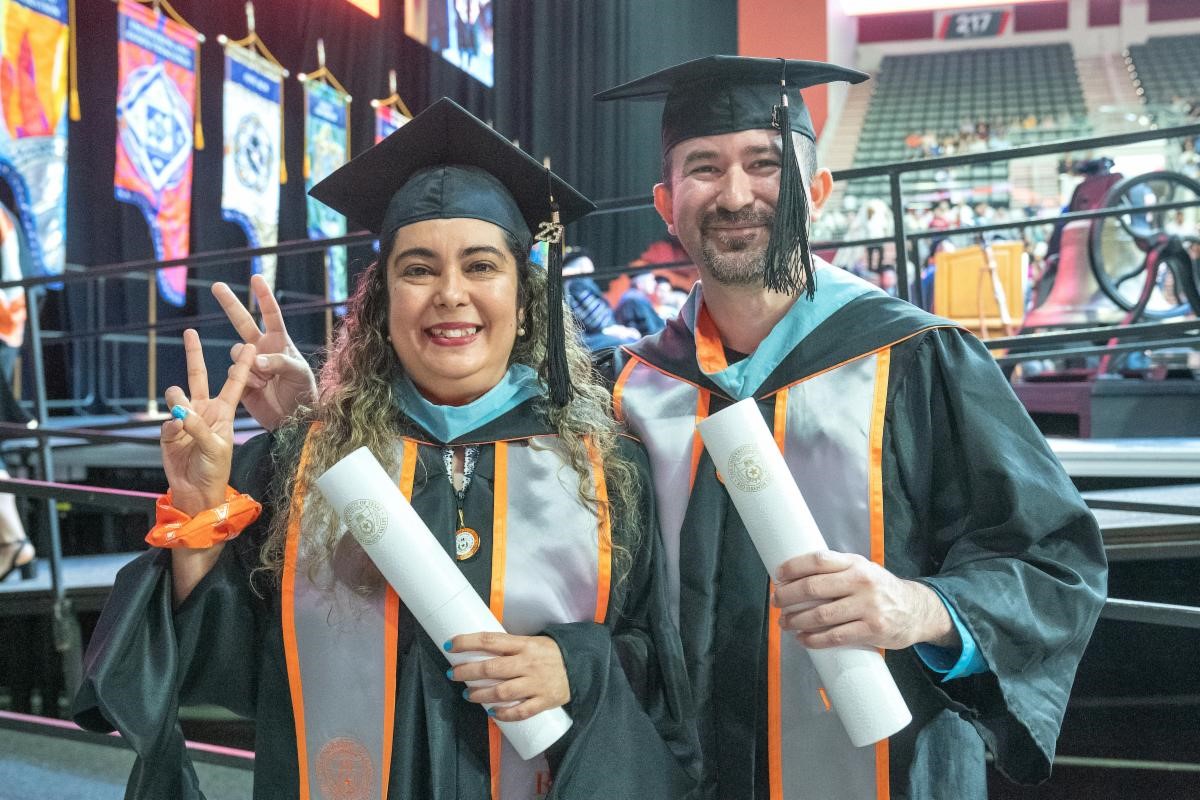 "I feel very prepared to begin teaching and start off my career," the Edinburg resident said. "Though I am from Ukraine, I have always felt welcomed on campus by my peers and faculty. It was just a great college experience overall being a Vaquero."
Guzman said attending UTRGV made her feel as if she were part of a big family, and that commencement is a momentous occasion for her.
"I made friends among my classmates and staff, who were always supportive and helpful," she said. "It feels surreal to finally be graduating, as I have been waiting for this moment for so long now. I can't believe it! I am proud to be graduating."
'I WANTED TO MAKE MY FAMILY PROUD'
Nallely Garza, graduating with a degree in Physics with a concentration in Educational Physics, said that as a first-generation graduate, walking the stage to accept her degree from UTRGV is an honor not only for herself, but for her family, as well.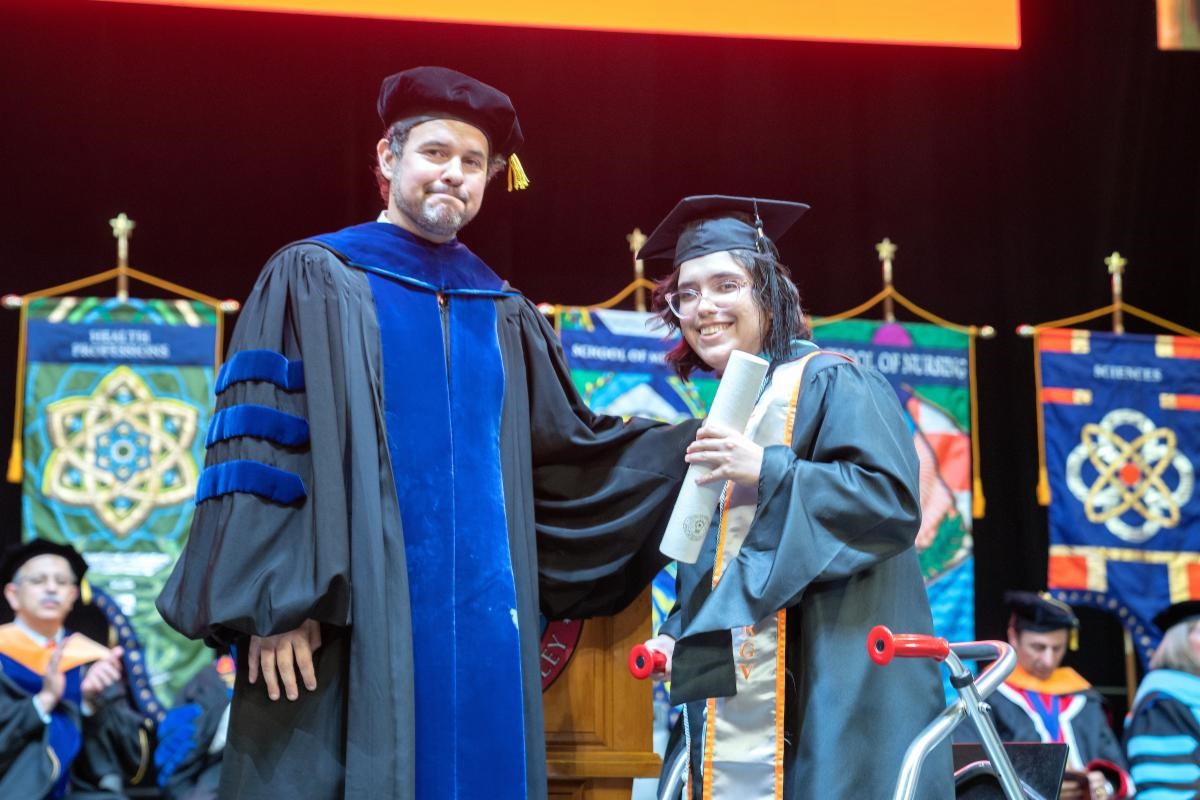 "I come from a family of farmworkers who migrate between states. During the summers, I would work with my family in the fields to not only contribute to the family, but also to make sure I had money to pay for my school clothes and supplies," she said.
"I wanted this for myself, as I love learning and studying science. I also wanted this to make my family proud of my accomplishments, and so I can take care of my family," she said.
Garza plans to move out of state after obtaining her degree to explore new avenues within her teaching career, and hopes to pursue a master's degree in Education or Physics.  
FOCUSING ON THE FUTURE
William Brown, graduating from the College of Engineering and Computer Science with a degree in Mechanical Engineering, is an entrepreneur who founded the startup company, Embedded.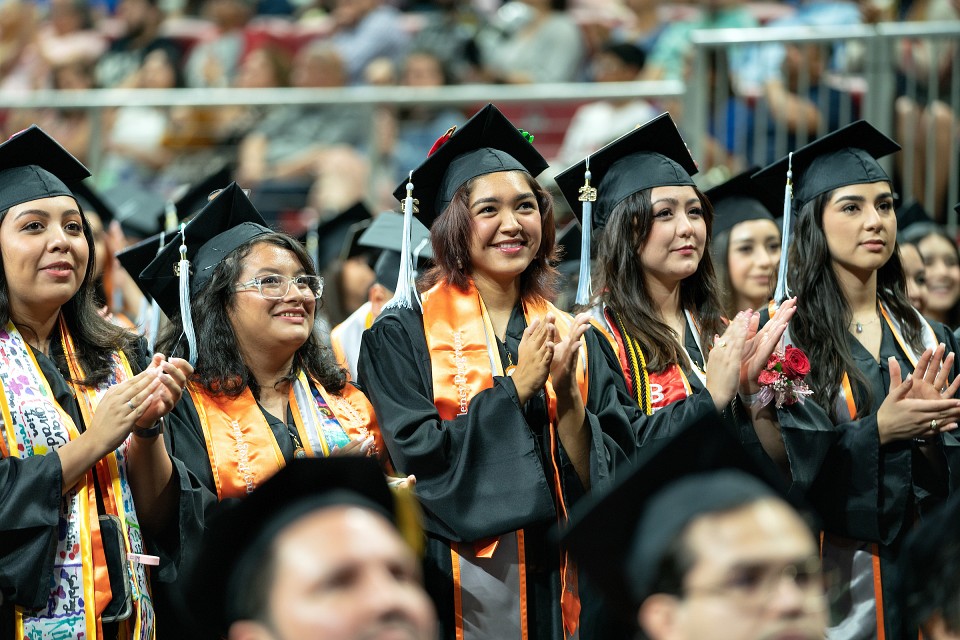 Embedded utilizes RFID (radio frequency identification) tags to help monitor patients, especially older people, by letting nurses, family, or other caretakers know when the patient is about to get up. The notification can help prevent a fall and severe injury, Brown said.
He was named a 2022 Future Texas Business Legend by the Texas Business Hall of Fame Foundation and was awarded $15,000 to put toward his company.
With the success of his company, Brown plans to put all his energy into his startup upon graduating.
"I'd say that I'm feeling excited about graduation. I'm now going to be able to focus on my startup full-time and can begin applying what I learned in my classes in a real-world scenario," he said.
For more information on Spring 2023 Commencement, visit www.utrgv.edu/commencement.
ABOUT UTRGV
The University of Texas Rio Grande Valley (UTRGV) was created by the Texas Legislature in 2013 as the first major public university of the 21st century in Texas. This transformative initiative provided the opportunity to expand educational opportunities in the Rio Grande Valley, including a new School of Medicine, and made it possible for residents of the region to benefit from the Permanent University Fund – a public endowment contributing support to the University of Texas System and other institutions.
UTRGV has campuses and off-campus research and teaching sites throughout the Rio Grande Valley including in Boca Chica Beach, Brownsville (formerly The University of Texas at Brownsville campus), Edinburg (formerly The University of Texas-Pan American campus), Harlingen, McAllen, Port Isabel, Rio Grande City, and South Padre Island. UTRGV, a comprehensive academic institution, enrolled its first class in the fall of 2015, and the School of Medicine welcomed its first class in the summer of 2016.