Thursday, May 11, 2023
  Community, Around Campus
By Victoria Brito Morales
RIO GRANDE VALLEY, TEXAS – MAY 11, 2023 – Chess is a game of strategy. To win, you need to stake out your opponent, and only then make your move. 
In much the same way he plays chess, Irakli Beradze, International Master, has utilized the best strategies to attain his life goals.
A key member of the UTRGV national champion chess team, Beradze will graduate May 13 with a second bachelor's degree, this one in computer science, after having earned a degree in law in his home country of Georgia.
Computer science has always been a passion for Beradze, now 27. So when the opportunity arose in 2019 to play chess while studying computer science, he knew it was his next life move.
One year after getting married in 2018, Beradze and his wife, Ana Shamatava, a Women FIDE Master in chess, moved to the United States so he could study, and join the UTRGV Chess Team. While he studied and immersed himself in chess, Shamatava remained supportive while she waited for the UTRGV Women's Chess Team to be created in 2020. A competitive chess player, Shamataya competes in women's chess tournaments representing UTRGV.
STRATEGIC DECISIONS
Beradze said that, since childhood, he has always been fascinated by how things work.
"With computers, networks, the Internet," he said. "But in Georgia, I chose law because computer science takes lots of effort. I had two choices – law or computer science? I was interested in both."
And while he admits he was most interested in computer science, he chose law.
"Because that allowed me to play the chess, as well," he said.
In September 2022, the couple added a new addition to the family – their first child, a daughter they named Evelyn.
That meant that, as his final academic year in the computer science degree plan geared up, Beradze was thoroughly immersed in the game of life, balancing school, chess and fatherhood.
"Being a parent, it's difficult," he said. "It's a big responsibility and I was kind of scared. I wondered how good of a parent I would be. But when she was born, I was so happy. When a day was completely tiring for me, I would look at her and she would smile at me, and I was happy."
Beradze said he owes so much to his wife for taking the lead at home, which allowed him to finish his school year strong – even while he was preparing for a national collegiate chess championship.
"Without Ana, I wouldn't be able to study or finish late-night tournaments, nothing," he said. "She deserves all the credit. She has been fully committed."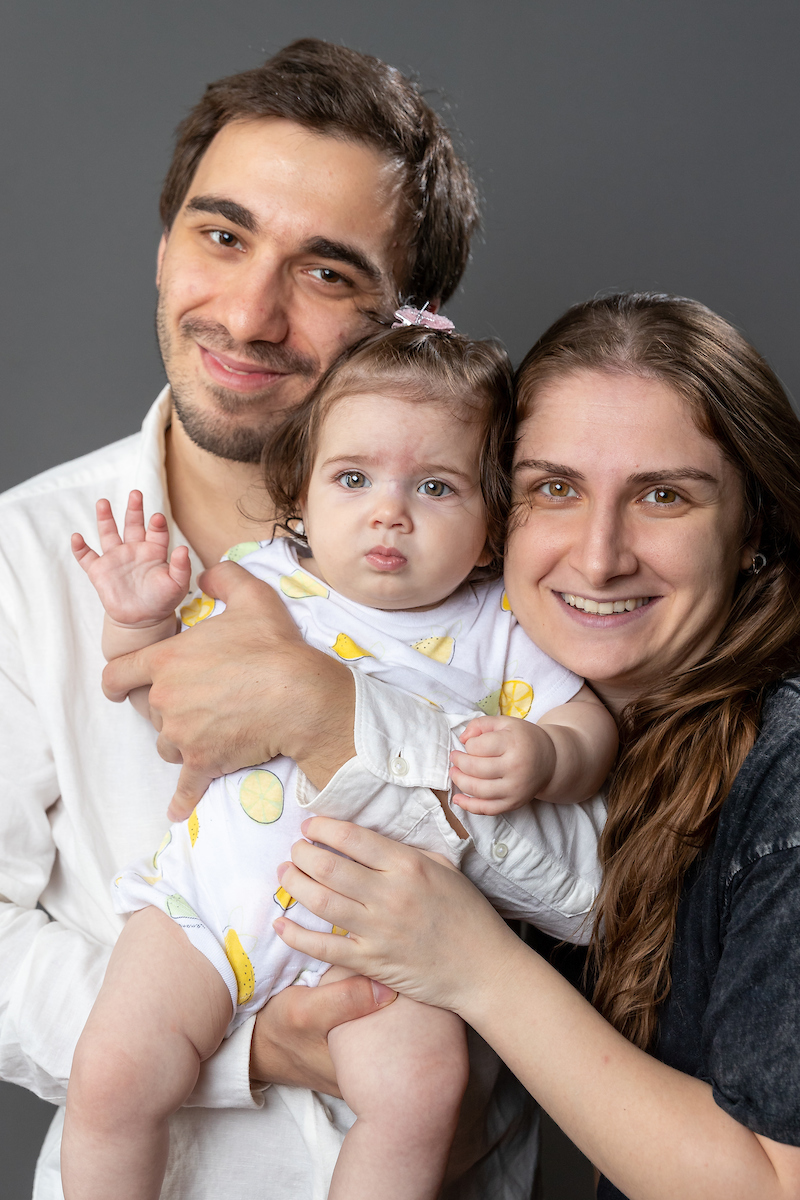 Shamatava said each day she witnesses Beradze's hard work at home, school and on the board.
"He works so incredibly hard every day to achieve his goals and make our dreams come true, I had no doubt he would finish his studies with an excellent GPA and success," Shamatava said. "Chess has been his passion since he was a little kid, and I am so happy UTRGV gave him a chance to pursue the degree he always dreamed about and play chess professionally at the same time.
"He is very caring, loving and supportive husband and father," she said. "I will always support and encourage him to the fullest."
INCENTIVES
Each year, the UTRGV Chess Team competes at the state and national levels. And while the UTRGV Chess Team has won the coveted national championship – called the President's Cup, or Final Four of Chess – three times from 2018 – 2022, it fell short this year of earning its fourth national title.
For Beradze, that means even more strategizing to bring home the fourth win for his team.
Much like the game of chess, balancing parenthood, school and being on the chess team requires just as much thought, but it is all manageable with the right teammates and a solid plan, he said.
"Time management is the key," he said. "You need people who support you, because no matter how good you are, you need support. Without Ana, I wouldn't have enough time to be this committed to our team."
His advice to students who want to be successful is simple: Be passionate.
"You should want this in your heart, whatever it is you're learning, because otherwise you won't be able to overcome laziness," he said. "But if you have passion for something, then it will give you the power to get it done."
Also, he said, it's OK to make mistakes.
"Let's say you choose the wrong major, and after a year you realize that you don't like it. It's OK to quit and move to another subject that you do like," he said. "Don't be afraid of mistakes because you can learn from them."
Once Beradze walks the stage and graduates from UTRGV on Saturday, he plans to work on his master's degree in computer science at the university. At the same time, he will continue his quest for a national collegiate chess championship with his cherished UTRGV Chess Team.
UTRGV Chess Coach Bartek Macieja said Beradze has been an important member of the team for the past four years.
"He has represented the university at multiple chess championships and has also remained an outstanding student academically. He was featured in the UTRGV Profiles in Excellence," Macieja said. "He can serve as an example of how chess can be successfully combined with academics.
"I am proud of his successes in both fields," Macieja said, "and I am glad he has chosen to stay at UTRGV for his graduate studies."
Like all good chess players, Beradze and Shamatava have peered well into the future to establish their life moves. After he earns his master's degree, they plan to continue their lives in the United States, where he hopes to work in the emerging field of artificial intelligence, or AI.
"It's such a great feeling to be graduating and to see the result of your hard work," he said.
ABOUT UTRGV
The University of Texas Rio Grande Valley (UTRGV) was created by the Texas Legislature in 2013 as the first major public university of the 21st century in Texas. This transformative initiative provided the opportunity to expand educational opportunities in the Rio Grande Valley, including a new School of Medicine, and made it possible for residents of the region to benefit from the Permanent University Fund – a public endowment contributing support to the University of Texas System and other institutions.
UTRGV has campuses and off-campus research and teaching sites throughout the Rio Grande Valley including in Boca Chica Beach, Brownsville (formerly The University of Texas at Brownsville campus), Edinburg (formerly The University of Texas-Pan American campus), Harlingen, McAllen, Port Isabel, Rio Grande City, and South Padre Island. UTRGV, a comprehensive academic institution, enrolled its first class in the fall of 2015, and the School of Medicine welcomed its first class in the summer of 2016.