Thursday, May 11, 2023
  Around Campus, Community
By News and Internal Communications
By Santana Peralez
RIO GRANDE VALLEY, TEXAS – MAY 11, 2023 –UTRGV graduating senior and mother of two Dalia Emanuel this weekend will walk the stage to accept her degree in Theater with a concentration in Design.
For the native of Cd. Acuña, Coahuila, Mexico, graduation doesn't just mean getting a degree. It means being able to show her two children, her biggest motivators, that no matter how long it takes, you can still go to college, get a degree and make a living doing something you love.
"There were times where I wanted to give up, and my children were like, 'No, you're going to do it and you're going to graduate,'" she said. "Just seeing their pride – it's a really good feeling." 
Emanuel became a mother in her teens but remained determined to go to school, set on bucking the negative statistics on teen mothers who don't complete college. She knew she didn't want to let what others thought define her, so she worked hard to create the best life she could for her son and, eventually, her daughter.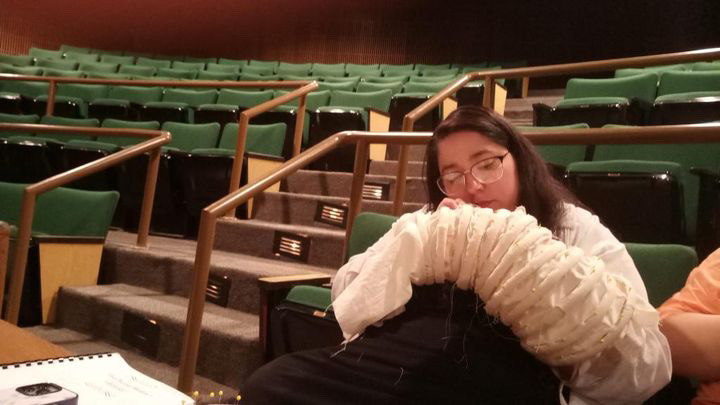 UTRGV (then legacy institution UT Pan American) wasn't always part of her plans. It was by total chance that she learned about the theatre program while working as an extra on a film with legacy alum and Edcouch native Valente Rodriguez. 
"He mentioned that he graduated from UTPA with a Theatre degree, and that was what pushed me to look into it," Emanuel said.
She enrolled immediately and began her academic journey in 2012.
During her time at UTRGV, Emanuel had the opportunity to take part in a number of productions, including The Weird, Tomas and the Library Lady, Coriolanus, and most recently, Somewhere a Primer for The End of Days, as a costume designer, a stitcher and a dresser. She also worked as stage manager on Moliere, and as an assistant stage manager on Coriolanus. 
On March 25 this year, Emanuel worked with the Latino Theatre Initiatives to direct a Spanish-language production of her play, Five Years of Flowers/Cinco Años de Flores, which she wrote based on the tragic loss of her brother.
While finishing her bachelor's degree is a huge milestone, Emanuel said, it isn't the end of her education; she plans to pursue a Master of Fine Arts (MFA) in Design. Over the summer, she will be taking part in a children's theatre camp, and will be looking to work as a designer so she can her studies in Fall 2024.
"It took me 10 years to graduate, but I'm finally doing it," she said. "You might have to take breaks, but just keep your eye on the prize. It gets tough, but the end is well worth it."
Emanuel will be one of more than 3,000 students graduating Friday, May 12, at the Bert Ogden Arena in Edinburg. On Saturday, May 13, about 900 students will graduate at the UTRGV Brownsville Campus. 
ABOUT UTRGV
The University of Texas Rio Grande Valley (UTRGV) was created by the Texas Legislature in 2013 as the first major public university of the 21st century in Texas. This transformative initiative provided the opportunity to expand educational opportunities in the Rio Grande Valley, including a new School of Medicine, and made it possible for residents of the region to benefit from the Permanent University Fund – a public endowment contributing support to the University of Texas System and other institutions.
UTRGV has campuses and off-campus research and teaching sites throughout the Rio Grande Valley including in Boca Chica Beach, Brownsville (formerly The University of Texas at Brownsville campus), Edinburg (formerly The University of Texas-Pan American campus), Harlingen, McAllen, Port Isabel, Rio Grande City, and South Padre Island. UTRGV, a comprehensive academic institution, enrolled its first class in the fall of 2015, and the School of Medicine welcomed its first class in the summer of 2016.