Monday, March 27, 2023
  Community
By News and Internal Communications
RIO GRANDE VALLEY, TEXAS – The University of Texas Rio Grande Valley and the HCA Healthcare Gulf Coast Division have announced an agreement to bring 30 resident physicians to Brownsville and McAllen by summer 2024, with plans to seat 150 total resident physician positions by 2029.
Residents from the UTRGV School of Medicine will train at HCA Healthcare Gulf Coast Division affiliate hospitals Rio Grande Regional Hospital in McAllen and Valley Regional Medical Center in Brownsville. This is the first time UTRGV will have a residency program in Brownsville.
UTRGV President Guy Bailey said the new partnership is especially important because it extends the UTRGV School of Medicine's residency programs into both Hidalgo and Cameron counties.
"We know that these doctors tend to stay and practice where they've had their residencies," Bailey said. "This not only allows us to train more residents, but also helps us expand our community's access to quality healthcare into the Lower Rio Grande Valley. We are excited for the opportunities this partnership will afford not only our medical students, but the Valley community, as well.
"We thank HCA Healthcare for joining hands with the UTRGV School of Medicine and look forward to many years of collaboration and innovation," he said.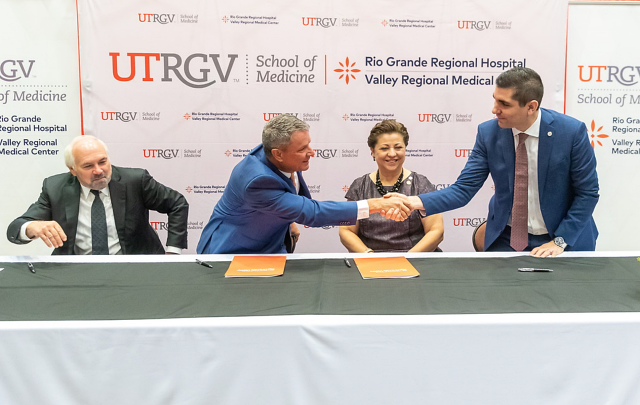 Cris Rivera, chief executive officer of HCA Healthcare affiliate Rio Grande Regional Hospital in McAllen, said the partnership with UTRGV is an important step in addressing the physician shortage in South Texas.
"This allows us to leverage opportunities for improving the health and well-being of our Valley communities," Rivera said.
David Irizarry, CEO of HCA Healthcare affiliate Valley Regional Medical Center in Brownsville, said the goal of the partnership, ultimately, is quality of life.
"We are committed to invest in and support the well-being of our communities by focusing on training diverse physician leaders who embrace and value our mission," Irizarry said. "Above all else, we are committed to the care and improvement of human life."
The inaugural group of 30 resident physicians will be welcomed to the newly established UTRGV-HCA Healthcare residency program in summer 2024, building up to about 150 residents by 2029.
Studies conducted by the American Association of Medical Colleges found that 68 percent of all medical residents stay in the communities in which they complete their graduate medical education.
The state has grown by only 4,952 residents since 2011. Moreover, Texas ranks 47th out of 50 states in physician-to-population ratio.
The UTRGV School of Medicine is focused on preparing doctors to practice in underserved urban and rural communities and hopes to admit its first HCA Healthcare Gulf Coast Division residents in 2024.
The number of residency slots created in the UTRGV-HCA Healthcare partnership exceeds the total required by the State of Texas for consideration of medical schools.
Dr. Michael B. Hocker, senior vice president for UT Health RGV and dean of the UTRGV School of Medicine, said the partnership is a significant step in expanding training opportunities for UTRGV medical students to gain clinical experience during their third and fourth years of medical school. And for the first time, both local HCA Healthcare facilities will serve as teaching hospital sites for residents in new UTRGV graduate medical education programs. 
"We are so pleased to join with HCA Healthcare in training the physicians of the future," Hocker said. "We remain committed to providing access to quality healthcare for our Valley families, and to excellent training partnerships and opportunities for both our medical students and residents."
The University of Texas System Chancellor James B. Milliken attended via Zoom in support of the announcement as his flight was grounded by fog in Austin.
The agreement is pending subject to final approval by the UT System Board of Regents.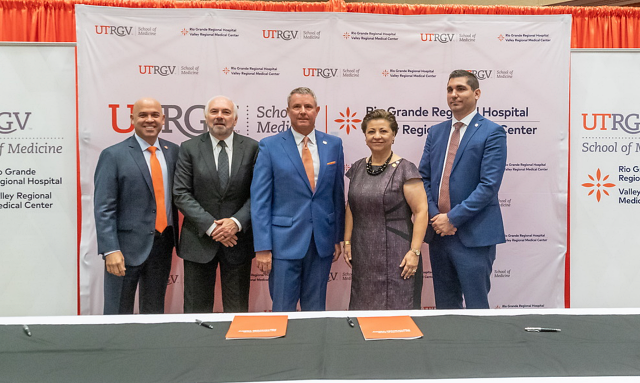 ABOUT HCA HEALTHCARE GULF COAST
HCA Healthcare Gulf Coast Division is a comprehensive network of hospitals, outpatient surgery centers, emergency centers and diagnostic imaging facilities in greater Houston, Corpus Christi and South Texas. Facilities in the Gulf Coast Division include: 16 hospitals, 10 ambulatory care centers, 17 off-campus emergency centers and a regional transfer center that provides support for patient transfers into and out of HCA Healthcare Gulf Coast Division hospitals as well as access to ground and air transportation within a 150-mile radius. HCA Healthcare Gulf Coast Division is part of HCA Healthcare, one of the nation's leading providers of healthcare services with 182 hospitals and 2,300+ sites of care, including surgery centers, freestanding ERs, urgent care centers, home health, and physician clinics located in 20 states and the United Kingdom. For more information, visit HCAgulfcoast.com.
ABOUT HCA HEALTHCARE MEDICAL EDUCATION
HCA Graduate Medical Education is one of the nation's largest providers of residency and fellowship training programs across the nation. With more than 203 programs across 21 specialties and 43 hospitals, HCA GME is building a leading network of innovative, patient-centered graduate medical education programs.
ABOUT UTRGV
The University of Texas Rio Grande Valley (UTRGV) was created by the Texas Legislature in 2013 as the first major public university of the 21st century in Texas. This transformative initiative provided the opportunity to expand educational opportunities in the Rio Grande Valley, including a new School of Medicine, and made it possible for residents of the region to benefit from the Permanent University Fund – a public endowment contributing support to the University of Texas System and other institutions.
UTRGV has campuses and off-campus research and teaching sites throughout the Rio Grande Valley including in Boca Chica Beach, Brownsville (formerly The University of Texas at Brownsville campus), Edinburg (formerly The University of Texas-Pan American campus), Harlingen, McAllen, Port Isabel, Rio Grande City, and South Padre Island. UTRGV, a comprehensive academic institution, enrolled its first class in the fall of 2015, and the School of Medicine welcomed its first class in the summer of 2016.