Environmental activism yields stories of hope

  Wednesday, March 22, 2023
  Faculty Focus
By Karen Villarreal
WOMEN'S HISTORY MONTH
RIO GRANDE VALLEY, TEXAS – Environmental historian Dr. Amy Hay draws hope for the future from this country's troubled past.
"Activism can be sparked by individuals who raise consciousness and inspire people to take action," said Hay, professor in the Department of History at UTRGV. "Being a historian lets me find stories about people who are doing good things and make their stories known. To me, that is powerful and really satisfying."
Completing her first book, "The Defoliation of America – Agent Orange Chemicals, Citizens, and Protests" in late 2021 was a personal achievement for Hay, who had been writing and carrying out research for more than 15 years, ever since her dissertation research on Love Canal in Niagara Falls, New York, piqued her interest.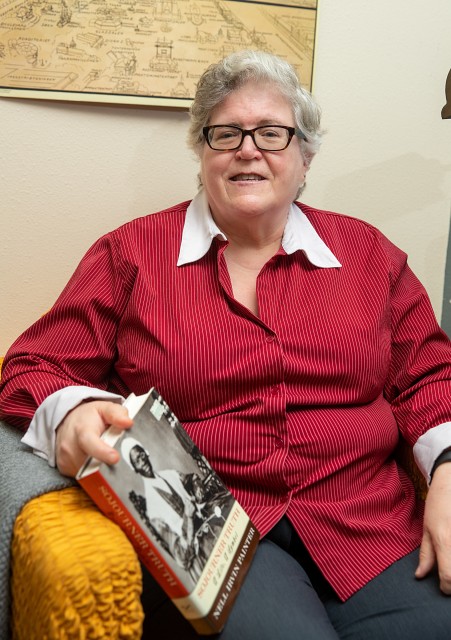 The result was an enduring focus on activism centered on environmental contamination and its effects on human health.
In her research on the Love Canal, Hay was horrified by and drawn to how the residential area had been used as a dump site for nearly 22,000 tons of chemical waste (including Agent Orange) in the 1970s.
"The chemicals were only supposed to kill plants, but activists eventually discovered that humans were affected, too," she said.
Prolonged exposure proved to be catastrophic and included birth defects and miscarriages, cancer and death.
Hay also discovered how the women activists at Love Canal refused to be silenced, instead sparking one of the first public chemical contamination battles in the United States, which eventually led to federal legislation – the Comprehensive Environmental Response, Compensation and Liability Act (CERCLA) of 1980.
It became important to Hay to tell the stories of the women who decided to act because they saw Agent Orange chemicals poisoning their neighborhoods, their children and the biosphere.
"The three women I wrote about are kind of lost in history, and their stories of fighting for such big stakes deserve to be told," Hay said. "I'm not sure they would've been told otherwise, so it was very exciting when its first academic reviewer called it an important book." 
A HIDDEN STORY UNFOLDS
Early in her research, Hay found that the environmental crisis was not contained to one dumpsite – and the Agent Orange chemicals used in South Vietnam during the war were also sprayed on thousands of American acres to reduce allergy-causing weeds.
Letters, postcards, print publications and radio transcripts created by housewives in California, Arizona and Oregon detailed how their cities were sprayed with Agent Orange – and the health concerns they faced after exposure.
What unfolded before her was a horrifying story, Hay said.  
Agent Orange was believed to be a perfectly safe chemical – until 1966, when a group of American biologists began to protest its use in South Vietnam. Between 1961 and 1971, mangrove forests the geographic size of the states of Vermont, New Hampshire and Massachusetts combined had been wiped out. 
"There was a major shift in the scientific understanding of biological systems and the interconnected web of life," Hay said. "It becomes a global protest against the chemical killing of the ecosystem."
Vietnam veterans also began to protest Agent Orange, after they started to manifest health problems.
"'The only difference is, you don't take your children into combat,'" she said, quoting the veteran groups that urged the government to stop using what was later discovered to be endocrine disruptors on American soil. 
"However, their powerful opponents had significant resources to try to undermine concerns."
From internal memos and newsletters, Hay found that those powerful opponents included the chemical, agricultural and timber industries, all of which had fulltime public relations agents pushing a narrative that the toxic chemicals were safe.
As little had been written about most of the material she was finding, she decided to put together a clearer picture of how mostly forgotten citizen protests – led by women, students, scientists and clergy – challenged government and industry narratives of chemical safety.
"The part about the children was hard to write because you see the next generation affected by this chemical legacy, and that's pretty brutal," Hay said. "But you see people who become engaged and active in speaking out, exposing industry narratives."
If there's one thing she hopes to do, Hay said, it is to inspire activism by telling the stories of those who were so engaged.
EXTRAORDINARY WOMEN 
Hay decided to highlight three of the Love Canal activists: 
"They're the heart of the book, in a lot of ways," Hay said of the women. "They protested dramatically – even taking coffins with dead plants and deformed animals to EPA headquarters in Phoenix."
As the protests raised public awareness of the potential health effects of the chemicals, the United States stopped spraying Agent Orange in Vietnam in 1971 – and the CERCLA Act of 1980 was passed to established safeguards for hazardous waste sites and hold companies, as well as the U.S. government, accountable for cleanup of toxic sites.
It took another seven years, though, until the EPA suspended the spraying of Agent Orange in U.S. National Forests, and one of the two herbicides that make up Agent Orange – "2,4,5-T" – was not removed from the market until 1985.
Hay acknowledges that it can be disheartening to still have to confront environmental issues today.
 "I'm not sure how we fix it, but there's a resiliency you need as an activist to take the small victories, and stay engaged in the fight," she said.
THE HEART OF AN ACTIVIST
To help younger generations replace cynicism with resiliency, Hay takes Mr. Roger's approach: telling stories that focus "on the helpers" to disrupt the narrative. 
"There are more stories of individuals who are making it about everybody, not just about themselves," Hay said. "We can take action and change things. It doesn't have to be all doom and despair."
Hay, whose next book focuses on the environment and public health of medical migrants in the Rio Grande Valley, said she is hopeful that activism seems to be taking a new form – online. 
And she is tickled by the similarity between memes, like Jorts the union cat and the use of dark humor by the Love Canal women.
"The more ways people have to speak out to address the existential horror of it, the better," Hay said. "We have to keep raising consciousness, and as Civil Rights icon John Lewis says, 'Make good trouble.'"
ABOUT UTRGV
The University of Texas Rio Grande Valley (UTRGV) was created by the Texas Legislature in 2013 as the first major public university of the 21st century in Texas. This transformative initiative provided the opportunity to expand educational opportunities in the Rio Grande Valley, including a new School of Medicine, and made it possible for residents of the region to benefit from the Permanent University Fund – a public endowment contributing support to the University of Texas System and other institutions.
UTRGV has campuses and off-campus research and teaching sites throughout the Rio Grande Valley including in Boca Chica Beach, Brownsville (formerly The University of Texas at Brownsville campus), Edinburg (formerly The University of Texas-Pan American campus), Harlingen, McAllen, Port Isabel, Rio Grande City, and South Padre Island. UTRGV, a comprehensive academic institution, enrolled its first class in the fall of 2015, and the School of Medicine welcomed its first class in the summer of 2016.