Monday, March 20, 2023
  Announcements
By News and Internal Communications
RIO GRANDE VALLEY, TEXAS – Dr. Luis H. Zayas, who for 10 years (2012-2022) served as dean of the Steve Hicks School of Social Work at The University of Texas at Austin, has been named UTRGV's new provost and senior vice president of Academic Affairs, President Guy Bailey announced Monday.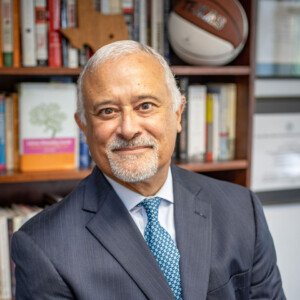 Zayas, who currently serves as the Robert Lee Sutherland Chair in Mental Health and Social Policy at UT Austin and holds an appointment as professor of psychiatry and behavioral sciences at UT Austin's Dell Medical School, will start his new role at UTRGV on June 1.
"We are thrilled to have someone of Dr. Zayas's caliber fill this role for UTRGV," Bailey said. "Dr. Zayas is respected nationally as a higher education administrator and as a successful practitioner and researcher in the field of social work. I am confident that his background and experience will help to enhance UTRGV's vision of becoming one of the nation's leaders in higher education."
In his role at UTRGV, Zayas will oversee academic affairs with a focus on the institution's core priority of student success. Under his leadership, academic affairs also will continue striving to identify, recruit and retain highly qualified, talented and diverse faculty members committed to UTRGV's vision, mission, values and strategic priorities.
Earlier this month, Bailey announced Dr. Janna Arney, who since 2020 has served as Interim Provost and then Executive Vice President and Provost, will retire from the university this summer.
A native of Coamo, Puerto Rico, Zayas received his BA in economics and liberal arts from Manhattan College. He then earned a master's degree in social work and a Ph.D. in developmental psychology, both from Columbia University.  
He began his social work career in New York City as a clinician in social service agencies, general and pediatric rehabilitation hospitals, and mental health and primary care clinics in the boroughs of Manhattan and the Bronx.
Zayas went on to teach at Columbia University, Fordham University, Albert Einstein College of Medicine, and Washington University in St. Louis.  He is the author of three books and more than 130 scientific papers and chapters.  He has lectured nationally and internationally and is a frequent commentator on issues of children's mental health, appearing in a popular TED talk, The New York Times, TIME Magazine, CNN.com, Washington Post, Telemundo, Univision, NPR, and BBC Radio.
Zayas said he is excited to join UTRGV, in part because his priorities align perfectly with those of the university.
"It is the honor of a lifetime to be appointed the next provost of UTRGV, a university with an unlimited future," Zayas said. "I am grateful to President Bailey and the search committee for placing their confidence in me.
"Focusing on student success, bringing talented faculty and supporting their development, raising our research output and deepening our engagement with the Rio Grande Valley region are the key priorities. UTRGV is and will continue to benefit from and contribute to the social, cultural and economic development of the Valley. UTRGV has all the parts needed to become a global innovator and enrich the region both in the United States and Mexico. I am deeply committed to seeing us reach that greatness."
ABOUT UTRGV
The University of Texas Rio Grande Valley (UTRGV) was created by the Texas Legislature in 2013 as the first major public university of the 21st century in Texas. This transformative initiative provided the opportunity to expand educational opportunities in the Rio Grande Valley, including a new School of Medicine, and made it possible for residents of the region to benefit from the Permanent University Fund – a public endowment contributing support to the University of Texas System and other institutions.
UTRGV has campuses and off-campus research and teaching sites throughout the Rio Grande Valley including in Boca Chica Beach, Brownsville (formerly The University of Texas at Brownsville campus), Edinburg (formerly The University of Texas-Pan American campus), Harlingen, McAllen, Port Isabel, Rio Grande City, and South Padre Island. UTRGV, a comprehensive academic institution, enrolled its first class in the fall of 2015, and the School of Medicine welcomed its first class in the summer of 2016.