Women's History Month

  Thursday, March 16, 2023
  Community
By Victoria Brito Morales
RIO GRANDE VALLEY, TEXAS – Peace of mind can be hard to find – especially if you're the family of undocumented immigrants who have disappeared crossing the border.
So a group of biological anthropologists from UTRGV were hoping to help provide that peace of mind through their work this year with Operation Identification.
UTRGV faculty member Dr. Carina Marques, assistant professor of Anthropology in the UTRGV College of Liberal Arts, along with Nora Ramirez and Paulina Ocadiz -- graduate students from the Master of Arts Interdisciplinary Studies (MAIS) with a concentration in Anthropology – spent a week in January in Eagle Pass, helping exhume and identify those who have died crossing the U.S.-Mexico border.
The effort, called Operations Identification, or OpID, was led by Texas State University and has been in practice since 2013, directed and founded by Dr. Kate Spradley, professor of anthropology at TSU. Her goal is to identify and repatriate unidentified human remains found along or in close proximity to the South Texas border through community outreach, scientific analysis, advocacy and collaboration with governmental and non-governmental organizations.
Marques, a native of Portugal, was looking for ways to expand the study of biological anthropology at UTRGV, and reached out to Spradley for opportunities for UTRGV students though OpID.
"I told her we are developing biological anthropology at UTRGV and our students have shown an interest in the new class I've created forensic anthropology. which in scope is in some ways like OpID," Marques said. "We are very much engaged in collaborating with such an important cause."
Marques said the goal was for the students to gain forensic anthropology skills and to experience the importance of collaboration, compassion, care for everyone's lives and how anthropology can contribute to social change.
THE PROCESS OF EXHUMATION
Between August and September 2022, more than 26 migrants died while crossing the border in the Eagle Pass area alone.
"These are people that were buried at local cemeteries without the full medicolegal procedures for identification," Marques said. "What happens is, the local forensic institutes, morgues or funeral homes, reach their holding capacity. Then, migrants are buried and they don't always collect DNA for identification to do a full medical legal process."
When authorities skip those procedures due to lack of resources, the families of the missing spend years, sometimes even decades, without closure.
For the bodies buried in local cemeteries, anthropologists are then tasked with digging up the bodies and performing body exams to search for any identifiers – identity cards, clothing, possessions, and physical markings like scars, tattoos or moles.
The information is then entered into a national database that families looking for loved ones can access to take part in the next step of identification.
"Our colleagues collect DNA samples and try to match them with family members once again. If this exhumation process was not happening, some of the families was would never find their loved ones," Marques said.
STUDENTS IN THE FIELD
Ramirez and Ocadiz, both first-year UTRGV master's students studying anthropology, took a course in forensic anthropology with Marques.
Their mornings in Eagle Pass would start with digging and removing soil from the graves to retrieve the body bags. Then the group would move to a tent to begin analysis of the bodies, which already were in a state of decomposition.
"They need a sense of empathy because they are doing this for the families that need closure and  answers," Marques said. "My students were very much aware of the importance of their roles,  and I was very proud of how respectful they were."
Both Ocadiz and Ramirez both said they are grateful to have been a part of this important initiative.
"I was grateful that I was invited to go and honored at the same time, but also very emotional that we're going to be helping people," Ocadiz said. "Going there, you're face-to-face with death,  so it's very emotional."
The students were prepared and ready for the challenges, though. Ramirez previously had volunteered at local refugee camps and she has spoken with migrants about their trials and tribulations. She said she couldn't help but call up those memories during the exhumations.
"All of a sudden, I was face-to-face with someone whose dreams will continue, just in a different manner," Ramirez said. "I remember feeling something come over my hands during intake on a body, and I feel like maybe it was the mother's prayer that had been heard. This was an opportunity for this individual to go back home and to have closure and continue living his dream."
Despite the emotional challenges of the work, both students said they want to continue working on the project in the future, and hope more UTRGV students will get interested in biological anthropology.
"I was absolutely proud," Marques said, "because to work in these kinds of conditions, it is emotionally very draining.
"It's difficult to work in large teams, and our students were extraordinarily well integrated with the students from Texas State University. They worked collaboratively and understood and what their roles were inside the team.
"And they were compassionate when doing the intake or the analysis by doing it gently, calmly. In their minds, they were always deciding that they were doing this for the families," she said.
This initiative received support from the UTRGV College of Liberal Arts, the Department of Anthropology and the Community Historical Archaeology Project with Schools (CHAPS) program. 
For more information on anthropology at UTRGV, visit utrgv.edu/anthropology.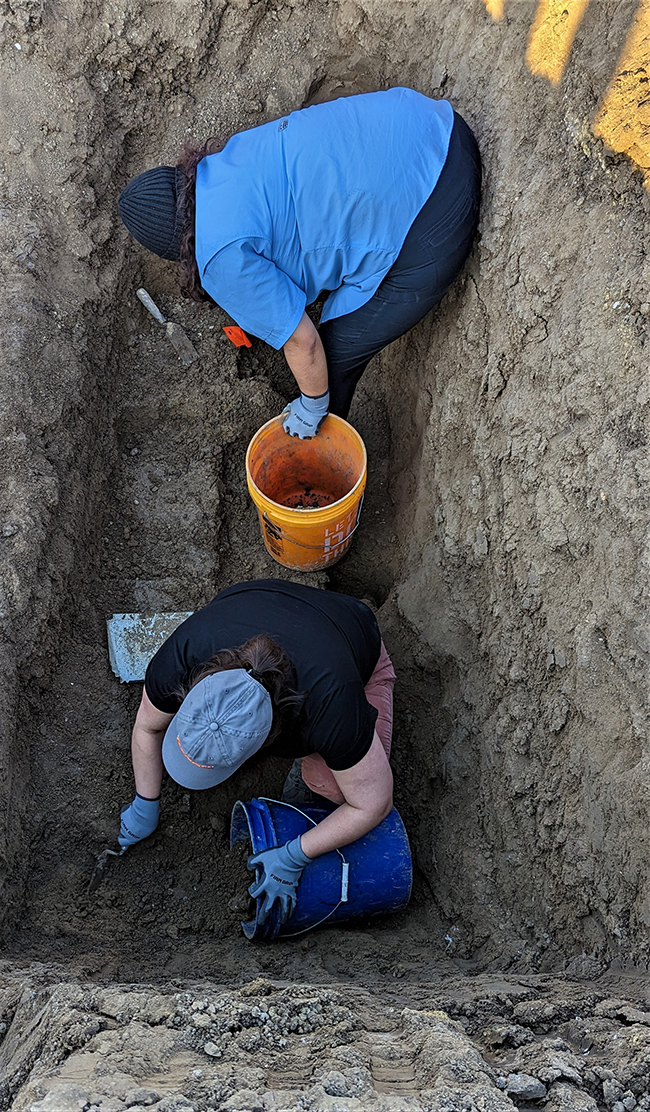 ABOUT UTRGV
The University of Texas Rio Grande Valley (UTRGV) was created by the Texas Legislature in 2013 as the first major public university of the 21st century in Texas. This transformative initiative provided the opportunity to expand educational opportunities in the Rio Grande Valley, including a new School of Medicine, and made it possible for residents of the region to benefit from the Permanent University Fund – a public endowment contributing support to the University of Texas System and other institutions.
UTRGV has campuses and off-campus research and teaching sites throughout the Rio Grande Valley including in Boca Chica Beach, Brownsville (formerly The University of Texas at Brownsville campus), Edinburg (formerly The University of Texas-Pan American campus), Harlingen, McAllen, Port Isabel, Rio Grande City, and South Padre Island. UTRGV, a comprehensive academic institution, enrolled its first class in the fall of 2015, and the School of Medicine welcomed its first class in the summer of 2016.