Early intervention program aims to reduce childhood obesity

  Friday, March 10, 2023
  Around Campus
By Karen Villarreal
RIO GRANDE VALLEY, TEXAS – Little Marco Alvarado is still in pre-K at PSJA, but he gets it.
"My dad is strong and I'm strong!" he said. "And bad food will make your tummy hurt!"
He heard that valuable nutrition lesson reinforced during a special health fair hosted Thursday and Friday by UTRGV on the Edinburg Campus: Good food, like fruits and vegetables, will make him grow big and strong.
The two-day health fair was designed to make an early impact on the nutrition, fitness and hygiene habits of hundreds of pre-K children from the Pharr-San Juan-Alamo school district. 
The South Texas Early Prevention Studies (STEPS) research group, from the UTRGV College of Health Professions, invited 750 PSJA pre-K students and their parents to participate in the health fair as part of a curriculum focused on obesity-reduction. Called the Supplemental Nutrition Assistance Program Education (SNAP-ED) project, it is a multi-pronged approach that helps children learn how to make healthy choices.
Dr. Zasha Romero, co-principal investigator of the STEPS program, said the curriculum's interactive intervention is critical, as children from the Upper Valley area are growing up in what has been ranked "the most overweight and obese city in America." The word "city" in this study refers to the McAllen, Edinburg, Mission area and includes Pharr-San Juan-Alamo.
"We're working with pre-Kinder students to plant the right seeds early on," said Romero, program director of the MS in Kinesiology program at UTRGV. "Through games and fun activities, they learn new habits without realizing it. They don't have to grow up to be a statistic of chronic illness."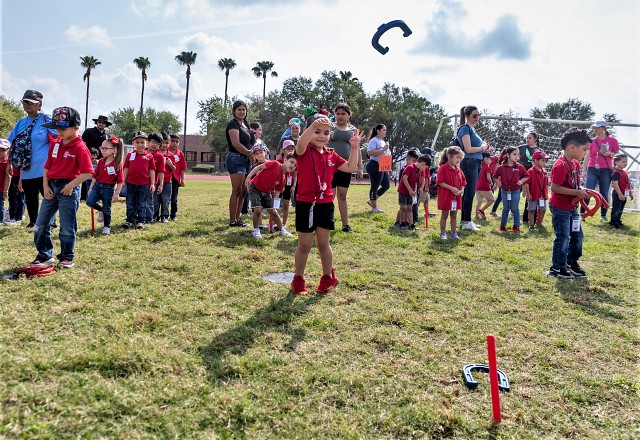 The health fair was the first the program had hosted since a pilot study was held – with 80 students – seven years ago.
"Four grants later, we have grown exponentially," Romero said. "We plan to keep doing this with other districts."
Azalea Rodriguez, a parent educator who was at the health fair with Dr. William Long Elementary, said it was a great opportunity for students to learn while having fun. 
"It's been great seeing the little ones I interact with on a daily basis be on a university campus and see how UTRGV contributes to their education," said Rodriguez, whose daughter is participating in the STEPS program. "It's important for them to learn healthy choices so that, as they grow older, they can enjoy menudo, pozole and tamales in moderation, and still participate in our Mexican culture – while making healthier choices along the way."
STEPS TO HEALTH
The 750 students were split over two days, with half brought by bus to the UTRGV campus on Thursday, March 9, and the other half on Friday, March 10. On both days, STEPS hosted half of the students and parents in a health fair at the HPE II gymnasium, and the other half outside on the UTRGV track and field. After lunch, the groups swapped activities.
The group outside was led by students from the UTRGV departments of Health and Human Performance and Kinesiology, in field day activities like potato sack races, dances and fitness games. Concurrently, UTRGV students from the dietetics department, under the guidance of Dr. Lisa Salinas, educated the children inside the gym on nutrition and hygiene. One activity taught the children to sing the ABC's while washing their hands, to make sure they meet the CDC-recommendation of 20 seconds.
Danny Torres came to the fair with his daughter, Joanna, to support a healthy lifestyle for his family, who lives in Pharr. 
"As a parent, you want them to learn this early," he said. "And I would like to live a healthy life with them. to be with them longer."
Torres said the trip to UTRGV was Joanna's first school field trip on the bus, so she was very excited. 
"It's been great seeing her enjoy the time with her friends, learning and interacting with all the stations," he said.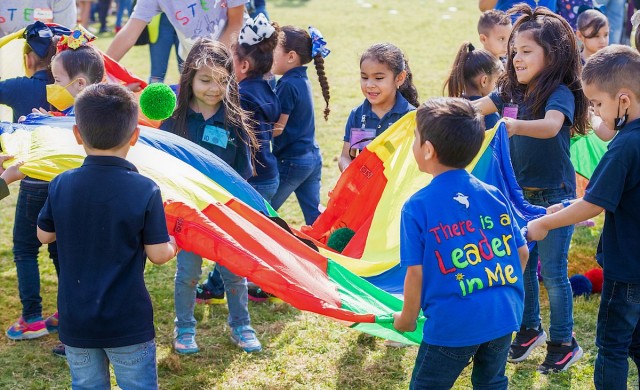 ABOUT UTRGV
The University of Texas Rio Grande Valley (UTRGV) was created by the Texas Legislature in 2013 as the first major public university of the 21st century in Texas. This transformative initiative provided the opportunity to expand educational opportunities in the Rio Grande Valley, including a new School of Medicine, and made it possible for residents of the region to benefit from the Permanent University Fund – a public endowment contributing support to the University of Texas System and other institutions.
UTRGV has campuses and off-campus research and teaching sites throughout the Rio Grande Valley including in Boca Chica Beach, Brownsville (formerly The University of Texas at Brownsville campus), Edinburg (formerly The University of Texas-Pan American campus), Harlingen, McAllen, Port Isabel, Rio Grande City, and South Padre Island. UTRGV, a comprehensive academic institution, enrolled its first class in the fall of 2015, and the School of Medicine welcomed its first class in the summer of 2016.