Women's History Month

  Friday, March 10, 2023
  Around Campus
By Marisol Villarreal
RIO GRANDE VALLEY, TEXAS – Positive, impactful messages of equity uplifted women and supporters on International Women's Day, during an event March 8 at the UTRGV Ballroom in Edinburg.
March is Women's History Month, and each year, the UTRGV International Admissions and Student Services (IASS) office in the Division of Strategic Enrollment and Student Affairs hosts a celebration on International Women's Day to recognize the achievements of the international female population at the university.
"Today is so important because it's a global day where we can celebrate the social, economic, cultural and political achievements of women," said Dr. Samantha Lopez, director of UTRGV'S IASS. 
This year's theme was #EmbraceEquity.
"According to the research, equity for women can take between 100 and 300 years to achieve," Lopez said. "So, we need to support and encourage each other in every instance and have the ability to celebrate success. We must have the motivation to talk about our hard work, and simply never give up."
UTRGV OUTSTANDING INTERNATIONAL FEMALE FACULTY HONOREE
Dr. Eloisa G. Tamez, a professor with the UTRGV School of Nursing, was honored as the 2023 Outstanding International Female Faculty. She was nominated by UTRGV's Women's Faculty Network.
Tamez is from Cameron County and has been faculty since 2000 with legacy institution UT Pan American. She currently teaches students about nursing. She has earned five degrees in her lifetime – she is 88 – with 44 years spent working in service to others. For the past 27 years, she has worked with the U.S. Department of Veterans Affairs as a nurse and in executive management. She also spent 22 years with the U.S. Army and National Guard, in the Nurse Corps. 
"I am humbled to be recognized; I was not expecting this. The UTRGV Women's Faculty Network nominated me behind my back!" she joked.
The IASS also honored International Female Students at the undergraduate and graduate levels. Each awardee received a $1,000 scholarship to further her education at UTRGV.
OUTSTANDING INTERNATIONAL FEMALE STUDENT, UNDERGRADUATE
Ingridy Nicoleti Foltran, from Brazil, is a sophomore and civil engineering major and a UTRGV volleyball athlete with a 4.0 GPA.
Foltran has played volleyball since she was seven years old and came to UTRGV with a volleyball scholarship.
"Being far from home and being a student-athlete is really hard, but I try and make everything work," Foltran said. "I'm really happy to be part of the UTRGV family and being honored today."
OUTSTANDING INTERNATIONAL FEMALE STUDENT, MASTER'S
Suchitra Acharjee, from Bangladesh, is working toward her master's degree in public administration and has done research with the UTRGV Office of Sustainability on the increase of child weddings during the COVID-19 pandemic in her home country. A child wedding is when girls 11 to 18 years of age are forced into marriage, and in general, the treatment of girls and women back home is deeply disturbing, she said.
"Back in my country, it was difficult for me to wake up every day with the news of innocent girls being raped on their way to school," Acharjee said. "And after today, I feel inspired to do more. The journey is unstoppable.
"My message for other females out there is to let their love be greater than their fear. Let not your fear stop you," she said.

OUTSTANDING INTERNATIONAL FEMALE STUDENT, DOCTORAL
Uzoamaka Okori, from Nigeria, is working toward a Ph.D. in rehabilitation counseling, and already has supported many people in the Rio Grande Valley with their personal problems, helping counsel people through her job.
Sometimes, she helps counsel international students at UTRGV to help with their transition to American culture and life.
"I didn't think I would get to this point of getting an award," Okori said. "I believe we should just help others as much as we can."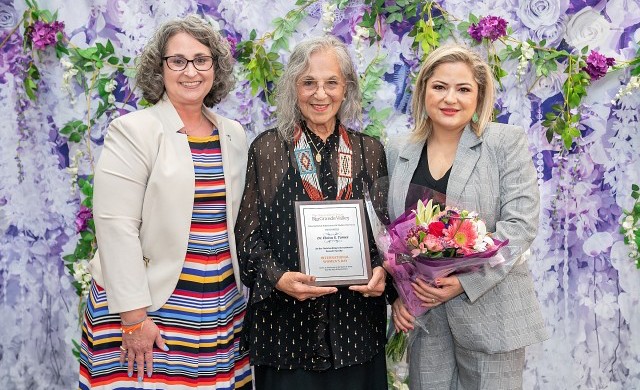 ABOUT UTRGV
The University of Texas Rio Grande Valley (UTRGV) was created by the Texas Legislature in 2013 as the first major public university of the 21st century in Texas. This transformative initiative provided the opportunity to expand educational opportunities in the Rio Grande Valley, including a new School of Medicine, and made it possible for residents of the region to benefit from the Permanent University Fund – a public endowment contributing support to the University of Texas System and other institutions.
UTRGV has campuses and off-campus research and teaching sites throughout the Rio Grande Valley including in Boca Chica Beach, Brownsville (formerly The University of Texas at Brownsville campus), Edinburg (formerly The University of Texas-Pan American campus), Harlingen, McAllen, Port Isabel, Rio Grande City, and South Padre Island. UTRGV, a comprehensive academic institution, enrolled its first class in the fall of 2015, and the School of Medicine welcomed its first class in the summer of 2016.