Black History Month

  Monday, February 27, 2023
  Community
By Amanda A. Taylor-Uchoa
EDINBURG, TEXAS – Meesh Duru, a UTRGV alumna who graduated with a degree in Mass Communications in 2018, became the change she wanted to see in her community by helping bridge the gaps in Black hair care disparities.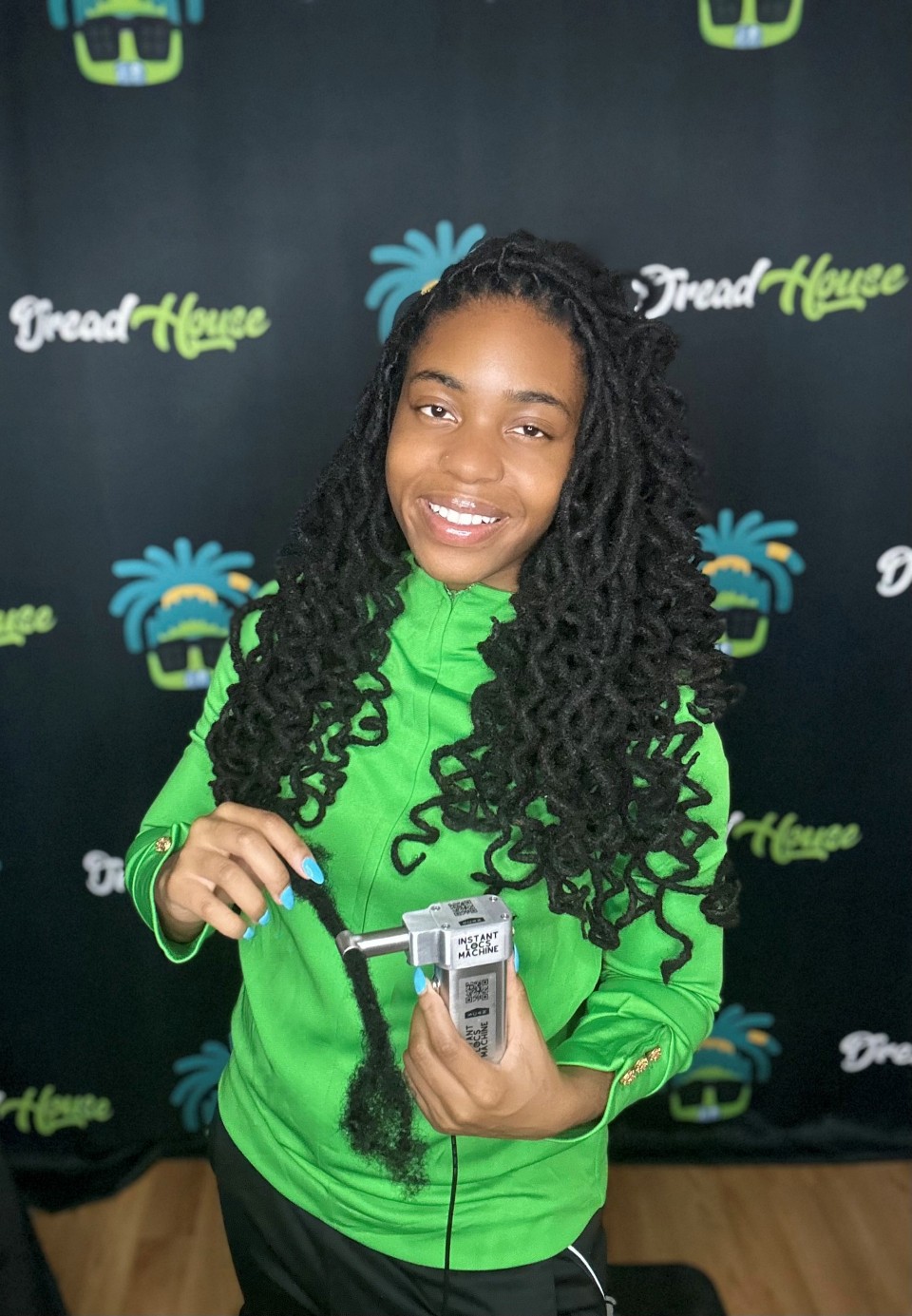 Duru, a professional loctician, is founder and owner of the Dread House in Edinburg, where she helps clients start, maintain and style their dreadlocks.
"I assist my clients in starting, growing and maintaining their locs. The foundation is the most important part of the journey," Duru said. "It helps give the loc its shape and determines how they will fall and lay. For maintenance, we retwist new growth at the roots to aid in training the hair to loc faster in the proper direction."
Dreadlocks, also known as dreads, locks or locs, are rope-like strands of hair formed by locking, twisting or braiding hair.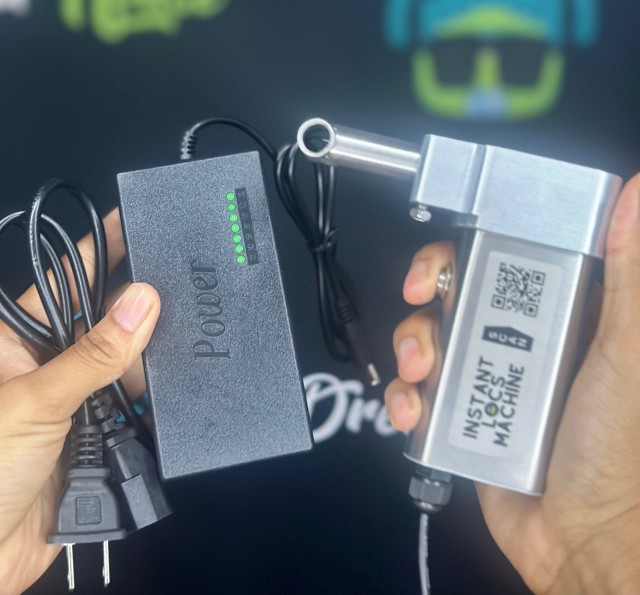 Duru said loc styles are important after a retwist, as a style such as twists, braids or updos can help the retwist last longer. Within her shop, Duru also creates and installs loc extensions, provides instant locs services and has her own loc haircare product line.
Within her home-based salon, Duru uses different techniques to create or maintain dreadlocks based on each client's hair type.
"Dreadlocks are more common amongst afro-textured hair because our hair naturally coils and locks when our hair isn't detangled with a comb or brush. But being in the Rio Grande Valley, where there are over 90 percent Hispanics, it allowed me to work with all hair textures when it comes to creating and maintaining dreadlocks," she said.
Duru said that, with February being Black History Month, she hopes to generate awareness by being a trailblazer in her field here, where there are so few salons that specialize in Black hair care.
"I feel like my business and I are bringing attention to Black History Month because I am representing the underrepresented," she said. "A lot of us are trying to find the right information, and because I have over 10 years experience serving the dreadlock community, I am helping serve the world with the information I've learned over the years."
At Dread House, Duru not only helps customers maintain their locs, but also sells her own products to maintain the longevity of customers' locs.
Loc Juice, for example, is a hydration mist that helps hydrate the hair to prevent dryness and breakage. Another popular Dread House product is the Growth Serum, which seals in moisture. The two products work in conjunction to help maintain healthy locs.
"We hydrate our hair in the morning and at night to prevent our locs from becoming dry and brittle, because dry and brittle hair leads to damage and breakage," Duru said. "After the mist, we go with the growth serum to seal in the moisture. Our hair is just like plants – they need water and nutrients, and this is the water and nutrients that we use to nourish our hair."
PRODUCT INNOVATION
Duru recently gained national attention with her latest product, the Instant Locs Machine, which crochets hair instantly into dreadlocks instead of weaving them individually by hand. Reception to the machine has been revolutionary, Duru said.
"We would have to do locs with our hands with one tiny crochet needle, which would take hours upon hours – six to 12 hours at a time over multiple days. And now we are able to do dreadlocks faster than ever with the Instant Locs Machine."
The machine is available on Duru's website and already is on backorder. She said she had been crocheting locs for so many people, her hands started to hurt – hence the utilization of the state-of-the-art machine.
Duru has been featured on major news outlets, including NBC and ABC news, on her success as a pioneer within her industry. She believes the progression of her career has relied heavily on the community she continues to serve.
"I believe Dread House is a safe space to Black hair styling," she said. "Black hair styling is essential to Black life, because our hair is our crown and it is typically the first thing people see when they look at us. So it is very important to our culture to make sure our hair is maintained and presentable."
Duru, also known as singer-songwriter Mecia, continues to expand her business and manufacture more of her products. She said the most important aspect is to always have faith.

"Trust in the process. Believe in yourself like you believe in God," she said. "We are all with the one and one with the all."
To schedule an appointment with Duru, visit her website. To learn more about or to order the Instant Locs Machine, access the link.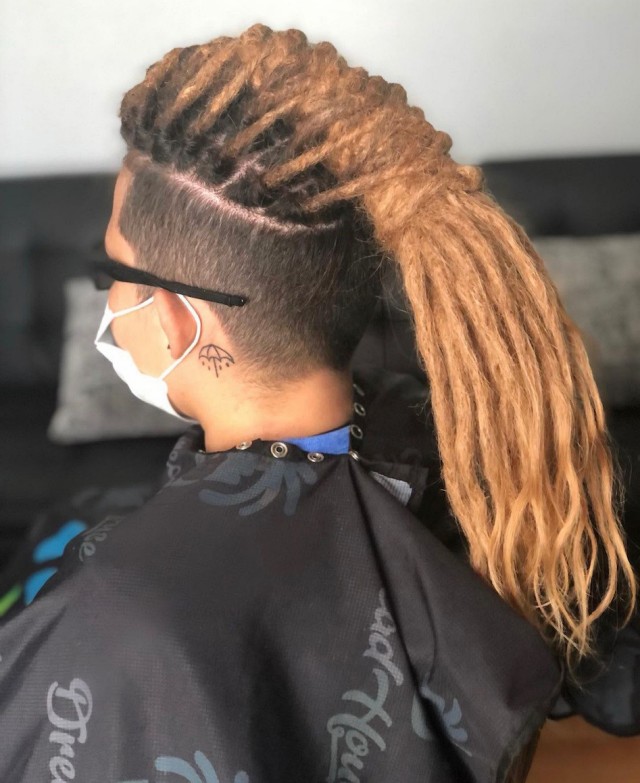 ABOUT UTRGV
The University of Texas Rio Grande Valley (UTRGV) was created by the Texas Legislature in 2013 as the first major public university of the 21st century in Texas. This transformative initiative provided the opportunity to expand educational opportunities in the Rio Grande Valley, including a new School of Medicine, and made it possible for residents of the region to benefit from the Permanent University Fund – a public endowment contributing support to the University of Texas System and other institutions.
UTRGV has campuses and off-campus research and teaching sites throughout the Rio Grande Valley including in Boca Chica Beach, Brownsville (formerly The University of Texas at Brownsville campus), Edinburg (formerly The University of Texas-Pan American campus), Harlingen, McAllen, Port Isabel, Rio Grande City, and South Padre Island. UTRGV, a comprehensive academic institution, enrolled its first class in the fall of 2015, and the School of Medicine welcomed its first class in the summer of 2016.