Friday, February 24, 2023
  Community, Alumni
By Marisol Villarreal
RIO GRANDE VALLEY, TEXAS – Opportunities increasingly are on the rise for women in the historically male-dominated field of engineering – thanks to determined women like UTRGV alumna Laura Escobar.
Escobar, a native of Monterrey, Mexico, moved to La Joya as a child, graduated from high school in 2016 and earned a degree in mechanical engineering from UTRGV in 2020. She has learned to use her training and skills in problem-solving, leadership, robotic automation and engineering to paint Corvettes from General Motors in Bowling Green, Kentucky. 
She's also the only woman engineer in the paint shop, where she manages and supervises multiple robots that paint the corvettes. A leader in her field, Escobar continues to improve opportunities for women in engineering by setting the example with her knowledge within the field.
"I've presented a couple of continuous projects for upper management, especially to manufacturing directors," Escobar said. 
According to the Society of Women Engineers, a report by the U.S. Census Bureau, shows that in 2020, 9 % of full-time employed mechanical engineers were women. 
WHY PAINT?
During one of two internships Escobar had with offshore oil rig company Kiewit Corporation, she discovered a love for paint.
She worked as a paint field engineer, and managed 110 painters who manually painted oil rigs.
"I never thought about doing engineering that was paint-related, so when I was exposed to paint, I really enjoyed it a lot," she said.
That lead her to current job with General Motors, where she has worked since April 2021.
In February 2022, Escobar became the topcoat supervisor and paint process engineer, an important role in the paint shop. If something doesn't work in her area, she troubleshoots and fixes robots if they're down. She does a lot of robotic automation.
Escobar is directly responsible for improving paint quality along with engineers, and because of her work, she was able to help contribute to Corvette's win of the J.D. Power award in 2022. With this win, Escobar continues to garner career professionalism and hopes to continue to set a standard for women in engineering.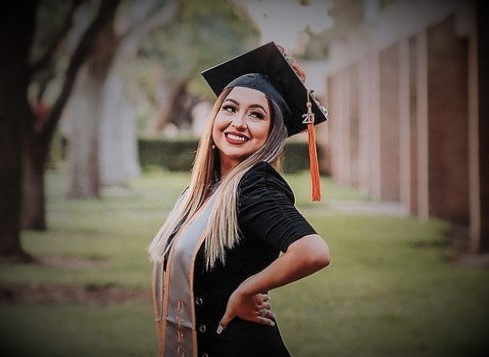 TRANSITIONS
Escobar was born in Monterrey, Nuevo Leon, and moved to the Rio Grande Valley in 2007. She graduated from La Joya High School in 2016 and began classes at UTRGV that fall, graduating in December 2020 with a bachelor's degree in mechanical engineering and a minor in business management.
"In the beginning, I didn't know what to do," Escobar said. "I was very mathematically inclined and loved science, as well. And I was always very interested in how things worked."
It wasn't until her senior year of high school that she discovered the lack of female engineers in the world, which spurred her to want to concentrate on that in college.
Throughout her time at UTRGV, she was heavily involved with the Society of Hispanic Professional Engineers, where for all four of her undergraduate years she worked to improve her social, leadership and engineering skills.
WHAT'S NEXT?
Escobar said would like to pursue a master's degree in business administration, then, as a GM professional, wants to return to UTRGV to recruit people. It's a way to help them in a way others have done for her, she said.
"UTRGV has been amazing. We have amazing professors. They're always willing to help people," she said. "I think we have a really great program." 
She encourages other female engineers to not be afraid to take on new challenges, and to never take "no" for an answer.
"I've been told 'no' many times, but I didn't let that stop me. It's never going to be easy," Escobar said. "I think that, by being persistent and always doing the best that you can – those baby steps will create a ladder for those bigger steps. Eventually, you'll look back and see all that you've accomplished." 
ABOUT UTRGV
The University of Texas Rio Grande Valley (UTRGV) was created by the Texas Legislature in 2013 as the first major public university of the 21st century in Texas. This transformative initiative provided the opportunity to expand educational opportunities in the Rio Grande Valley, including a new School of Medicine, and made it possible for residents of the region to benefit from the Permanent University Fund – a public endowment contributing support to the University of Texas System and other institutions.
UTRGV has campuses and off-campus research and teaching sites throughout the Rio Grande Valley including in Boca Chica Beach, Brownsville (formerly The University of Texas at Brownsville campus), Edinburg (formerly The University of Texas-Pan American campus), Harlingen, McAllen, Port Isabel, Rio Grande City, and South Padre Island. UTRGV, a comprehensive academic institution, enrolled its first class in the fall of 2015, and the School of Medicine welcomed its first class in the summer of 2016.