Statewide student body rep meets with university students, leaders

  Tuesday, February 14, 2023
  Around Campus, Student Life
By Karen Villarreal
RIO GRANDE VALLEY, TEXAS – University of Texas System Student Regent Neelesh C. "Neel" Mutyala connected with UTRGV leaders and students recently during a two-day tour of the university.
Mutyala had a full agenda Feb. 7 and 8, with tours of the UTRGV Brownsville, Harlingen and Edinburg campuses that included visits to the South Texas Diabetes and Obesity Institute (STDOI), UTRGV School of Medicine and UTRGV School of Podiatric Medicine.
As student regent, Mutyala is tasked with representing the student bodies of all UT System schools at committee meetings and has the same rights as the nine regularly appointed members of the UT System Board of Regents, with the exception that he does not vote on official board business. 
"I'm a representative of students from the UT schools across the state, but I was only familiar with Houston," Mutyala, a native of Sugar Land, Texas, told a group of students. "I wanted to get to know more of the state and some of the unique situations students face elsewhere."
Mutyala believes that, as a student leader, communication is important to help initiatives take off – so he held discussions with campus representatives about campus life, support services and the student experience, to learn for himself what is important to South Texas
"Students in every university – at every level, from freshman to Ph.D. – have really great ideas," he said.  "I'm here to learn about your experience, your ideas, what can be done better, and what's working – to convey that to those who can lend support."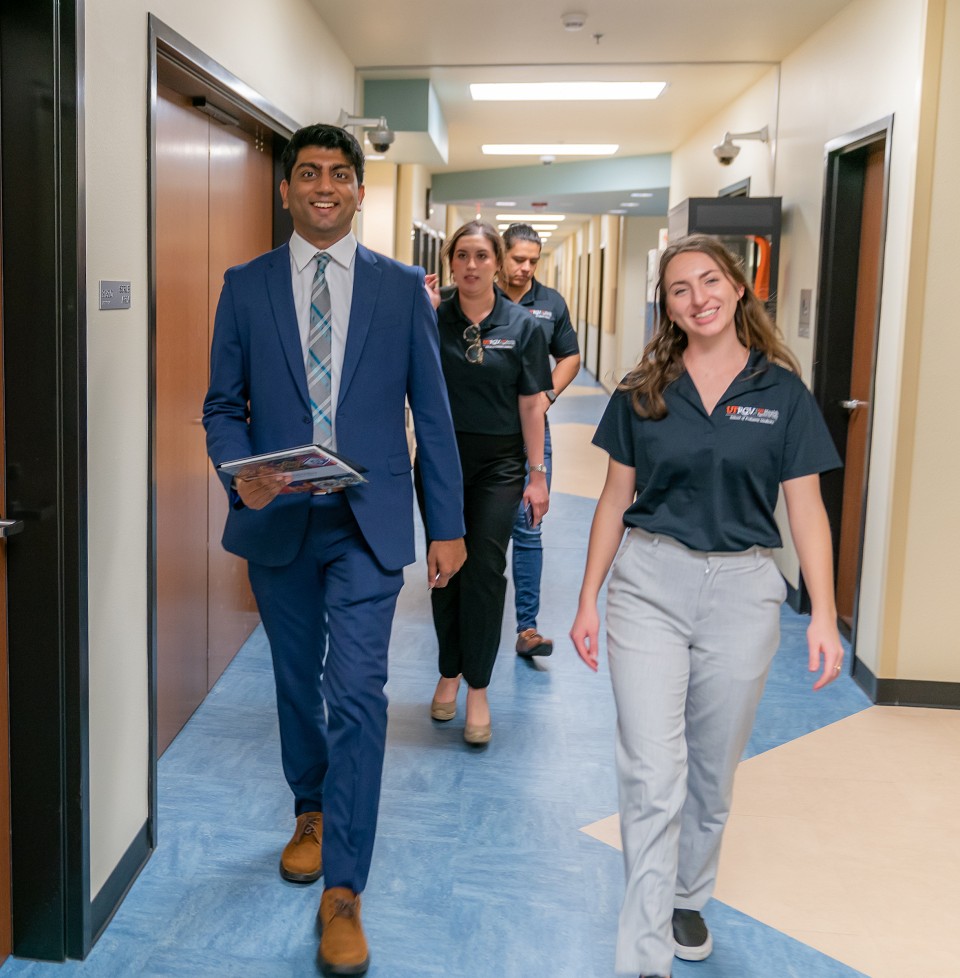 MEETING UTRGV
Mutyala, a fourth-year medical student pursuing a dual MD/ Master of Bioengineering (MBE) degree at the UT Health Science Center – Houston, was appointed student regent for the UT System Board of Regents by Gov. Greg Abbott. His one-year term began June 1, 2022.  
UTRGV Dean of Students Rebecca Gadson said Mutyala's visit helped give him insight into how UTRGV prioritizes students and their futures.
"We appreciate him taking the time to get to know us, and his interest in sharing our promise of advancing success of students across the UT System," Gadson said.
Mutyala toured several UTRGV facilities and met with faculty, student representatives and UTRGV executives over two days to gain an understanding of the conditions they felt most enabled success or difficulties they have encountered.
Students voiced concerns about safety and challenges to online learning, while others hoped for expansion in online availabilities.
Mutyala, who formerly served as undergraduate student regent for the University of Houston System Board of Regents during the 2017-2018 school year, took notes throughout his meetings and concluded with a message of support for student leaders.
"When you have an idea, get it out there. Convince people of the direction and be heard. Make it happen," Mutyala said. "See what the system can do for you and what you can do for the system to make a good impact."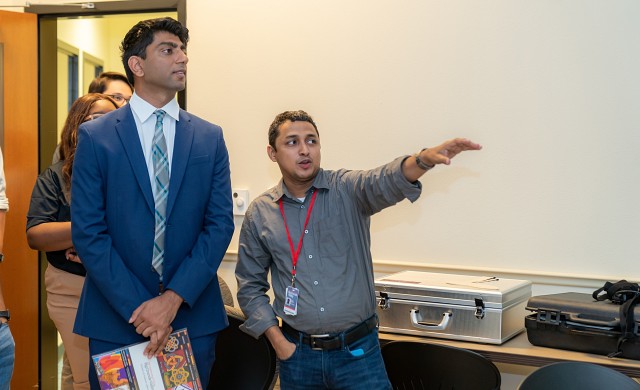 ABOUT UTRGV
The University of Texas Rio Grande Valley (UTRGV) was created by the Texas Legislature in 2013 as the first major public university of the 21st century in Texas. This transformative initiative provided the opportunity to expand educational opportunities in the Rio Grande Valley, including a new School of Medicine, and made it possible for residents of the region to benefit from the Permanent University Fund – a public endowment contributing support to the University of Texas System and other institutions.
UTRGV has campuses and off-campus research and teaching sites throughout the Rio Grande Valley including in Boca Chica Beach, Brownsville (formerly The University of Texas at Brownsville campus), Edinburg (formerly The University of Texas-Pan American campus), Harlingen, McAllen, Port Isabel, Rio Grande City, and South Padre Island. UTRGV, a comprehensive academic institution, enrolled its first class in the fall of 2015, and the School of Medicine welcomed its first class in the summer of 2016.