Tuesday, February 7, 2023
  Community
By Amanda A. Taylor-Uchoa
RIO GRANDE VALLEY, TEXAS – Buddy, a mixed-breed dog, was left to starve in the rain and snow, spending most of his young life chained to a tree in the backyard of neglectful owners. He had no shelter, and neighborhood kids would throw rocks at him. He spent his days in pain, often using his own chains as a bed.
But one day, a stranger found Buddy, unchained him and took him to a local shelter where he was fed, kept warm and healed. He's now a happy dog, living with a new family who gives him plenty of food and plenty of treats.
"Buddy Unchained" is just one example of the countless books used by the RedRover Readers RGV group to teach children empathy and the importance of social awareness. They use stories centered on animals to help reach children and create a sense of compassion for animals.
The RedRover Readers RGV group, a collaboration between the UTRGV School of Social Work and the UTRGV College of Health Professions under UT Health RGV, explores the impact of social-emotional learning, using UTRGV students and volunteers to read to students in schools, libraries and other family settings, all as part of the program.
"The method is to read a realistic story about people and animals, and their relationships," said Dr. Catherine Faver, a professor with the UTRGV School of Social Work. "Then, as you read the book, you ask the children questions, so they can start to take the perspective of the people and the animals in the book. And that's what facilitates empathy development."
Through the program, initiated at the university in 2010, UTRGV students help child participants address the five core competencies for social and emotional learning: social awareness, self-awareness, relationship skills, responsible decision making and self-management.
In turn, UTRGV student volunteers grow in their understanding of those competencies and contribute to the cultivation of social-emotional skills.
Dr. Janet Martinez, a lecturer in the Department of Health and Human Performance, UTRGV College of Health Professions, said the program trains volunteers to learn about the curriculum.
"It's not just reading a book to the children, but also learning to ask questions that will elicit thinking about their relationship to the animals, how to take care of them and how to elicit empathy and put themselves in someone else's shoes," she said. "This program not only helps relationships with animals, but with others – kids and adults - and how they see themselves."
EFFECTS OF THE PANDEMIC
Because it is a social program, RedRover Readers RGV had to halt operations in spring 2020 due to the COVID-19 pandemic. Schools were some of the first facilities to shut down, which affected students not only from an educational standpoint, but also from an emotional one.
"Due to the pandemic, social-emotional learning suddenly became a bigger deal because kids lost so much ground," Faver said. "That became apparent when they were back in school. They totally lost ground both academically and in terms of social-emotional growth."
There was a time for quarantine, Martinez said, and then there was a return time, which spurred fear and anticipation in many people.
"As adults, if we don't know how to handle this transition, we can only imagine how children feel. I feel this program, more than ever, is a safe place where they can start that process," she said.
Despite the countless negative impacts of the pandemic, one of the more positive facets was the recognition of the importance of mental health, she said.
"Teachers really resonated with this program, which fosters empathy and gives children a chance to talk about their feelings," Faver said. "It validates and allows people to express their emotions, to get out there that it's OK to have these feelings and it's OK to express them."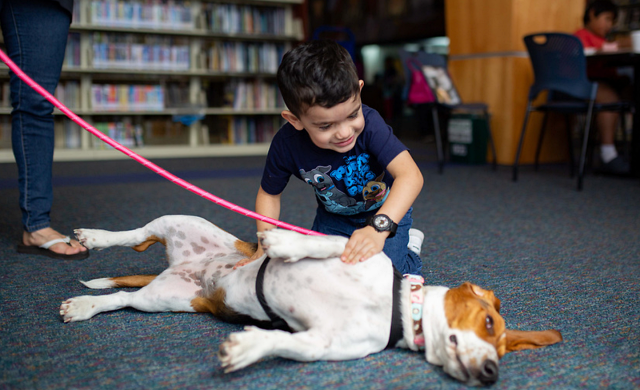 REDROVER READERS RGV CLUB
The RedRover Readers Club was established by Zoie Sanchez, an intern for the UTRGV Department of Health and Human Performance, in 2022.
During spring 2022, the club was designated as an official UTRGV club under the UTRGV Center for Student Involvement.
In late spring that year, Chelsea Hughes, Master of Science in Social Work (MSSW) student, was hired as a graduate assistant for the project with funds from a School of Social Work community engagement seed grant.
During early fall 2022, Hughes recruited new club members, helping the club grow from five members to 14 student members by October 2022.
"I've been interested in the versatility of this program and its use in a wide variety of settings," Hughes said. "It's just amazing to see students that are doing placements at advocacy centers, becoming trained readers and how that engages with children in unanticipated environments."
In her role with the club, Hughes ensured compliance with all requirements for good standing as a UTRGV club, including re-registration, attendance at a leadership training conference, recruitment of club officers, and implementation of a required risk management training.
Between January 2022 and February 2023, the UTRGV RedRover Readers faculty team conducted seven trainings for UTRGV students, local schools and social service organizations.
Since 2016, the UTRGV RedRover Readers team has worked with 10 community partners, including:
Edinburg Housing Authority

El Jardin
Lantana
La Posada
Ramirez
Albores

Edinburg Library
McAllen Library
Villarreal Elementary (K-1st) Edinburg CISD
Jackson Elementary (1st) McAllen ISD
Ford Elementary (3rd-5th) PSJA ISD
Edinburg Boys and Girls Club
Los Fresnos CISD
Brownsville ISD

Southmost Elementary
Cromack Elementary
Morningside Elementary

Brownsville Public Library
Hughes, on track to graduate in May, said the positive exchanges between children during readings prove the impact of the program.
"The kids love it, they ask a ton of questions," she said. "They're very positive and they're nonjudgmental questions that you're asking, so it's not very typical even in a school classroom. As a volunteer, you have to take a step back and remind yourself not to ask anything that leads them in a certain way. It's very neutral and non-judgmental."
LOOKING FORWARD
Dr. Christopher Ledingham, a professor with the Department of Health & Human Performance in the UTRGV College of Health Professions, said the RedRover Readers RGV group started small, with a group of very passionate people who believed in the overall impact of the organization.
"Our numbers are growing, and events are happening," he said. "We are hoping to continue that growth over the next year or so, and I'm hoping to see RedRover Readers becoming a very large and coordinated organization that really has an impact we can measure in terms of social-emotional learning and literacy across the Valley."
Hughes, although she will graduate this year, said she will take what she has learned from the program to continue making a positive impact all around her.
"One of the most powerful things about this program is that, as a volunteer, you can take it anywhere and make an impact wherever you are," she said.
For more information on the RedRover Readers RGV Club, visit their website, the Facebook page, or email redroverreadersrgv@gmail.com.
ABOUT UTRGV
The University of Texas Rio Grande Valley (UTRGV) was created by the Texas Legislature in 2013 as the first major public university of the 21st century in Texas. This transformative initiative provided the opportunity to expand educational opportunities in the Rio Grande Valley, including a new School of Medicine, and made it possible for residents of the region to benefit from the Permanent University Fund – a public endowment contributing support to the University of Texas System and other institutions.
UTRGV has campuses and off-campus research and teaching sites throughout the Rio Grande Valley including in Boca Chica Beach, Brownsville (formerly The University of Texas at Brownsville campus), Edinburg (formerly The University of Texas-Pan American campus), Harlingen, McAllen, Port Isabel, Rio Grande City, and South Padre Island. UTRGV, a comprehensive academic institution, enrolled its first class in the fall of 2015, and the School of Medicine welcomed its first class in the summer of 2016.