Tuesday, December 27, 2022
  Awards and Recognitions
By Saira Cabrera
RIO GRANDE VALLEY, TEXAS – About three years ago, Dr. Christine Elizabeth Loftis was just starting her Internal Medicine residency at the UTRGV School of Medicine's DHR Health program.
Now, Loftis has gotten some great news: She has been selected as an incoming Rheumatology fellow at the University of Colorado Anschutz School of Medicine – one of four fellows accepted at that medical school.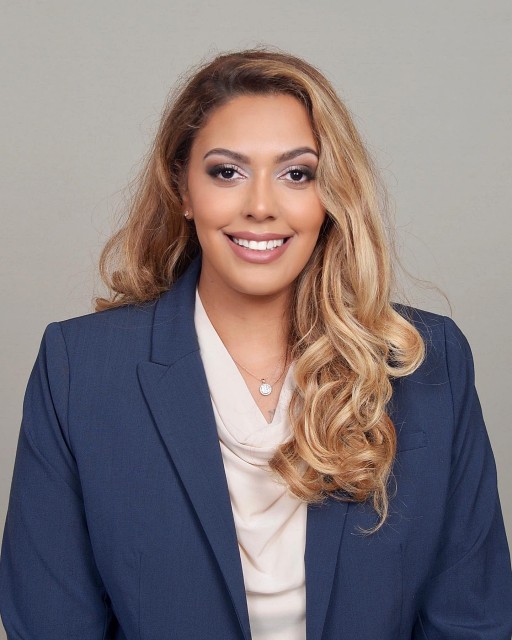 In the United States, there were 271 available Rheumatology fellowship positions, with a highly competitive 389 active applicants.
In the Valley, she is one of 23 total UTRGV School of Medicine Internal Medicine residents who got accepted into subspecialty programs.
PATIENT-CENTERED SPECIALTY
"I wanted to pursue a field that would invoke my curiosity, challenge me diagnostically, provide me with an opportunity to narrow healthcare disparities, and enable me to engage in provider-patient interactions with humility," Loftis said. "Rheumatology fits that bill. It's a very patient-centered specialty."
Among the 44 medical specialty categories defined by the Association of American Medical Colleges, Rheumatology was listed as one of the top five most competitive at number two on the list.
"Rheumatologists are usually the last physician a patient sees after undergoing several tests without an answer. We can provide them hope when they are close to giving up," she said. "This specialty allows us to be compassionate and approach each encounter with patience, and truly allows us to change lives." 
PARENTHOOD AND MEDICINE
The native of La Marque, Texas, has had her own share of experiences in witnessing and living through challenges. Most notably, she was the first in her family to be a physician and grew up the daughter of a single parent.
"The dream of becoming a physician often did not feel attainable," she said. "But my mother has always been my backbone. She believed in me and encouraged me, even when I did not believe in myself."
During her second year of medical school at the UTRGV School of Medicine, Loftis gave birth to her son, Christopher. The years following his birth were especially challenging, she said.
"Figuring out how to balance parenthood and medicine was difficult," Loftis said. "But again, my mother was by my side and helped me accomplish everything I set out to accomplish." 
NARROWING HEALTHCARE GAPS
Loftis believes her decision to attend medical school and residency in the Rio Grande Valley was an easy one to make, as it would eventually allow her to narrow healthcare gaps.
"My family and I lived in a community with limited access to healthcare," she said. "The UTRGV School of Medicine's mission to expand access to quality healthcare allowed me to achieve my goal of narrowing the gaps in an underserved community."
For Loftis, nothing is more rewarding than that goal of bringing high-quality healthcare and research to an area, then actively working toward achieving the goal.
"The impact that the UTRGV School of Medicine has made on the Rio Grande Valley is palpable, and I am so honored to have been a part of this," she said.
Following her first academic activity publication, she realized that research was a way for her to have an impact on patients on a larger scale.
"Now, we [two medical students and Dr. Loftis' mentor, Dr. Emilia Dulgheru, a board-certified rheumatologist at DHR Health] have published five peer-reviewed articles about rheumatic diseases affecting Hispanic patients," Loftis said. "There is not much literature regarding Hispanic patients with autoimmune or connective tissue diseases, and we hope our research can increase the awareness and involvement of Hispanic patients in clinical trials."
Loftis believes the research is essential to improve healthcare outcomes in Hispanic patient populations much like those in the Valley. 
Dr. Brandon Cantazaro, program director and assistant professor for the UTRGV School of Medicine Internal Medicine Residency Program at DHR Health, Dr. Loftis' program director, believes the future of medicine is in "good hands" because of doctors like her.
"When I think about the challenges facing healthcare in our country and the great responsibility that is part of caring for our patients, I am comforted to know Dr. Loftis will be part of it," he said. "I believe the healthcare system, her co-workers, and most importantly, the patients she serves will all benefit from her choice of medicine as her life's work."
Dr. Michael B. Hocker, dean of the UTRGV School of Medicine and senior vice president for UT Health RGV, also congratulated Loftis for her inspiring work in the South Texas community.
"We're so proud of Dr. Loftis. She's done excellent work in taking care of patients in the Valley and in researching different rheumatologic conditions in Hispanic communities, all of this made possible because of the great talent we are growing by building academic medicine in the community," Hocker said. "We are proud of her, and of all our other Internal Medicine and other specialty residents who successfully matched into fellowships and could soon make their way back to the Valley to care for patients."
Loftis said the UTRGV School of Medicine gave her the tools to be a competent, courageous physician who will narrow healthcare disparities.
"The UTRGV School of Medicine and its Internal Medicine Residency program have provided me with the tools to be a compassionate, competent and courageous physician," she said.
"Although I will be relocating to Colorado for a Rheumatology Fellowship, I plan to return to the Valley and pay it forward. And I hope to eventually start a Rheumatology Fellowship at the UTRGV School of Medicine with the help of my mentor, Dr. Dulgheru."
ABOUT UTRGV
The University of Texas Rio Grande Valley (UTRGV) was created by the Texas Legislature in 2013 as the first major public university of the 21st century in Texas. This transformative initiative provided the opportunity to expand educational opportunities in the Rio Grande Valley, including a new School of Medicine, and made it possible for residents of the region to benefit from the Permanent University Fund – a public endowment contributing support to the University of Texas System and other institutions.
UTRGV has campuses and off-campus research and teaching sites throughout the Rio Grande Valley including in Boca Chica Beach, Brownsville (formerly The University of Texas at Brownsville campus), Edinburg (formerly The University of Texas-Pan American campus), Harlingen, McAllen, Port Isabel, Rio Grande City, and South Padre Island. UTRGV, a comprehensive academic institution, enrolled its first class in the fall of 2015, and the School of Medicine welcomed its first class in the summer of 2016.