How UT Health RGV's Sander siblings built a medical family

  Thursday, December 22, 2022
  Community
By Saira Cabrera
RIO GRANDE VALLEY, TEXAS – Deep in the heart of Weslaco, Texas – near grassy fields and family farms, nestled on a corner lot – is the place where the four Sander doctors grew up.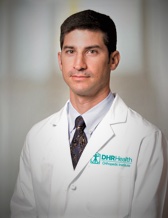 "We were not particularly different from any other kids in the Valley," said Dr. Michael Sander, M.D., an orthopedic surgeon and director of the UT Health RGV's Orthopedics and Sports Medicine Department.
"We lived out north of Weslaco, in the country. My siblings weren't born yet, but I remember we lived in a mobile home on a street that didn't have pavement. I remember trying to learn how to ride my bike, and the road was so sandy that I kept falling. We didn't grow up with anything special or any extra training."
The eldest of four, Michael recalls how the family – Michael; Patrick, M.D., an orthopedic surgeon at DHR Health; James, M.D., an adult and pediatric urology specialist at UT Health RGV; and Jennifer, M.D., the youngest and an orthopedic surgeon at UT Health RGV – often would walk from school to their family's pharmacy – Sander Pharmacy, still in business today – until their parents could take them home.    
Their father, Michael Sander Sr., operated the pharmacy, while their mother, Claudia Sander, worked as a pharmacist at Valley Baptist Medical Center, later moving to Knapp Medical Center to serve as a pharmacy director for 47 years. Their busy schedules taught the Sander siblings great independence and responsibility from an early age.
"We would often hang out at the pharmacy and do our homework," Jennifer said.
They recall having a lot of freedom while growing up, but always important at the Sander residence was being goal-oriented, not giving up, and reading – a lot."
"Excuses were not a huge part of our lives," Michael said.  
James nodded his agreement. "The phrase 'I can't' just was not part of the Sander vocabulary," he said.
PATHWAYS TO MEDICINE
When they weren't studying or helping at the pharmacy, the Sander siblings could be found lending a hand at the family's farm. There, they learned to love medicine and, eventually, chose medical specialties based on the hands-on skills they learned there. Farm life taught them the value of hard work and responsibility.
"All of us had a lot of exposure to medicine, in a way, because working on our family ranch had us working with our hands," Michael said. "Whether it was mending fences, building small structures, welding, anything of that nature, we were hands-on."  
James said they had horses. "And we raised cattle, as well. And the livestock would get hurt and cut themselves all the time. So, from a young age, we would 'doctor' them. I remember sewing up lacerations on calves and horses."
Michael said exposure to hard work, caring for the farm animals, and the "grit and determination" they saw in their family, taught them to push themselves and always work harder.
Much of their upbringing could be summed up on a family trip they took to Yellowstone National Park, "where Patrick and James wanted a canoe but had to work for it," Michael recalled.
They ended up canoeing on the Snake River, a well-known class five white-water rafting river, unguided and without experience. The grit and determination their parents had instilled in them helped them through that adventure.  
Those same qualities, they said, eventually helped them withstand the rigors of medical school, residency and fellowship.
"Michael and I choose orthopedic surgery because we love the mechanical aspects of it. It's like human mechanics," Jennifer said. "Our horses would get hurt on the ranch and we would care for them. I think it was then that we knew we wanted to do medicine. With ortho, it's the perfect combination of being mechanically oriented and medicine."  
For James, the urologist at UT Health RGV, a big part of his career decision was based on what he learned at the farm. But it also had much to do with a meaningful urology rotation while in medical school.
"In part, caring and operating on our injured farm animals got me interested in medicine," he said. "But the fact that both of my grandfathers suffered from prostate cancer motivated me to choose urology."
Together, all four Sander siblings withstood nearly 40 combined years in medical school, residency and fellowship, and are now board-certified and board-eligible physicians.
And they have their humble upbringing on the farm to thank for that.
AT UT HEALTH RGV
They all agree that there was and still is a community behind them, supporting them throughout their careers.
"There were many people who helped and cared for us," Jennifer said. "It was a community of people that got us here."
"That's another thing you can't discount about our story," Michael added. "We're very blessed to have a huge community of people – our family, our extended work families – and that's a characteristic that's very Valley-like, not unique to us. As these characters come and go through your life, you take something from them, something they taught you, and you pass it along."
That mentality of paying it forward propelled the Sander siblings to return to the Rio Grande Valley to serve where they grew up.
"We all had to leave and be away from home for many years to get our medical training," James said. "When the UTRGV School of Medicine started, we wanted to be part of it and use our training to provide specialty care to people where we grew up."
They feel that now, with the UTRGV School of Medicine and the many resources available through UT Health RGV, students have more opportunities to pursue careers in medicine at home, something they didn't have back when they were medical students.
"One of the cool things about us being involved with UT Health RGV is that we grew up here. But we all left for school because we didn't have a choice back then," Michael said. "Now, people here have an opportunity with this medical school."
"You can achieve all the goals that are available to achieve here at home, without having to leave," James said.
At the end of the day, Michael said, one of the main reasons the four siblings are all back on home turf is the chance to take care of patients.
"And if you teach another generation of doctors, as we do, you can have a legacy that goes past your ability to do surgery or urology," Michael said. "Being able to pass that on, to be able to do that and be home, is a blessing."
This holiday season, they will spend their time in the Valley – their home – with the rest of the Sander family, on that same farm, 15 minutes away from that corner lot.
"We're in a great spot. We're very fortunate to be here together," Michael said. "We are blessed to do what we love and serve a community that our family has been part of for generations."
ABOUT UTRGV
The University of Texas Rio Grande Valley (UTRGV) was created by the Texas Legislature in 2013 as the first major public university of the 21st century in Texas. This transformative initiative provided the opportunity to expand educational opportunities in the Rio Grande Valley, including a new School of Medicine, and made it possible for residents of the region to benefit from the Permanent University Fund – a public endowment contributing support to the University of Texas System and other institutions.
UTRGV has campuses and off-campus research and teaching sites throughout the Rio Grande Valley including in Boca Chica Beach, Brownsville (formerly The University of Texas at Brownsville campus), Edinburg (formerly The University of Texas-Pan American campus), Harlingen, McAllen, Port Isabel, Rio Grande City, and South Padre Island. UTRGV, a comprehensive academic institution, enrolled its first class in the fall of 2015, and the School of Medicine welcomed its first class in the summer of 2016.