Wednesday, December 21, 2022
  Around Campus
By Amanda Alaniz
RIO GRANDE VALLEY, TEXAS – DEC. 20, 2022 – This fall semester, Derek Abrams, a UTRGV associate professor of Practice with the Robert C. Vackar College of Business and Entrepreneurship, earned notable recognition at the 39th Annual Collegiate Entrepreneurs' Organization (CEO) Global Conference and Pitch Competition.
Abrams, who started with UTRGV back in 2020, was named the 2022 Outstanding CEO Chapter Advisor of the Year at the conference.
"I felt humbled accepting this recognition on behalf of UTRGV," said Abrams, who also serves as the associate director of the Center for Innovation and Commercialization "There are many excellent UTRGV faculty, staff and students engaged in excellent work throughout our community. This award is reflective of the UTRGV community's great effort."
CEO is a nonprofit organization that supports more than 16,500 emerging collegiate entrepreneurs annually. The organization works with a global network of more than 250 college and university chapters and supports and inspires growth and development of any student that seeks to be entrepreneurial.
The organization hosted its annual conference in Chicago, from Oct. 28-30, inviting CEO members, partners, investors and business mentors.
While the recognition was meaningful for Abrams, he said, the fact that two UTRGV students were able to attend the three-day conference and grow their entrepreneurship knowledge was rewarding as their advisor.
S.M. Sarwar, a UTRGV master's student of computer science from Bangladesh and UTRGV CEO Chapter president, and Abigail Garcia, senior, entrepreneurship and innovation major from Mission and UTRGV CEO Chapter VP of finance, both earned Verizon scholarships and the opportunity to attend the conference with all-expenses paid.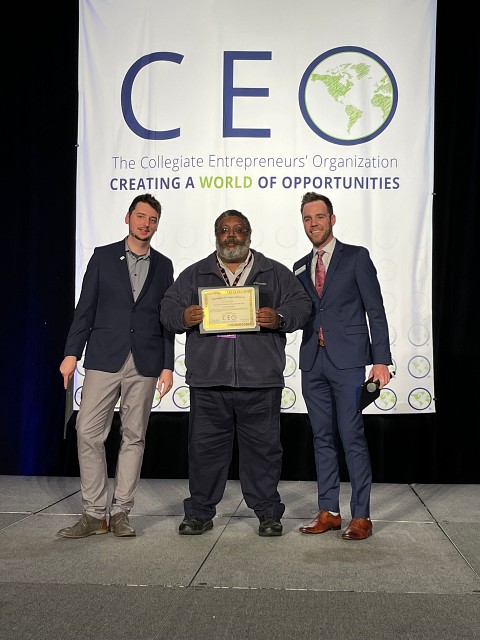 "At the CEO conference, the students were able to network and conversate with other students from different chapters, even international chapters. It gave them the opportunity to grow by furthering their learning," he said.
The conference also presented cash awards and certificates several CEO Chapters and individuals, including UTRGV.
This year, attendees were invited to participate in a pitch competition, a Venture Valley E-Sports Tournament, and a Startup Wars Entrepreneurship simulation challenge with monetary prize awards. They also heard from 65 entrepreneurs teaching business advancing topics, 10 main stage founders that represent a major entrepreneurial brand and were able to network with peers and business investors.
EYE-OPENING OPPORTUNITIES
Garcia said traveling to the conference was an adventure, considering it was the first time she travelled on an airplane, and it was the first time she attended any sort of conference.
When they arrived, she said she learned valuable business startup information from the various presentations she attended. Garcia has future goals of running her own business.
"I like to categorize this as a personal growing experience, but also a learning experience on the business-side of it," she said. "There were people from Amazon speaking, there were student entrepreneurs that started their business in school and then committed to it outside of school. I was able to see their perspectives and it was helpful."
The CEO Chapter is open to all majors, so for Sarwar, even though he isn't following a business major path, he views the conference and the organization as a pathway to the start of his entrepreneurial journey. 
"I'm a computer science major, so I don't necessarily have a specific area in my classes I can apply these lessons. However, I am in the process of a startup business, it's a byproduct of my research idea," he said. "I believe in the future I can apply what I learned from the conference going forward."
Garcia said CEO was the first club she joined during her college career and was happy she did. She learned so much from the club and resources offered at UTRGV, she said.
"It is important to be involved in the sense you get to know what the 'real world' is outside of school for your future career. It also gives you ways to look for opportunities," she said.
Sarwar encourages other students to seek out joining clubs and be involved during college. The knowledge organizations can offer is abundant and can be impactful, he said.
He hopes to see CEO grow and more students join. "For next semester, we will try to reach every college. Now it is our time, so let's do business," he said.
Abrams echoes Sarwar and would like to invite every student, from any major, to check out the CEO chapter and what it can offer for them.
"I would tell students to get involved at school. That's really the main way you can learn and develop as a person. Take an interest, show initiative, investigate, and see where it goes," he said. "Like I've mentioned, UTRGV has so much to offer, you just have to look."
To learn more about the CEO UTRGV Chapter, visit:
Instagram: https://www.instagram.com/ceoutrgv/
Facebook: https://www.facebook.com/ceoutrgv
VLink: https://utrgv.campuslabs.com/engage/organization/ceo
ABOUT UTRGV
The University of Texas Rio Grande Valley (UTRGV) was created by the Texas Legislature in 2013 as the first major public university of the 21st century in Texas. This transformative initiative provided the opportunity to expand educational opportunities in the Rio Grande Valley, including a new School of Medicine, and made it possible for residents of the region to benefit from the Permanent University Fund – a public endowment contributing support to the University of Texas System and other institutions.
UTRGV has campuses and off-campus research and teaching sites throughout the Rio Grande Valley including in Boca Chica Beach, Brownsville (formerly The University of Texas at Brownsville campus), Edinburg (formerly The University of Texas-Pan American campus), Harlingen, McAllen, Port Isabel, Rio Grande City, and South Padre Island. UTRGV, a comprehensive academic institution, enrolled its first class in the fall of 2015, and the School of Medicine welcomed its first class in the summer of 2016.