Saturday, December 17, 2022
  Around Campus, Awards and Recognitions
By Victoria Brito Morales
RIO GRANDE VALLEY, TEXAS – UTRGV continued its Fall 2022 commencement with an outdoor ceremony on the Brownsville Campus.
More than 600 graduates and their loved ones gathered at the Library Lawn to watch the class of 2022 commemorate this major milestone in their education. This is the fourth and final commencement ceremony for the UTRGV Fall 2022 graduating class. 
Dr. Janna Arney, UTRGV executive vice president and provost, was present for the event and provided words of encouragement, congratulating the Vaqueros on their resilience. 
"Graduates, it has certainly been challenging, at times, especially over the past few years, to find the motivation to keep going. But you did it," Arney said. 
"The significance of your journey is not only determined by your destination. It is also measured by the life experiences you have had along the way. Those experiences have prepared you for this next chapter of your lives," she said.
UTRGV President Guy Bailey provided video remarks to mark this important step in the journey for graduating Vaqueros. 
"This is the beginning, not the end," Bailey said. "Remember, we call this ceremony commencement. Commencement means 'beginning.' This is the start of your life. Yes, it's the end of one phase, but it's really the beginning of your life. 
"And what you do from now on – not what you've done the past four years, but what you will do from now on – is what will define you and what will make you you. We're proud of you, and we know that you're well prepared to do that. Welcome to a new beginning."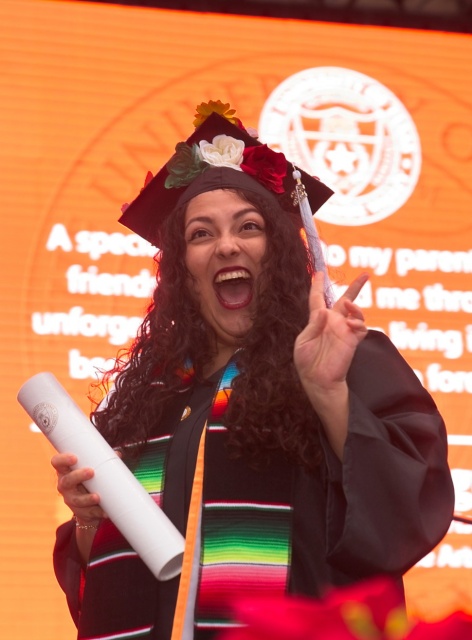 'BE RELENTLESS … KEEP GOING'
Reynaldo Jimenez, a 2019 graduate of James Pace Early College High School in Brownsville, said he is looking forward to life after undergraduate studies. Today, he receives his Bachelor of Interdisciplinary Studies degree, and in January, he begins his new job as a pre-Kinder bilingual education teacher with the Austin Independent School District. 
During his time at UTRGV, Jimenez worked for various departments, such as VOLT and IT. He chose to study education as a way to help others. He advises his Vaquero family, those still in school, to never give up. 
"Be relentless," he said. "Just because your path doesn't align with anyone else, doesn't mean it is the wrong path. Keep going." 
Jimenez's colleague at VOLT, Enrique Granados, also graduated today. The 22-year-old Dallas native studied biomedical sciences. 
He said he chose UTRGV for the academic programs offered, and for its affordability. His memories of UTRGV include studying in the library with his friends, and all the day-to-day activities that come with living on campus.  
"I think those kinds of things get taken for granted," Granados said. "I've relished the past few weeks but I'm moving back home after I graduate. So, these moments – like attending Madness, and sporting events, and especially events here in Brownsville – all that kind of stuff with friends and people I've met here – that has been some of the best times."
Granados has been so affected by working on campus that he hopes for a career in higher education, and eventually wants to find a leadership position at a university. 
"I feel like working at the university taught me so much that I want to pass that down to other people," he said. "The biggest thing is to get my foot in the door, to find a university or an institution that will allow me to expand my skills and gain more professional experience."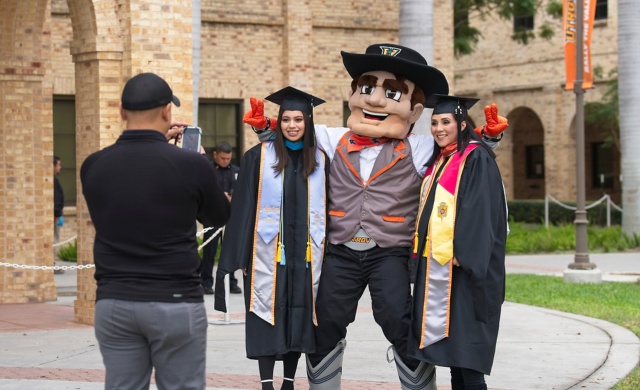 'RUN YOUR OWN RACE'
Alma Lerma, a 2019 graduate of Idea Frontier in Brownsville, earned her bachelor's degree in political science. She started at UTRGV in Fall 2019. Then, in March 2020, COVID-19 arrived and her classes moved to remote access. Wanting more experience outside of the classroom, though, she sought out internship experience. 
"I was able to pick up an internship with a Texas Rep. Alex Dominguez, working with constituent services as an aide," Lerma said.
Given her passion for political science, Lerma excelled in her classes and now is graduating summa cum laude from UTRGV. She is excited for the future, and for the next chapters of her life. 
"I have ideas of where I want to apply. I would love to work with the university, that would be nice, or with the government," she said. 
Lerma was valedictorian of her high school class – and is a triplet. She is the first of her sisters to graduate college. She urges undergraduates – including her sisters, who are in the process of completing their degrees: Pace yourself.
"Sometimes it's the classes, the workload overall, that can be very overwhelming," Lerma said. "In order to not stress yourself, just take it day by day. There is no rush. Take it at your own pace. Run your own race."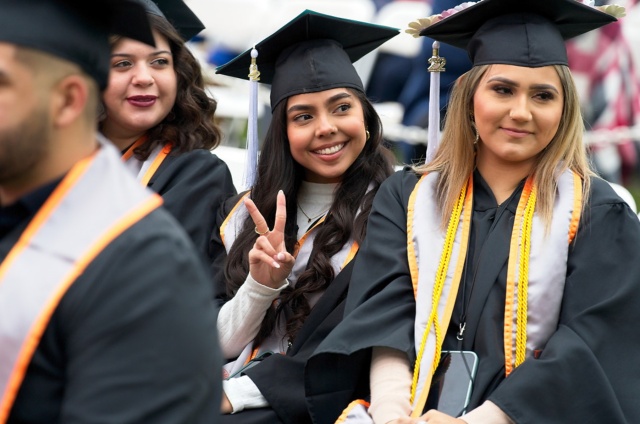 ABOUT UTRGV
The University of Texas Rio Grande Valley (UTRGV) was created by the Texas Legislature in 2013 as the first major public university of the 21st century in Texas. This transformative initiative provided the opportunity to expand educational opportunities in the Rio Grande Valley, including a new School of Medicine, and made it possible for residents of the region to benefit from the Permanent University Fund – a public endowment contributing support to the University of Texas System and other institutions.
UTRGV has campuses and off-campus research and teaching sites throughout the Rio Grande Valley including in Boca Chica Beach, Brownsville (formerly The University of Texas at Brownsville campus), Edinburg (formerly The University of Texas-Pan American campus), Harlingen, McAllen, Port Isabel, Rio Grande City, and South Padre Island. UTRGV, a comprehensive academic institution, enrolled its first class in the fall of 2015, and the School of Medicine welcomed its first class in the summer of 2016.