Wednesday, December 14, 2022
  Community, Student Life
By Amanda Alaniz
EDINBURG, TEXAS – DEC. 14, 2022 – They say pictures are worth a thousand words, and Estela Garcia's photos can tell you stories.
Garcia, a graduating UTRGV Physician Assistant student from Mission, is a U.S. Army veteran who joined the service when she was 19 and served on active duty for about eight years.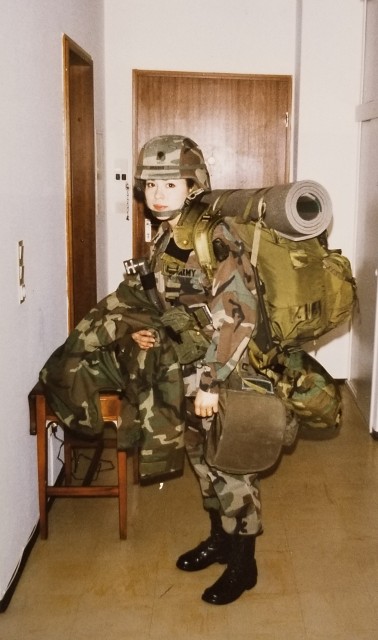 One of her first jobs was as a Patriot Missile crewmember. She drove a truck and loaded four missiles at a time, getting them ready to be launched. Once they were fired, she performed missile reload and then got four more ready.
In 2003, she deployed to Iraq for Operation Iraqi Freedom, serving there for about six months before returning home and retiring from the service. 
Asked what inspired her to go into the service, her answer was simple. Family.
"I come from a family of veterans. We were migrant workers growing up," she said.
"My brothers are veterans – my oldest brother was in the Navy and my youngest brother served in the National Guard. I have a sister who has been in the Air Force and the Navy for 22 years. I was the next one to join." 
Throughout her military career, Garcia, a former staff sergeant, traveled to different states for training and overseas. She said she may have stepped away from her military career, but one thing she can't shake is waking up early.
"It really becomes second nature," she said with a small laugh.
CENTERING ON EDUCATION
Garcia dedicated a part of her life to the military, but she didn't let it alter her dedication to her education.
She earned a Bachelor of Science degree and a master's degree in Health Care Administration from UTRGV, so she felt it was only fitting to continue her education at UTRGV to earn a Physician Assistant degree.
She decided on the PA program after working as an infection preventionist at Rio Grande Regional Hospital, where she saw first hand what the PA's did.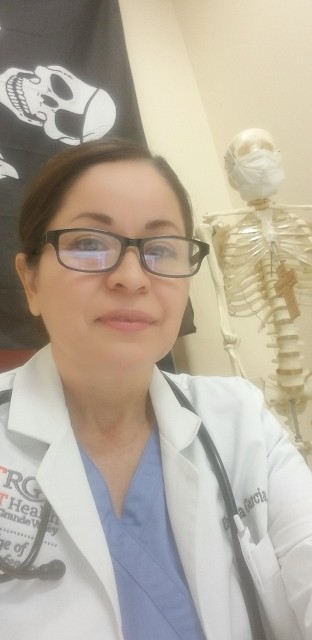 "I had the chance there to talk with patients and their families. I saw what physician assistants were doing. That was when it clicked for me. I thought, 'I can do that. I want to do that,'" she said. "So, I applied to the program, and they accepted me, and here I am."
She said her experience at UTRGV has been fulfilling, and she was able to gain critical field experience with the required rotations at clinics. She became part of the PA Enrichment Program, a structured, decelerated program for PA students.
The purpose of the program is to reduce the student's coursework so they can master the material and develop an understanding of the medical material being introduced. Students are hand selected by the admissions committee.    
Garcia said the UTRGV professors helped her understand what it means to be a physician assistant.
"Being part of the Enrichment program was personally very rewarding," she said.
The UTRGV Military and Veterans Success Center also was a big help to her as a college student, helping her find so many of the resources she needed.
However, her college journey was not without its low points and occasional stumbles.
After losing one of her brothers to COVID-19, she found it difficult to focus on schooling and thought she would drop the program. However, her fellow students in the PA Enrichment Program did not let her give up.
"As part of the Enrichment program, we would help at clinics around the Valley. It was a great experience," she said. "That small group of people, fellow students, helped me through that difficult time. Because of them, I kept going. They told me they weren't going to let me quit, and I am so grateful for them."
Garcia also had support at home as she continued her journey. Her husband and their son, both fellow veterans, constantly reinforce how proud they are of her and everything she has accomplished.
"My son always tells me, 'Échale ganas, mom, you can do it,'" she said with a smile.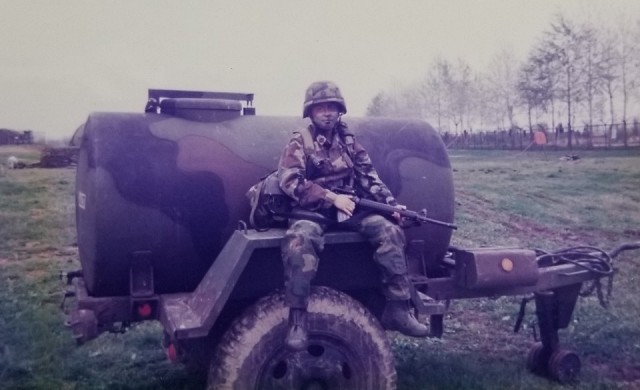 ONTO THE NEXT ADVENTURE
As graduation day nears, the nervousness is ramping up, she said. Mainly, though, she is excited to know her hard work is paying off.
After graduation, she hopes to continue to work at the VA Clinic, where she currently is doing a PA rotation. She really would like to stay there to help veterans, she said.
Garcia said she plans to return to UTRGV for her PhD, but later. First, she is going to take a much-needed rest.
Before she walks across the stage on Friday, Dec. 16, at the Bert Ogden Arena, Garcia wanted to share some advice: "To the veterans, take advantage of the Veteran's Center. I know without them it would have been harder. They're always keeping us informed about resources and activities," she said.
As to her experience at UTRGV, she treasures all the help and support she had along the way.
"Thank you to all the staff here at UTRGV," she said. "Everyone was always helpful. It is a great place to learn." 
The UTRGV Fall 2022 Commencement will be a two-day event beginning in Edinburg on Friday, Dec. 16, and ending in Brownsville on Saturday, Dec. 17.
To watch the ceremonies live online, visit https://www.utrgv.edu/commencement/.
ABOUT UTRGV
The University of Texas Rio Grande Valley (UTRGV) was created by the Texas Legislature in 2013 as the first major public university of the 21st century in Texas. This transformative initiative provided the opportunity to expand educational opportunities in the Rio Grande Valley, including a new School of Medicine, and made it possible for residents of the region to benefit from the Permanent University Fund – a public endowment contributing support to the University of Texas System and other institutions.
UTRGV has campuses and off-campus research and teaching sites throughout the Rio Grande Valley including in Boca Chica Beach, Brownsville (formerly The University of Texas at Brownsville campus), Edinburg (formerly The University of Texas-Pan American campus), Harlingen, McAllen, Port Isabel, Rio Grande City, and South Padre Island. UTRGV, a comprehensive academic institution, enrolled its first class in the fall of 2015, and the School of Medicine welcomed its first class in the summer of 2016.