New pipeline will expand training opportunities for patient care professionals

  Monday, December 12, 2022
  Announcements
By Karen Villarreal
RIO GRANDE VALLEY, TEXAS – The UTRGV School of Medicine signed a memorandum of understanding today, Dec. 12, with Valley Grande Institute for Academic Studies, at the VGI Campus in Weslaco, to strengthen the pipeline between the two institutions in training allied health professionals. 
"The mission of UTRGV is to serve the region," said Dr. Guy Bailey, president of UTRGV. "With the School of Medicine's support, VGI allied health students can continue their medical training to best contribute to that mission."
The program will prepare students to be part of healthcare teams by exposing them to clinical procedures under the direct supervision of UTRGV faculty or staff, including UT Health RGV clinical nurse educators and staff registered nurses. 
Their experiences will include patient care, use of medical equipment, crisis management and blood draws, among others. While working under supervision at UT Health clinical sites, they can be paid a stipend while gaining clinical experience.
Texas Workforce Commissioner Julian Alvarez III, who attended the signing and addressed the dignitaries and about 100 students gathered at the site, said attracting students to the healthcare profession is a statewide need. 
"We want students to graduate and be employed," Alvarez said. "Our goal is to make sure every Texan has opportunities to succeed." 
Alvarez said pathway programs like this one between VGI and UTRGV create critical opportunities, as they allow credits and certifications to articulate into four-year degrees. 
"This is a regional victory for all of us," he said. 
Jewel Lynn Leal, a student from Weslaco who started the VGI medical assistant certification program in September, said she is excited about the paid clinical experience, and looks forward to this new opportunity to expand her education. 
"I'm thinking of continuing into getting an RN – maybe further," said Leal, 19.
"I feel like this is going to be a great steppingstone. They're offering us a lot. I recently had a daughter, so I want her to see me grow as a person. And, in case there's anything she needs, I can know how help her," Leal said.
CRITICAL PATHWAY 
Anabell C. Cardona, president and CEO of Valley Grande Institute, said the programs offered at VGI ­– which can be completed in less than a year – collaboratively support the regional need for medical professionals like medical assistants, insurance coders, and phlebotomy and radiology technicians. 
"Currently, clinics in the Rio Grande Valley have more doctors than vocational nurses and other allied health professionals – who are critical members of care teams," Cardona said. "Our nursing and allied health students will provide the healthcare workforce for our region's hospitals and UT Health RGV's 31 clinical sites."
VGI is helping develop that talent pipeline by creating opportunities for students to continue their education, she said.  
"UTRGV degrees like the Bachelor of Science in Nursing can help VGI students prepare at a high level of competency for a culturally diverse healthcare career," Cardona said. 
Dr. Michael B. Hocker, senior vice president of UT Health RGV and dean of the UTRGV School of Medicine, said the initiative serves to grow the supply of medical professionals needed in the region's clinics. 
"We're excited to partner in our efforts to improve access to care in the Valley by offering increased educational opportunities for individuals interested in being a part of an ever-evolving healthcare field," Hocker said. "When I look at the students here today, I see our future. I see our future workforce, and our team."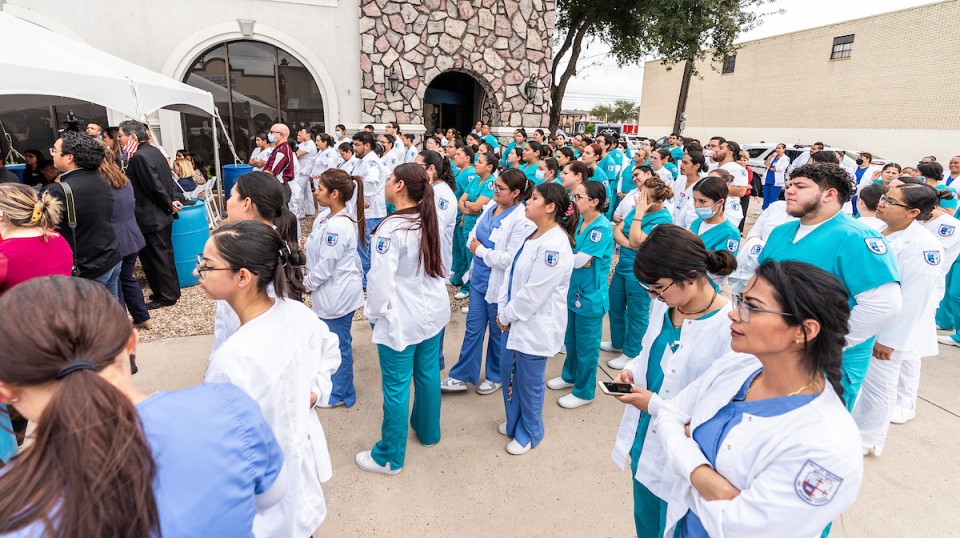 ABOUT UTRGV
The University of Texas Rio Grande Valley (UTRGV) was created by the Texas Legislature in 2013 as the first major public university of the 21st century in Texas. This transformative initiative provided the opportunity to expand educational opportunities in the Rio Grande Valley, including a new School of Medicine, and made it possible for residents of the region to benefit from the Permanent University Fund – a public endowment contributing support to the University of Texas System and other institutions.
UTRGV has campuses and off-campus research and teaching sites throughout the Rio Grande Valley including in Boca Chica Beach, Brownsville (formerly The University of Texas at Brownsville campus), Edinburg (formerly The University of Texas-Pan American campus), Harlingen, McAllen, Port Isabel, Rio Grande City, and South Padre Island. UTRGV, a comprehensive academic institution, enrolled its first class in the fall of 2015, and the School of Medicine welcomed its first class in the summer of 2016.