Monday, December 5, 2022
  Around Campus
By News and Internal Communications
By Regina Perez and Keanna Hopkinson
RIO GRANDE VALLEY, TEXAS – The UTRGV Office for Sustainability held a reception Dec. 1 to recognize Sustainability Fellows completing their one-year program. 
The Graduate Sustainability Research Fellowship, funded by the university's Division of Research and coordinated through the Office for Sustainability, connects research with sustainable development.
"This event is, first and foremost, part of our mission statement and strategic plan," said Marianella Franklin, UTRGV's chief sustainability officer.
Welcoming graduate students since its first cohort in 2019, the fellowship selects outstanding research proposals that outline contributions to advance the United Nation's Sustainable Development Goals and UTRGV's commitment to research innovations, Franklin said.  
Graduating fellows were joined by their faculty advisors, who expressed enthusiasm for having the opportunity to serve as mentors to the projects.   
The four graduating fellows shared their work in video presentations: 
Saul Lopez, graduate student, College of Sciences, "Age-Related Neurological Issues driven by Defective Myelin in NF1," Faculty Fellowship Advisor: Dr. Alejandro Lopez-Juarez.
Hillary Abiagom, graduate student, College of Health Professions, "Disaster Planning for People with Disabilities in the Rio Grande Valley," Faculty Fellowship Advisor: Dr. Veronica Umeasiegbu.
Shadman Sakib, graduate student, College of Engineering & Computer Science, "Triboelectric Nanogenerator-powered Sensor for Fetal Monitor in High-risk Pregnancy," Faculty Fellowship Advisor:  Mohammed Jasim Uddin.
Suchitra Acharjee, graduate student, College of Liberal Arts, "Building Sustainable Future for Girls: Investing more to Educate Girls in Bangladesh to Combat Covid-19 Challenges of Child Marriage Increase," Faculty Fellowship Advisor: Dr. Aziza Zemrani.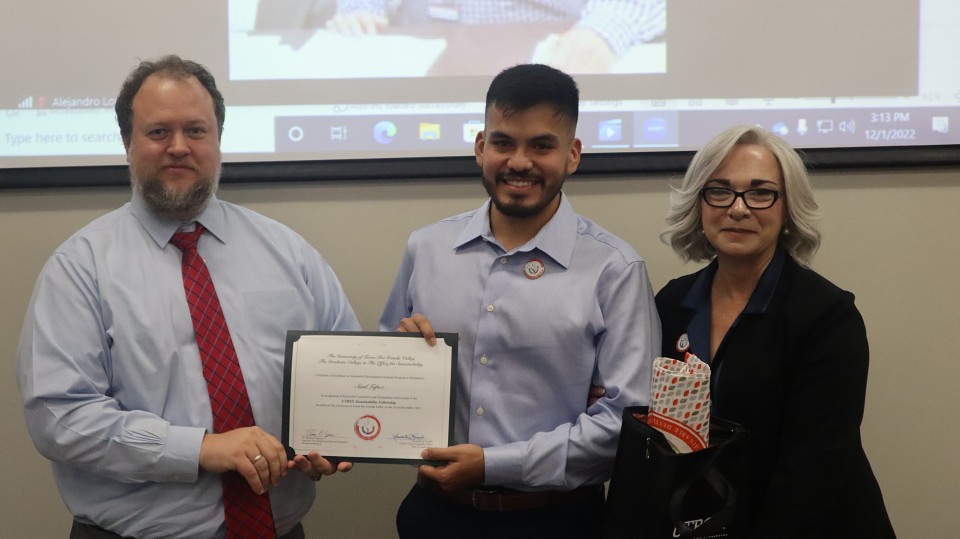 Dr. Thomas Spencer, associate vice president of the Division of Research, in introductory comments said completing the fellowship requires time and dedication to the mission of sustainability.
"The program is a staple to the countless hours these fellows have committed," he said, "and this program provides a call to action to all countries and at all levels of humanity, poor, rich and everywhere in between."
In addition to working with a faculty advisor, Sustainability Fellows receive guidance from the Office for Sustainability and work closely with Program Coordinator Jeremy San Miguel and OFS Program Specialist Jacquelynn Hernandez.
"It is important to provide support for the fellows in this program," San Miguel said, ¨and they are encouraged to foster their creativity, passion and research interests. It is an opportunity for graduate students from all disciplines and multinational backgrounds to bring together a diversity of voices and perspectives."
Dr. John "Can" Saygin, senior vice president for Research and dean of the Graduate College, stressed the importance of procuring sustainability within research.  
"Sustainability to me, is our security for our future, a future where we can actually continue to live our lives at the level that we want," he said, "but not in a selfish way – in a way where we actually consider the generations to come.
"This will allow us to have the impact we need to look into the two primary pillars of higher education institutions – teaching and research – so we can build those foundational pieces to create that safe future," Saygin said. 
The next Sustainability Fellowship cohort will have 10 graduating fellows and will start in Spring 2023. The cohort attended the event to support their fellow researchers and as a ceremonial passing of the baton and learning experience for when they will present their own research works in May 2023.
To learn more about UTRGV's Office for Sustainability, the Division of Research, and the Sustainability Fellowship program, visit the website at https://www.utrgv.edu/sustainability/sustainability-research-fellowships/graduate-sustainability-fellowship-programs/index.htm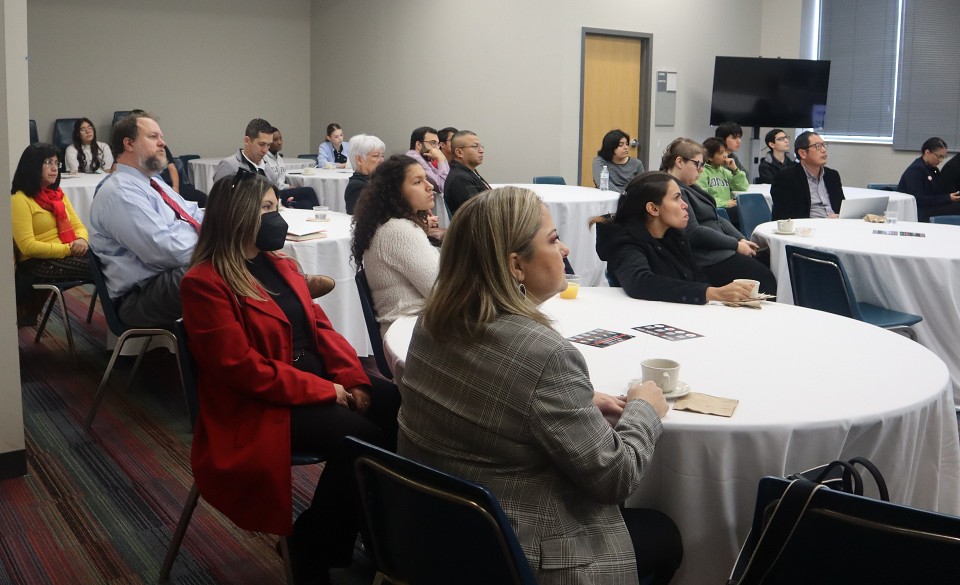 ABOUT UTRGV
The University of Texas Rio Grande Valley (UTRGV) was created by the Texas Legislature in 2013 as the first major public university of the 21st century in Texas. This transformative initiative provided the opportunity to expand educational opportunities in the Rio Grande Valley, including a new School of Medicine, and made it possible for residents of the region to benefit from the Permanent University Fund – a public endowment contributing support to the University of Texas System and other institutions.
UTRGV has campuses and off-campus research and teaching sites throughout the Rio Grande Valley including in Boca Chica Beach, Brownsville (formerly The University of Texas at Brownsville campus), Edinburg (formerly The University of Texas-Pan American campus), Harlingen, McAllen, Port Isabel, Rio Grande City, and South Padre Island. UTRGV, a comprehensive academic institution, enrolled its first class in the fall of 2015, and the School of Medicine welcomed its first class in the summer of 2016.