Groundbreaking held for new Collegiate High School

  Tuesday, November 29, 2022
  Community
By Karen Villarreal
EDINBURG, TEXAS – NOV. 29, 2022 – UTRGV and the Edinburg Consolidated Independent School District broke ground today on a new collegiate high school to serve the students of Edinburg.
The facility will be located at 1407 E. Freddy Gonzalez Drive, just off the Expressway 281 frontage.
A collegiate high school like this one focuses on academic pathways in the areas of education, engineering, computer science and health professions, as a way to create more seamless transitions from high school to postsecondary education.  
UTRGV President Guy Bailey said the university's role in the partnership gives students an educational opportunity unmatched in the state.
"UTRGV full-time faculty are teaching the classes, and the students pay no tuition. They will graduate only two years away from a bachelor's degree," Bailey said. 
"This kind of preparation will make them highly competitive, and it's our hope that the students enrolled at this collegiate high school will turn to UTRGV when choosing their undergraduate career."
Some 200 UTRGV Edinburg CISD Collegiate High School students and 100 elected officials and university administrators were present at the groundbreaking ceremony on Tuesday for the state-of-the-art, 66,661-square-foot facility. UTRGV and ECISD will split the cost of the $25 million project.
Dr. Mario Salinas, Edinburg superintendent of schools, said UTRGV's contribution makes higher-education programs a viable option for high school students and can change the trajectory of their lives and for their families. 
"One of our priorities at Edinburg CISD is to end the cycle of poverty," Salinas said. "We know education is the key. We have inclusive admissions ­– there is no financial barrier to attend. We are excited to provide these expanded opportunities for our students through this collaboration with UTRGV."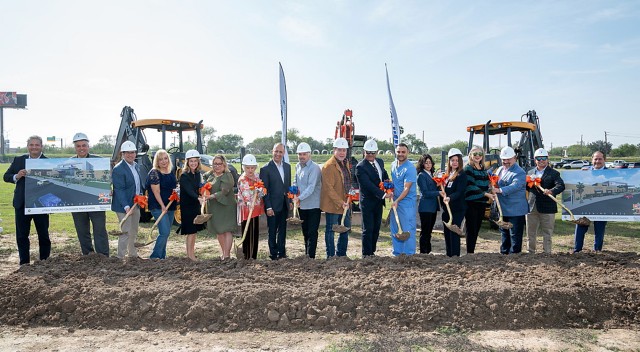 Miguel "Mike" Farias, president of the ECISD School Board, said enrollment at the collegiate high school mirrors the socio-economic background of the other Edinburg campuses.
"Education is the equalizer," Farias told the ninth- and- 10th-grade students in attendance at the groundbreaking. "It will take hard work, but the return is great."
Marisol Martinez Ábrego, principal of the new collegiate high school, called the groundbreaking – the first ever on a UTRGV collegiate high school in Hidalgo County – a historic event.
"There is no limit to where our students will go," she said.
THE FUTURE OF TEXAS
UTRGV and the Edinburg school district in March signed a Memorandum of Understanding (MOU) establishing support for the partnership's academic programming.
The collegiate high school's partnership with UTRGV emphasizes Dual-Credit Educational Programs to be provided by the university, so that the students can complete college-level basics before high school graduation.  
Students at the groundbreaking said they are excited and eager to be part of the Early Collegiate High School and, prompted by their principal – "Who are we?!" – responded with a resounding,
"We are Collegiate!"
Glory Silva, 15, a student of the recently established collegiate high school, said she hopes to go to law school after graduation.
"Already having my basics done and having a feel for college classes is going to provide a bigger future for me, since I can finish my degree earlier and accomplish more," she said. 
Silva has been enrolled at the school since the school year began in August – attending classes in temporary buildings until the new facility is built.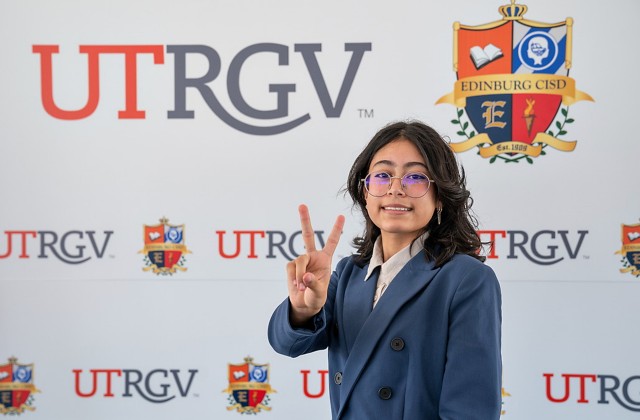 Jordan Luna, 14, the first Student Council president of the new school, said enrolling before the building was complete just highlights that the first two classes of the new school's student body have a pioneering spirit.
"We're making do with portables and temporary labs, but it's worth it knowing this nice facility is being built for us," said Luna, who is planning for a career as an aerospace engineer. "We're all very excited to get that hands-on experience."
The University of Texas System Board of Regents met Nov. 16-17 and approved $15,075,000 in funding for the permanent facility.
The building will be two stories, with three large classrooms, 20 smaller classrooms, a library and cafeteria, and 24 staff offices. In addition, the facility has 10 labs, for a 2-to-1 classroom-to-lab ratio.
Samir Zayed, project manager with D. Wilson Construction Co., said the students require that many labs for their college-level courses.
"It's the right number of labs for these specialized students," Zayed said. "It's not just a high school – it's a collegiate school."
ECISD is overseeing construction of the project, which is slated for completion by January 2024.
"I feel like this is going to give me a lot of opportunities," said Nicole Sanchez, 15, a UTRGV Edinburg CISD Collegiate High School student who hopes to study for a career as a gynecologist. "I can't wait to stand with a 'Dr.' by my name and make my mom and grandma proud."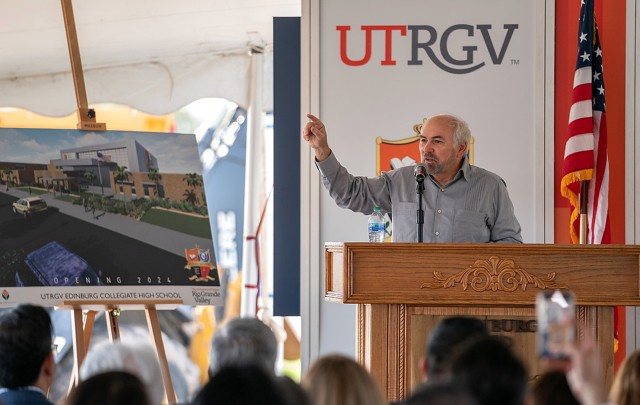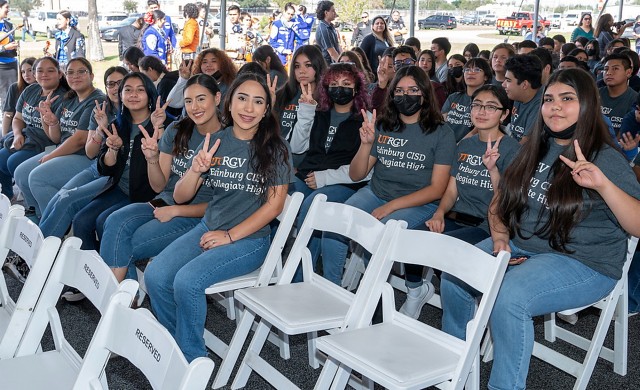 ABOUT UTRGV
The University of Texas Rio Grande Valley (UTRGV) was created by the Texas Legislature in 2013 as the first major public university of the 21st century in Texas. This transformative initiative provided the opportunity to expand educational opportunities in the Rio Grande Valley, including a new School of Medicine, and made it possible for residents of the region to benefit from the Permanent University Fund – a public endowment contributing support to the University of Texas System and other institutions.
UTRGV has campuses and off-campus research and teaching sites throughout the Rio Grande Valley including in Boca Chica Beach, Brownsville (formerly The University of Texas at Brownsville campus), Edinburg (formerly The University of Texas-Pan American campus), Harlingen, McAllen, Port Isabel, Rio Grande City, and South Padre Island. UTRGV, a comprehensive academic institution, enrolled its first class in the fall of 2015, and the School of Medicine welcomed its first class in the summer of 2016.