Friday, November 11, 2022
  Around Campus, Announcements
By News and Internal Communications
By Tawny Turner
RIO GRANDE VALLEY, TEXAS – The College Board, a nationally recognized organization that prepares and administers tests used for college credit, admission and placement, has appointed UTRGV's Dr. Maggie Hinojosa as a new board trustee.
Hinojosa, senior vice president for Strategic Enrollment and Student Affairs at UTRGV, will represent the Southwestern Region and is one of seven new trustees to the 31-member board.
"I am extremely honored and humbled to represent and work alongside my peers at the national level," Hinojosa said. "I am looking forward to representing the students of UTRGV, and the Southwestern Region as a whole, to ensure we're doing things that provide access to higher education for all students."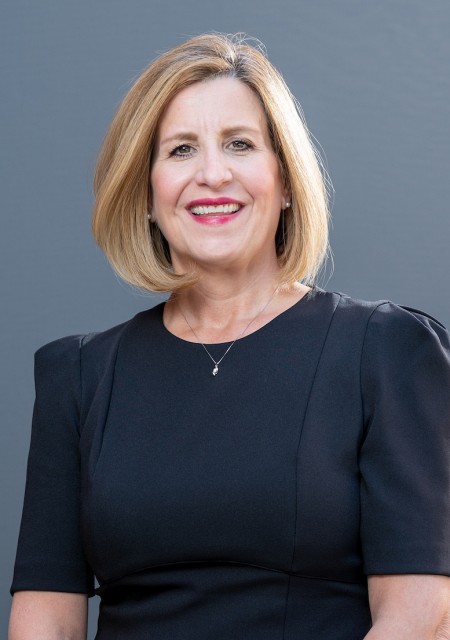 Hinojosa is one of nine regionally elected board members and will serve a five-year term.
The Board of Trustees is the primary governing body of the College Board, responsible for fulfilling key fiduciary responsibilities and approving the mission, annual budget, strategic goals and objectives of the organization, as well as advising the CEO.
Hinojosa, who has been part of higher education since 1991, said this external role will have long-range benefits for UTRGV students.
"During COVID-19, UTRGV was one of the few institutions in the nation that was able to shift to offering advanced placement trainings to teachers online," Hinojosa said. "As an institution, UTRGV has always been actively involved in helping students access college resources, and being a member of the College Board is extremely valuable to continuing that for students."
Dr. Janna Arney, UTRGV executive vice president and provost, said having Hinojosa on the board will benefit the university and the region alike.
"Dr. Hinojosa has been in higher education for many years," Arney said. "An appointment like this is tremendous, not only for the Valley to be represented on a national scale, but also for UTRGV to have a direct seat at the table of this organization. We are proud of Dr. Hinojosa, and we have confidence she will represent us well."
ABOUT UTRGV
The University of Texas Rio Grande Valley (UTRGV) was created by the Texas Legislature in 2013 as the first major public university of the 21st century in Texas. This transformative initiative provided the opportunity to expand educational opportunities in the Rio Grande Valley, including a new School of Medicine, and made it possible for residents of the region to benefit from the Permanent University Fund – a public endowment contributing support to the University of Texas System and other institutions.
UTRGV has campuses and off-campus research and teaching sites throughout the Rio Grande Valley including in Boca Chica Beach, Brownsville (formerly The University of Texas at Brownsville campus), Edinburg (formerly The University of Texas-Pan American campus), Harlingen, McAllen, Port Isabel, Rio Grande City, and South Padre Island. UTRGV, a comprehensive academic institution, enrolled its first class in the fall of 2015, and the School of Medicine welcomed its first class in the summer of 2016.