Oldest of seven proud to pursue dream as inaugural member of UTRGV School of Podiatric Medicine

  Tuesday, November 8, 2022
  Around Campus
By Karen Villarreal
National First-Generation College Celebration
RIO GRANDE VALLEY, TEXAS – San Antonio native Vanessa Cortez, 30, says being accepted as a member of the very first class of the UTRGV School of Podiatric Medicine was a milestone not just for herself, but for her family, as well. 
As part of the inaugural cohort of future podiatrists, she also was the first in her family to graduate with a bachelor's degree.
And in a few years, she'll be the first in the family with a doctoral degree.
Being a role model for her six younger siblings is important to her – as important as her dream of being a specialized doctor. 
"My parents always told us, 'You've got excellent brains – use them!" Cortez said. "So, that's what I'm doing, striving for the best."
When she was in high school, she watched as her father went back to school for various career-related certificates. His dedication was instrumental in her own focus on education, she said, along with her parents' guidance to aspire to a better life. Her love of helping people guided her interest in medicine, which was solidified by personal family experiences. 
Five times she saw her brother brought back from full life support. And her father is now almost completely recovered from a near-death bout with what turned out to be West Nile virus.  
"I really want to emulate those doctors," Cortez said. "This is definitely something I can see myself doing." 
INSPIRED BY LOVE
Cortez's interest in medicine throughout elementary and middle school led to her enrollment in a health careers-specialized high school, which was the foundation for her college career. 
"What really solidified it was seeing that doctors were able to bring back my brother, who is disabled, every time he was really sick," Cortez said. "They said he wasn't supposed to make it those five times, but I remember the doctors working on him, and he pulled through."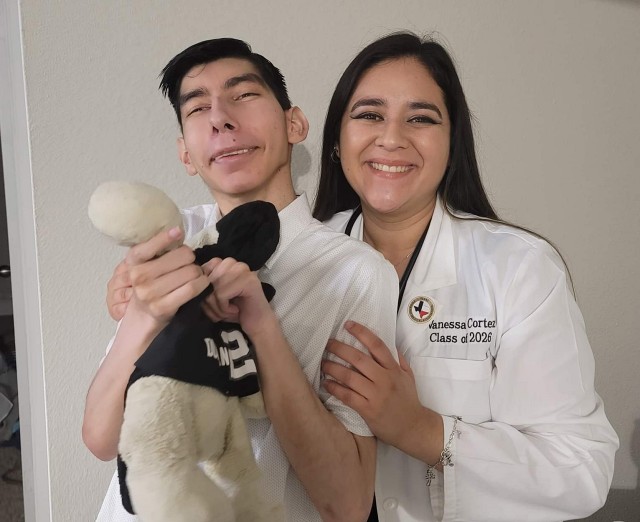 Then, her father got sick and was near death with a mysterious illness. The prognosis seemed grim, and everyone was preparing to say their goodbyes. Cortez took on the role of the family rock, gently breaking the news to her siblings. 
"It was rough for us, especially for my mom. And I didn't want her to have to tell something like that to her kids," Cortez said. 
Thankfully, her father responded well to rounds of medication. However, he was still having side effects years later. A spinal tap later identified he had contracted West Nile virus.  He has since largely recovered.
Cortez said seeing her father in better health – and having him present for her recent White Coat ceremony – was a big reality check. 
"I'm lucky that he saw me walk that stage, because a couple of years ago, it was a hard time for us," she said. "Seeing how happy that made them and how proud they were of me makes everything worth it."
She's taking on a different role in the family now, inspiring her siblings by pursuing her own goal of becoming a doctor. 
SACRIFICES AND REWARDS
Cortez previously had worked as a podiatry medical assistant in San Antonio for two years, where she was introduced to the field as a potential career.  
"I saw that a lot of the patients, many of them diabetic, could have avoided catastrophe if they just had someone to advocate for a healthy lifestyle change," she said. "I want to open my own clinic and focus on patient advocacy." 
Cortez said she intends to stay in Texas to practice podiatry after she graduates.
"I like that I can have the balance of the clinical and surgical. I really want to do surgery, and I love that this program prepares us for that," Cortez said.   
Moving away from her close-knit family for the first time to come to Harlingen for her doctoral studies was hard, she said.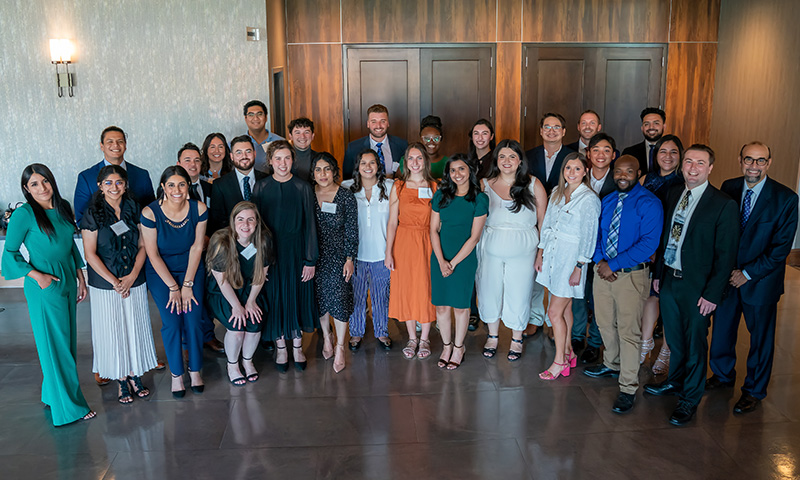 "They're all so supportive. They told me to study and go for it," Cortez said. "I'm really proud that I can set a good example for my siblings."

Her siblings are following her lead in pursuing medical careers, as well: nursing, veterinary science, and general medicine. 
Some of them came with her parents to the White Coat ceremony – and while she was proud to don the symbol of her position as a student-doctor before them, she cannot wait for the day she graduates as a full-fledged medical professional.
"I want my parents to see me graduate as a doctor in four years and have that title with my name," she said. "Then I can finally say, 'Let me take care of you.'"
She recognizes that leading the way as a First-Generation student could feel like a great responsibility, but she encourages others to just go for it, to make their families proud.
"Do not ever be afraid of being more successful than the people around you or the people that you've grown up with," she said. "It doesn't mean that you're looking down on them or trying to show off. It means that you're trying to be the best version of yourself."
She was proud of her father when he went back to school to advance his career as an electrical mechanic, all while working to support seven children. Then, her mother became the main provider while he completed his certification programs, which resulted in a promotion. 
"They've provided us everything that we've ever needed since we were little," Cortez said. "Becoming a doctor is my way of saying, their sacrifices paid off."
Cortez is slated to graduate from UTRGV in 2026 from the School of Podiatric Medicine.
ABOUT UTRGV
The University of Texas Rio Grande Valley (UTRGV) was created by the Texas Legislature in 2013 as the first major public university of the 21st century in Texas. This transformative initiative provided the opportunity to expand educational opportunities in the Rio Grande Valley, including a new School of Medicine, and made it possible for residents of the region to benefit from the Permanent University Fund – a public endowment contributing support to the University of Texas System and other institutions.
UTRGV has campuses and off-campus research and teaching sites throughout the Rio Grande Valley including in Boca Chica Beach, Brownsville (formerly The University of Texas at Brownsville campus), Edinburg (formerly The University of Texas-Pan American campus), Harlingen, McAllen, Port Isabel, Rio Grande City, and South Padre Island. UTRGV, a comprehensive academic institution, enrolled its first class in the fall of 2015, and the School of Medicine welcomed its first class in the summer of 2016.