Two UTRGV students complete summer internship with ARL

  Thursday, November 3, 2022
  Research
By Victoria Brito Morales
RIO GRANDE VALLEY, TEXAS – UTRGV has a new partnership with the U.S. Army Research Laboratory to share research resources to benefit both groups.
The partnership, which went into effect in May 2022, was formally signed by UTRGV on April 7 during the I-DREAM4D National Manufacturing Expo on the Edinburg Campus. 
Dr. Jianzhi "James" Li, UTRGV professor of Manufacturing Engineering and principal investigator of the I-DREAM4D Consortium, said the partnership will include working on the creation of new materials and additive manufacturing processes to develop defense devices and armors to protect soldiers in the military. 
"It's a very broad agreement," Li said. "We can do many things involving collaboration with any projects with the ARL, but for right now, the focus is on defense manufacturing."
The agreement also gives UTRGV students the opportunity to participate in a 10-week summer internship at the ARL Aberdeen Proving Ground in Maryland just outside of Washington, D.C., and expand the consortium's network to the Pentagon. 
Li said the U.S. military has some of the most advanced technology in the world, so it greatly benefits UTRGV's engineering students to be able to learn from research opportunities with the ARL. 
Dr. Ala Qubbaj, dean of the UTRGV College of Engineering and Computer Science, said the partnership with the ARL is an exciting opportunity.
"It provides tremendous opportunities for our faculty, and more importantly for our students, through high-impact internships and access to state-of-the-art research facilities and experiences," Qubbaj said. "This partnership will support UTRGV's efforts to become an emerging research institution with opportunities for external research funding."
THE FIRST UTRGV ARL INTERNS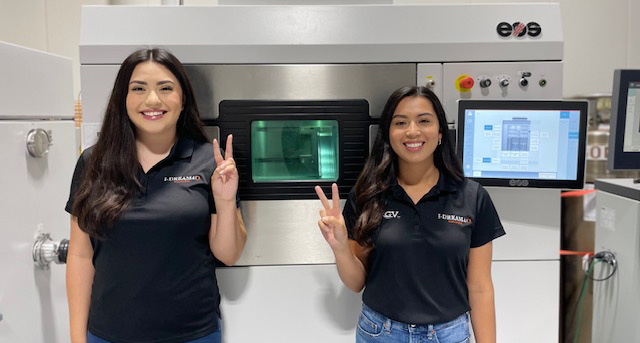 Two engineering students were able to participate this summer, as interns at the ARL Aberdeen Proving Ground from the beginning of June to mid-August. 
Lindsey Salazar, a Manufacturing Engineering graduate student from Reynosa, and Madelyne Martinez, a senior Mechanical Engineering major from McAllen, participated in the 10-week internship program, supported by the new agreement.
Salazar, who has previous experience working on metal additive manufacturing and selective laser melting, spent her first experience with a summer internship working in the ARL, focused on additive manufacturing. 
"I look forward to applying the skills I learned in the lab to my thesis research at UTRGV," Salazar said. 
The graduate student was able to familiarize herself with various special processes, including working on a directed energy deposition, or DED process – an additive manufacturing process that uses thermal energy to fuse materials by melting as they are being deposited. 
For Martinez, the internship helped her test the knowledge she has attained during her time at UTRGV.
"The internship at ARL has given me the confidence to embark on new challenges, work outside my comfort zone and make use of the opportunities I have at hand," she said. "This experience has truly helped me grow and establish healthy working habits, while developing various skills in the additive manufacturing industry."
In addition to learning more about additive manufacturing systems, Martinez said, she was able to further enhance her metallurgical techniques, practice on various types of microscopes, and gain networking opportunities for her future. 
"With all my new and improved skills, I am confident I will be able to complete my research work at UTRGV with ease," she said. 
For more on the I-DREAM4D consortium, visit www.idream4d.org. 
ABOUT UTRGV
The University of Texas Rio Grande Valley (UTRGV) was created by the Texas Legislature in 2013 as the first major public university of the 21st century in Texas. This transformative initiative provided the opportunity to expand educational opportunities in the Rio Grande Valley, including a new School of Medicine, and made it possible for residents of the region to benefit from the Permanent University Fund – a public endowment contributing support to the University of Texas System and other institutions.
UTRGV has campuses and off-campus research and teaching sites throughout the Rio Grande Valley including in Boca Chica Beach, Brownsville (formerly The University of Texas at Brownsville campus), Edinburg (formerly The University of Texas-Pan American campus), Harlingen, McAllen, Port Isabel, Rio Grande City, and South Padre Island. UTRGV, a comprehensive academic institution, enrolled its first class in the fall of 2015, and the School of Medicine welcomed its first class in the summer of 2016.