FOCUS: A UTRGV ALUMNI STORY

  Tuesday, October 4, 2022
  Alumni
By Amanda Alaniz
HARLINGEN, TEXAS –Educator's often help change lives, push boundaries and create positive changes in the community. UTRGV alumna and Harlingen educator Dr. Jessica Hruska works to do all that, and more. 
Hruska graduated from UTRGV in 2018 with a doctorate in curriculum and education. She has worked in education for more than a decade – teaching in the classroom, and as a grant specialist and coordinator of technology and special projects. Her original plan was to become a pet doctor – education hadn't actually crossed her mind. 
"When I graduated from high school, I really wanted to be a veterinarian," she said. "I was originally going to go into animal science.
"However, my mom told me to try it first and see where it goes. I realized pulling calves at one in the morning was not my thing," she said, laughing as she recalled the experience.
Then her mother asked if she had ever thought about teaching. The answer was no.
"My mom always thought I had this 'teacher' in me, looking at some of the things I had done throughout the years," she said. "Teaching had not been on my radar – at all. But, I started substituting and I just fell in love with it. It was so rewarding." 
Hruska had the opportunity to work at Harlingen Consolidated Independent School District and reconnect with some of her teaching role models, and they all told her teaching was her path.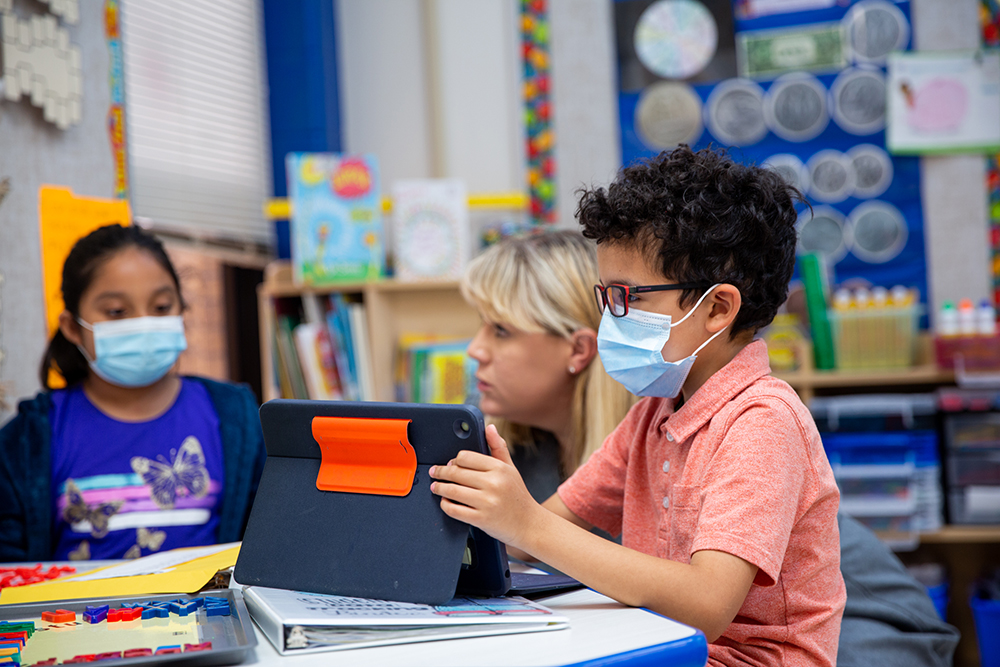 COMING FULL CIRCLE, AND A NEW ADVENTURE 
Fast forward, and Hruska's career brought her back home, to where she now carries the title "Blended Learning Specialist" at the Harlingen school district. 
Blended Learning focuses on combining aspects of in-person classroom teaching with online technology to personalize instruction. Hruska is tasked with overseeing the schools where blended learning is being implemented. 
(The Charles Butt Foundation featured Hruska in one of its feature stories: Blended learning stories: How a district transformed its approach to early literacy) 
"What is unique about my current position is I am able to get into the schools, into the classrooms, help build capacity around what Blended Learning is within the leadership team and the teachers," she said. "Education is constantly evolving, and I think we were already on that part of evolution with technology – how to incorporate into the classroom." 
The Harlingen educator says she finds the career so rewarding, she gets goosebumps when she thinks about it. Change is happening, she said, and there is positive movement throughout the district. 
Helping students reach their full potential drives Hruska, giving her the drive to effect change.
She credits her professors throughout her UTRGV career and the lessons they provided – all of which she had carried into her current career, from personalization in the classroom to building connections. 
As she continues to grow her role within the Harlingen school district, she said, she has some advice for future educators: "Know your why." 
"When you're going into education, be open-minded, reach out to others," she said, "As a student at UTRGV, your professors are there for you – so engage with them! Yes, they have a lot of knowledge. But I promise, you have something to bring to the table, too." 
ABOUT UTRGV
The University of Texas Rio Grande Valley (UTRGV) was created by the Texas Legislature in 2013 as the first major public university of the 21st century in Texas. This transformative initiative provided the opportunity to expand educational opportunities in the Rio Grande Valley, including a new School of Medicine, and made it possible for residents of the region to benefit from the Permanent University Fund – a public endowment contributing support to the University of Texas System and other institutions.
UTRGV has campuses and off-campus research and teaching sites throughout the Rio Grande Valley including in Boca Chica Beach, Brownsville (formerly The University of Texas at Brownsville campus), Edinburg (formerly The University of Texas-Pan American campus), Harlingen, McAllen, Port Isabel, Rio Grande City, and South Padre Island. UTRGV, a comprehensive academic institution, enrolled its first class in the fall of 2015, and the School of Medicine welcomed its first class in the summer of 2016.