'There is light at the end of the tunnel'

  Thursday, September 29, 2022
  Community
By Saira Cabrera
RIO GRANDE VALLEY, TEXAS – September is National Recovery Month, which aims to educate the community on substance use treatment and the mental health services available to empower those with a mental disorder and substance dependency.   
Dr. Ihsan Salloum – the Sujata G. Krishnan Endowed Chair, Joe R. and Teresa Lozano Long distinguished professor in Neuroscience, founding chair of the UTRGV Department of Neuroscience, and director of the Institute for Neuroscience (ION) at the UTRGV School of Medicine – said both mental and substance disorders are brain diseases that can be treated medically.  
"Substance abuse and mental health are both brain diseases," Salloum said. "All the scientific information that has been gathered over the past 30, 40 years indicates that substance use is a brain disorder, as well as a mental disorder. But things are complicated because there is an interaction between our constitution and vulnerability and the environment in which we live and grow up. The context is crucial."  
SUBSTANCE ABUSE AND MENTAL HEALTH 
Salloum said 50 million people in the United States alone have these two disorders. But better treatments can be developed for specific needs through investigative studies, such as the ones conducted at UTRGV's ION. 
"The goal of these studies is to develop a specific treatment for people suffering from substance use, or substance use combined with mental illness," he said. 
Information about the causes of the disorders and the available treatments is of utmost importance, he said, because it leaves no place for stigma. 
"Just like any other problem we can have in our bodies, people respond to treatment," he said. "Like other chronic diseases that people recover from, in the same way, people with mental and substance disorders can be treated and can overcome this problem."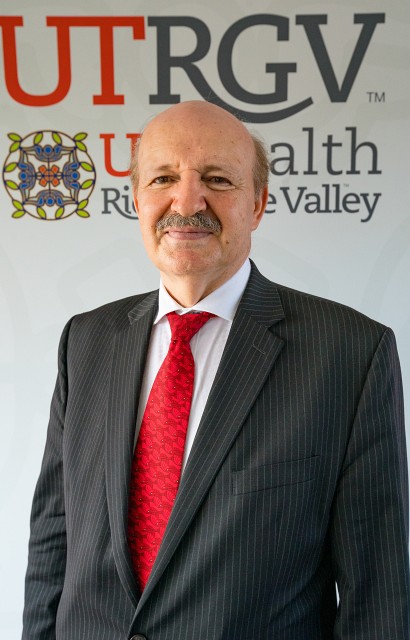 Just as any other part of the body that can get sick, so can the brain, and addiction and mental disorders are part of that.   
"The good news is that if we have some genetic vulnerability, it doesn't mean that is our destiny. Some people have a propensity maybe to develop cancer because they got exposed to certain environmental factors," Salloum said. "In the same way, people have a vulnerability, a genetic vulnerability, to develop an addiction if they get exposed to the addictive substance."  
By knowing a person's vulnerability, those disorders potentially can be avoided.   

ION - TRANSFORMING BRAIN HEALTH   
"We know that people with addiction and mental disorders do respond to treatment, and they do recover and are able to overcome this problem," Salloum said. "Treatment is very beneficial."   
To find treatment and medication that can assist in helping battle these diseases, UTRGV's ION conducts clinical and scientific research to help create better-responding treatments. Some of the studies include:
Addiction and Mood Disorders.  

Bipolar Disorder and Alcohol Use Disorder.  

Depression and Alcohol Use Disorders. 

Neuromodulation Research.  
The investigations are still in the study stages, Salloum said, but believes there is "light at the end of the tunnel." To avoid setbacks, he said, an easy preventative step is to practice self-care.  
"I think it's essential to educate oneself about what we have. Self-care is one of the most important things for people to help themselves recover from substance use," he said.  

SUBSTANCE ABUSE RESOURCES  
Salloum recommends established groups that can help, like Alcoholics Anonymous, part of a support network of helpful anonymous groups.  
He also believes it is imperative to remember that the path to recovery is a process.  
"If you relapse, you can still pick up where you left off," he said. "We need to give people a chance and space and understand what they're going through."   
To help avoid relapse and be successful in achieving recovery, Salloum recommends:
Educating oneself about health conditions and what may trigger others.

Joining groups such as Alcoholics Anonymous, that may help in providing support networks.  

Avoiding certain people, places, things and stressors that can trigger negative behaviors. 

Practicing self-care.  

Seeking protection from what causes or caused the addiction.
Currently, at the ION, several studies and treatments are underway that could help with substance dependency and mental disorders.   
"Reach out to our offices and ask for more information," he said. "We not only can help our community, but also help inform the nation about findings for specific studies."  
To find resources regarding
substance dependency and mental disorders provided at the
ION
and to participate in research studies, visit
UTHealthRGV.org
.  
ABOUT UTRGV
The University of Texas Rio Grande Valley (UTRGV) was created by the Texas Legislature in 2013 as the first major public university of the 21st century in Texas. This transformative initiative provided the opportunity to expand educational opportunities in the Rio Grande Valley, including a new School of Medicine, and made it possible for residents of the region to benefit from the Permanent University Fund – a public endowment contributing support to the University of Texas System and other institutions.
UTRGV has campuses and off-campus research and teaching sites throughout the Rio Grande Valley including in Boca Chica Beach, Brownsville (formerly The University of Texas at Brownsville campus), Edinburg (formerly The University of Texas-Pan American campus), Harlingen, McAllen, Port Isabel, Rio Grande City, and South Padre Island. UTRGV, a comprehensive academic institution, enrolled its first class in the fall of 2015, and the School of Medicine welcomed its first class in the summer of 2016.