Biguetti and team seek new strategies to enhance bone healing

  Thursday, September 22, 2022
  Faculty Focus, Research
By Karen Villarreal
RIO GRANDE VALLEY, TEXAS – SEPT. 22, 2022 – UTRGV researcher Dr. Claudia Biguetti, an assistant professor of medicine at the university, is establishing a new research lab in the UTRGV School of Podiatric Medicine focused on improving bone healing and regeneration.
Aided by a recent $125,000 Rising STARs grant from the UT System, Biguetti will be able to work in a regenerative medicine research lab to study ways to optimize the natural ability of bones to repair themselves after reconstructive surgeries. 
Biguetti currently is establishing a physical space at the UTRGV School of Podiatric Medicine in Harlingen that will serve as a "translational research" lab – which means that promising theoretical research in regenerative medicine will be applied to animal models or on cell cultures before advancing to clinical trials.
The lab is expected to launch in November 2022.
"We really appreciate that our dean, Dr. Javier La Fontaine, and UTRGV President Guy Bailey made the effort to obtain this grant from the UT System," Biguetti said. "It is an amazing opportunity to be part of this new medical school, which values research, teaching and community service with the same weight."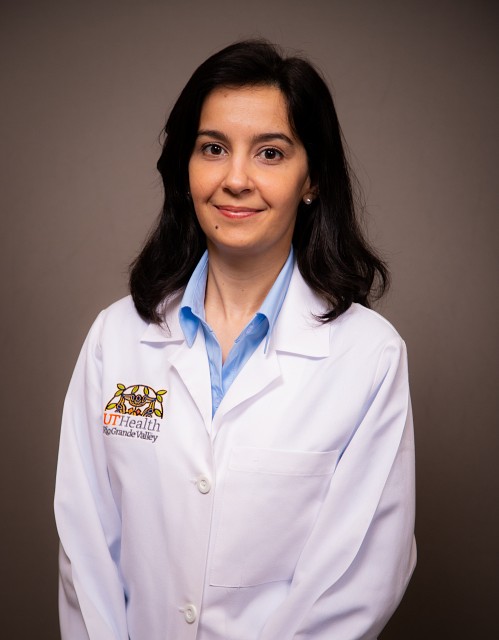 RESEARCH IN BONE REGENERATION, BIOMATERIALS
Before she trained to become a PhD in bone research, Biguetti, DDS, MSc, PhD, practiced as an oral surgeon and researcher in Brazil. 
Observing that some patients failed to heal from surgical procedures, like titanium dental implant placement, she became curious about tissue regeneration surrounding biomaterials.
During her doctoral studies, she researched regenerative strategies and biomaterials as an avenue for the future treatment of large bone defects and fractures. 
"Our patients need to be perceived as an interconnected whole," she said. "If some part of them ­– like the jawbone – struggles or fails to heal because of a systemic condition, it's likely they will fail to heal in other areas of the skeletal system ­– such as their feet."
Now, applying regenerative medicine to podiatry is the focus of her research.
"In podiatric medicine, surgeons also deal with the impaired healing capacity of musculoskeletal tissues," Biguetti said. "For example, when treating an ankle fracture, a podiatrist may use titanium implants to reconnect two bones together, to promote healing and, finally, restore its function."
But in patients with impaired healing, she said, the procedure can often fail, so her research is focused on improving healing after surgery and biomaterials placement – especially among immunocompromised patients with chronic conditions that impair healing – such as diabetes – and in older people.
DIABETES AFFECTS HEALING
Over the course of her career as a clinician scientist, Biguetti has witnessed the significant negative effects of diabetes on bone healing. 
"Diabetes can cause impaired bone regeneration as well as a range of other bone disorders that increase the risk of fractures and physical disability," she said. 
It is of concern, she said, that this decreases the quality of life for patients in the Rio Grande Valley, where the rate of diabetes is high.
"About 30 percent of our adult population in the Valley has diabetes," said Biguetti, whose family also has a history of diabetes and lower limb complications. "As a Latina, I wanted to play a role searching for answers to those global health problems that profoundly impact our community." 
INNOVATIVE RESEARCH
She believes she can counter the negative impacts through her research, and through mentoring students who themselves make contributions in research.
The new lab will be an opportunity for undergraduate and graduate students to get involved in high-level biomedical research, she said, including identifying molecules that aid in regeneration and developing methods to deliver them – such as through biomaterials that can be incorporated in surgery.
Other research investigates those molecules as potential breakthroughs for new pharmaceuticals that boost natural healing.
"This field connects many different areas. It's important for our students to get exposed to new and innovative ways to think about treatment and research," Biguetti said. "This exposure helps form a solid foundation that will help them when they become clinicians and investigators themselves."
For more information about collaborations or upcoming opportunities, contact Biguetti at claudia.biguetti@utrgv.edu.
ABOUT UTRGV
The University of Texas Rio Grande Valley (UTRGV) was created by the Texas Legislature in 2013 as the first major public university of the 21st century in Texas. This transformative initiative provided the opportunity to expand educational opportunities in the Rio Grande Valley, including a new School of Medicine, and made it possible for residents of the region to benefit from the Permanent University Fund – a public endowment contributing support to the University of Texas System and other institutions.
UTRGV has campuses and off-campus research and teaching sites throughout the Rio Grande Valley including in Boca Chica Beach, Brownsville (formerly The University of Texas at Brownsville campus), Edinburg (formerly The University of Texas-Pan American campus), Harlingen, McAllen, Port Isabel, Rio Grande City, and South Padre Island. UTRGV, a comprehensive academic institution, enrolled its first class in the fall of 2015, and the School of Medicine welcomed its first class in the summer of 2016.