Tuesday, September 20, 2022
  Community
By Victoria Brito Morales
BROWNSVILLE, TEXAS – Si, se puede! Yes, you can!
It's a powerful call to action, a rallying cry to forge ahead, to try, and to succeed.
The embodiment of that sentiment – renowned Mexican American labor activist Dolores Huerta – visited UTRGV on Monday for a special panel hosted in honor of Huerta's pioneering work, along with Cesar Chavez, in cofounding the United Farm Workers (UFW) labor union on the West Coast. The local counterpart for labor and social activism is LUPE, La Union De Pueblo Entero.
The daylong symposium, titled "The Pursuit of Social Justice – Past, Future and Present," featured three separate panel discussions by LUPE and local activists. Capping off the symposium, hosted by UTRGV in Brownsville at the TSC Arts Center, Huerta was welcomed onto the stage by Juanita Valdez-Cox, longtime executive director of LUPE. 
As the 92-year-old Huerta took the stage, the crowd chanted "Sí, se puede!" Huerta's theme throughout decades of activism. As a champion for farmworkers, she led the Delano grape shortage in the 1960s in California, a protest that resulted in creation of United Farm Workers.
Huerta said change happens, right on the ground, house by house, family by family – employing the grassroots approach to help empower farmworkers to take a stand, grasp their own destiny, and make their voices heard.
"The work that LUPE is doing here in Texas, by organizing colonia to colonia to colonia – this is the way we can change Texas," Huerta said. 
A mother of 11, Huerta spoke about her journey through the UFW and shared her wisdom on how change can occur. 
"This is a story about organizing," she said. "It takes a lot of patience; it takes a lot of work. But we've got to make it happen because, if we don't, we are going to lose our democracy. All of this change can't be done without work on the ground."
One of the most common, yet powerful, ways to contribute to change is by staying informed and voting in elections, she said.
"My first job as an organizer was knocking on doors," Huerta said. "Going to peoples' homes and asking, 'Are you registered to vote?' And after we register them, we go back and remind them to vote. This is what we have to do."
The evening concluded with a reception at the Brownsville Museum of Fine Arts, honoring the Smithsonian Institution Traveling Exhibit now on display at BMFA – "Dolores Huerta: Revolution in the Fields/Revolución en los Campos."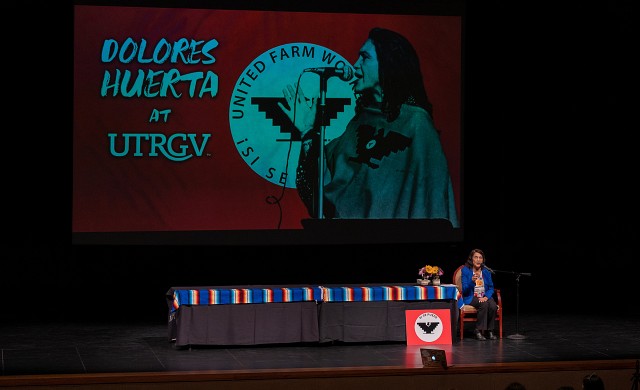 INSPIRING A GENERATION
Two UTRGV alumni and local activists from Brownsville, attended the symposium to show their respect and support for Huerta and her work.
Vicente Martinez, a 2017 UTRGV graduate, and Denisce Palacios, a 2021 UTRGV graduate, said Huerta's work is important not only to our culture, but also to the next generation.
"There is a lot of Mexican American history that I didn't know growing up," Martinez said. "Much of our history has been erased, and the more I get to know the people who do a lot of great things for the community, the more I wanted to learn and the more I became inspired to do the work."
Empowering those whose voices aren't heard and informing people about voting is important, he said, so he does all he can to participate and make a difference.
"Dolores Huerta and organizations such as LUPE have paved the way for someone like me to be organizing, and have made it easier to do so," he said.
Palacios, who used to volunteer for LUPE and now is involved with Texas Rising, a program that organizes and builds power with young people of color in support of social justice, attended the event with a folder of voter registration forms in hand to help anyone who wanted or needed to register to vote.
"When everybody has an opportunity to have a say in our democracy, we are able to really change our community into what we think we can be," Palacios said.
Palacios, who also participated in a panel as part of the symposium, said it was exciting to be able to share her work in front of Huerta, whom she has looked up to for some time.
"We have activists like Malcom X, Martin Luther King Jr. and Cesar Chavez, but it is never really the women who are uplifted for their work. And women like Huerta do so much in organizing," Palacios said.
Huerta's Smithsonian Institution Traveling Exhibit will be on display at the Brownsville Museum of Fine Arts through Oct. 1.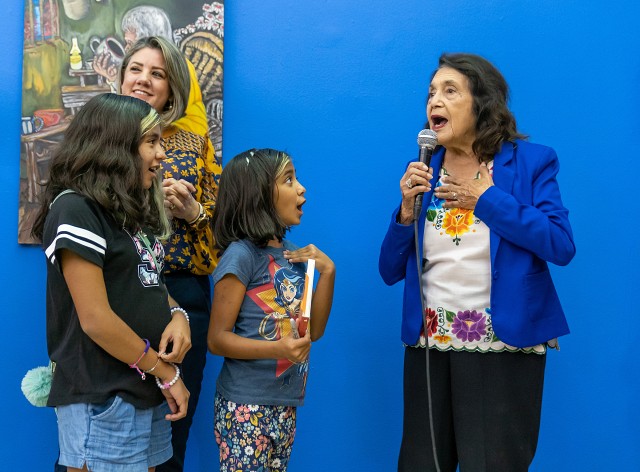 ABOUT UTRGV
The University of Texas Rio Grande Valley (UTRGV) was created by the Texas Legislature in 2013 as the first major public university of the 21st century in Texas. This transformative initiative provided the opportunity to expand educational opportunities in the Rio Grande Valley, including a new School of Medicine, and made it possible for residents of the region to benefit from the Permanent University Fund – a public endowment contributing support to the University of Texas System and other institutions.
UTRGV has campuses and off-campus research and teaching sites throughout the Rio Grande Valley including in Boca Chica Beach, Brownsville (formerly The University of Texas at Brownsville campus), Edinburg (formerly The University of Texas-Pan American campus), Harlingen, McAllen, Port Isabel, Rio Grande City, and South Padre Island. UTRGV, a comprehensive academic institution, enrolled its first class in the fall of 2015, and the School of Medicine welcomed its first class in the summer of 2016.