Monday, September 19, 2022
  Community
By Marisol Villarreal
MERCEDES, TEXAS – The University of Texas Rio Grande Valley and South Texas Independent School District have agreed to improve dual credit offerings for high school students who would like to attend UTRGV.
Under the new collegiate partnership, STISD students will be able to take college courses through UTRGV while they are still in high school.
UTRGV President Guy Bailey said the agreement is an important expansion of the university's existing dual credit offerings with STISD.
"And while this doesn't involve a new building," Bailey said, "it involves all the elements that we have in our collegiate high schools – the preparation toward a particular degree and getting the core curriculum so that you can move forward in a timely manner toward graduation."
Dr. Marco Antonio Lara Jr., South Texas ISD superintendent, said this is an important partnership for the Valley community.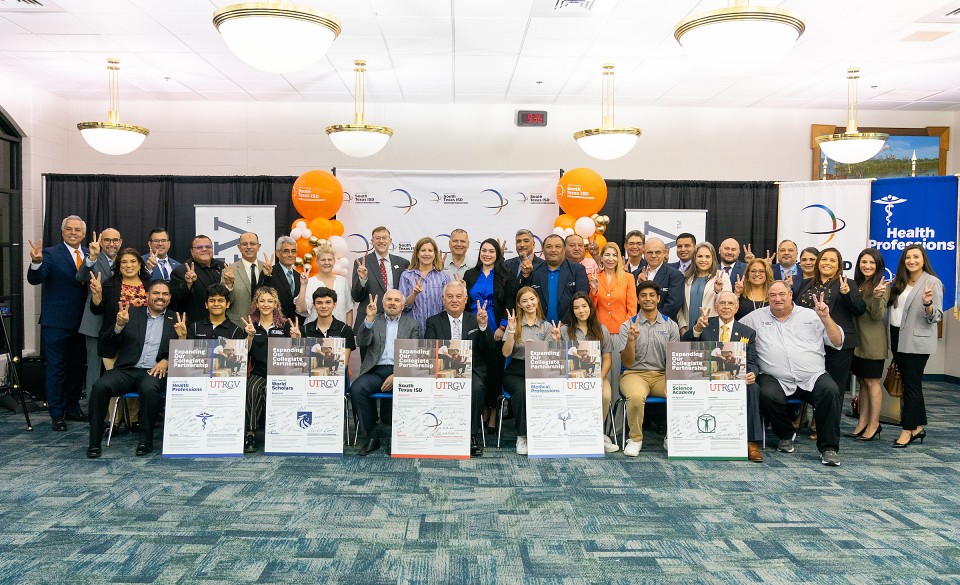 "This district prides itself on the success of our students," Lara said. "We thank Dr. Bailey for providing educational opportunities for all students in the Rio Grande Valley."
Over the next year, UTRGV and STISD will work together to formulate the newest version of their dual enrollment program, slotted to be available to students by the 2023–2024 school year.
"Students can begin earning college credits that are going to apply into their major later on," said Michael Aldape, UTRGV's assistant provost for Secondary Educational Partnerships. "Every student's situation is going to be unique. We're going to create the opportunities for the students to be able to succeed."
Current high school students at STISD can still prepare for college through the district's current dual credit program. High school students who want more information about the new implementation of the dual credit program can speak to their school counselors and academic advisors.
"We are very proud of the partnership that we've had," Aldape said. "We're looking forward to growing this partnership and expanding it for students across the region."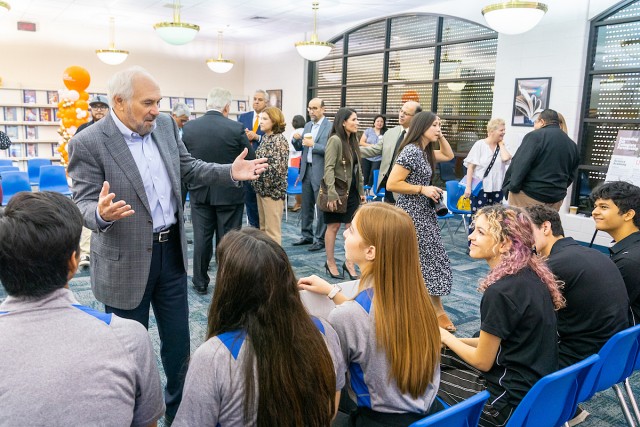 ABOUT UTRGV
The University of Texas Rio Grande Valley (UTRGV) was created by the Texas Legislature in 2013 as the first major public university of the 21st century in Texas. This transformative initiative provided the opportunity to expand educational opportunities in the Rio Grande Valley, including a new School of Medicine, and made it possible for residents of the region to benefit from the Permanent University Fund – a public endowment contributing support to the University of Texas System and other institutions.
UTRGV has campuses and off-campus research and teaching sites throughout the Rio Grande Valley including in Boca Chica Beach, Brownsville (formerly The University of Texas at Brownsville campus), Edinburg (formerly The University of Texas-Pan American campus), Harlingen, McAllen, Port Isabel, Rio Grande City, and South Padre Island. UTRGV, a comprehensive academic institution, enrolled its first class in the fall of 2015, and the School of Medicine welcomed its first class in the summer of 2016.